Oregon Outback Scenic Byway ~ A View into Oregon's Past and Dynamic High Desert Scenery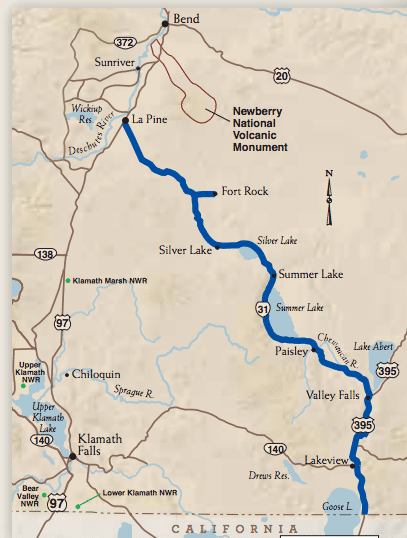 Recently we took a road trip on one of Oregon's 26 Scenic Byways, Oregon Outback Scenic Byway.  This byway takes you through a slice of the Great Basin, an isolated diverse landscape, where lush green forests of the Oregon Cascades are replaced by sagebrush and stunning rock formations.
See striking evidence of mysterious rock formations left behind by volcanoes at Fort Rock.  The Abert Rim is a 30-mile-long fault escarpment, one of the nation's longest and most continuous fault escarpment that rises more than 2,000 feet above the Byway.
Take a few minutes to stop at Picture Rock Pass, named for ancient Indian petroglyph-decorated rocks that are within walking distance of the highway.  I discovered these while seeking Geocache GC18MWG 'Between Basins'.  Yes, I am a cacher and, as everywhere in Oregon,  there are plenty for you to hunt for.  Don't miss Lakeview Geyser Earthcache GC23CK7, the Old Perpetual Geyser.
Picture Rock Pass offers panoramic views of the lakes and forests. Stunning Winter Rim divides forest and desert and as the Geocache 'Between Basins' suggests, ancient lake basins.  The Paisley Caves, discovered in the cliffs above the Great Basin, have revealed fossils and evidence of human habitation as long as 14,000 years ago.
We also took advantage of a soak in the mineral baths of Summer Lake Hot Springs.  You won't want to miss that.
Oregon Bed and Breakfast Guild is ready to share Oregon with you: it's environment, culture, and heritage. Combine gracious hospitality with ambiance at an inspected and approved Oregon Bed and Breakfast Guild member Inn.