Parkdale's Ponderosa Pine in the Hood River Valley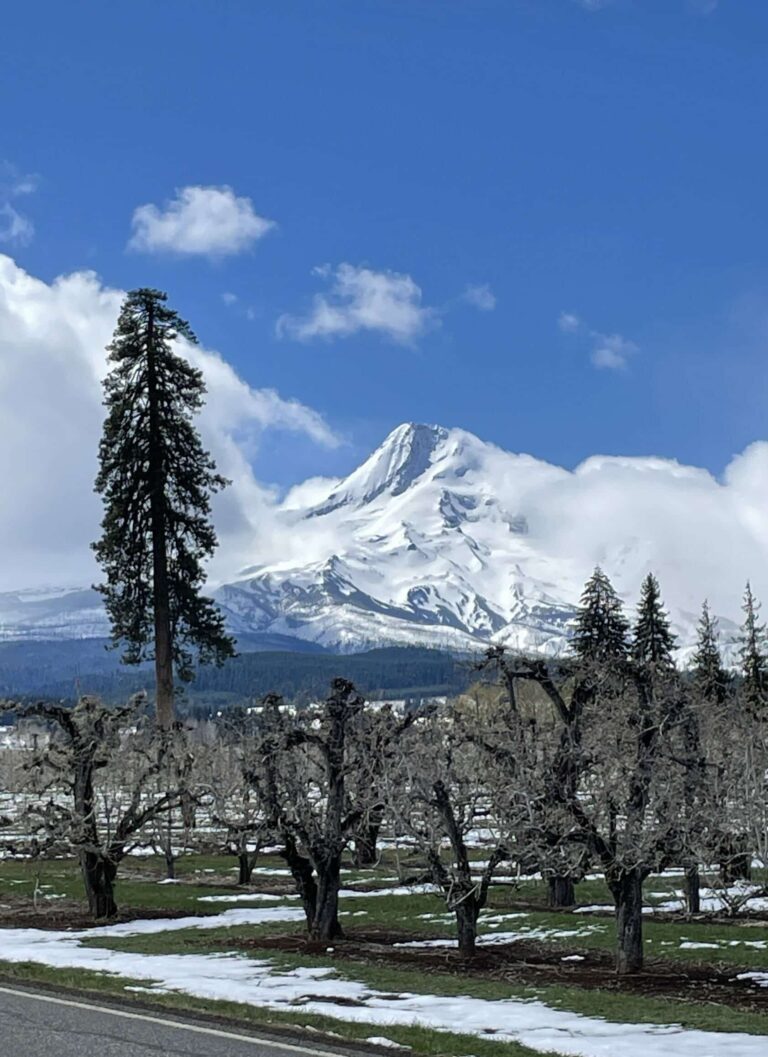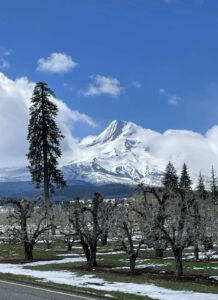 This magnificent landmark on the north slope of Mt. Hood is estimated to be about 600 years old. If Columbus had come to Oregon in 1492 he would have seen this tree already growing into a vigorous young sapling. When measured in the year 2000 it was 21.5 feet in circumference, 8 feet in diameter and 168′ tall. You can see this tree from about anywhere in the valley as it towers over the acres and acres of fruit trees. It's on the Halliday property about a half mile south of the Baseline Dr – Cooper Spur junction in Parkdale, Oregon.
The innkeepers at Parkdale's Old Parkdale Inn Bed and Breakfast are working to get this tree recognized as an Oregon Heritage Tree. We'll keep you posted
April celebrates Arbor Day and Earth Day and we'll recognize some Magnificent Oregon Trees all month
Arbor Day, much like Earth Day, is a holiday that celebrates nature. Its purpose is to encourage people to plant trees and this year the Oregon Bed and Breakfast Guild will take the opportunity to recognizes our unique, magnificent trees throughout the month of April. Many of these trees, but not all, have been recognized as Oregon Heritage Trees.
Oregon Heritage Trees – Trees that Tell an Historic Story
Oregon has a vast amount of ancient trees across the state that are reminders of not only the their longevity but as their importance to the environment and our Oregon Heritage. Many have been recognize by the Oregon Travel Information Council in their Oregon Heritage Tree program.
These Trees Tell Stories
'Honored groves, single trees or groups of trees have something in common with one another no matter what the species: they are trees that tell a story; trees that confound and astound; trees that educate both Oregonians and visitors about significant people or events from the past; trees that have survived natural disasters or stand as silent sentries to the passage of time. And that's only a small part of what makes an Oregon Heritage Tree compelling.'
Oregon Bed and Breakfast Guild is ready to share Oregon with you: it's environment, culture, and heritage. Combine gracious hospitality with ambiance at an inspected and approved Oregon Bed and Breakfast Guild member Inn.
Hospitality Update: Our inns are following COVID-19 protocol guidance from the Oregon Health Authority. Oregon's statewide mask requirement for indoor public places was lifted on March 12.
After mask guidelines are lifted:
● Some businesses may choose to still require masks.
● Some people may choose to still wear a mask.
We have all struggled through COVID-19 and could use a little kindness. Please be respectful of local businesses and their workers and most importantly kind to yourself.
Let's all be respectful and safe and follow the guidance of the CDC. Our inns are doing everything in our power to keep you safe. Not sure if your favorite inn is open? Give them a call as they just might be.