National Pumpkin Bread Day October 30, 2022
When it comes to delicious holidays, today takes the cake, or in this case the bread just in time for Halloween, Oct. 30
While little ghouls and goblins across the nation are getting into the Halloween "spirit" by carving all sorts of designs into pumpkins, how does a slice of homemade pumpkin bread sound? Whether you prefer yours loaded with nuts, chocolate chips or raisins, or Pecans as the innkeeper from MaMere's Guest House prefers, pumpkin bread is a moist quick bread that is perfect for breakfast, lunch, dinner or snack.
MaMere's Guest House in the Heart of Oregon's Wine Country
MaMere's Guest House is located in the heart of wine county, and is the perfect place to call home while you explore the surrounding wineries or visiting Western Oregon University. The property is on the National Register of Historic Places and is only a block from WOU and Monmouth's Main Street.
MaMere's Pecan Pumpkin Bread recipe from MaMere's Guest House in Monmouth, OR!
Ingredients:
3 1/2 Cups flour
2 tsp. baking soda
1 1/2 tsp salt
2 tsp cinnamon
2 tsp nutmeg
3 cups sugar
4 eggs
2/3 cups water
1/2 cup oil
1/2 cup applesauce
15 oz can pumpkin (about 2 cups)
2 cups chopped pecans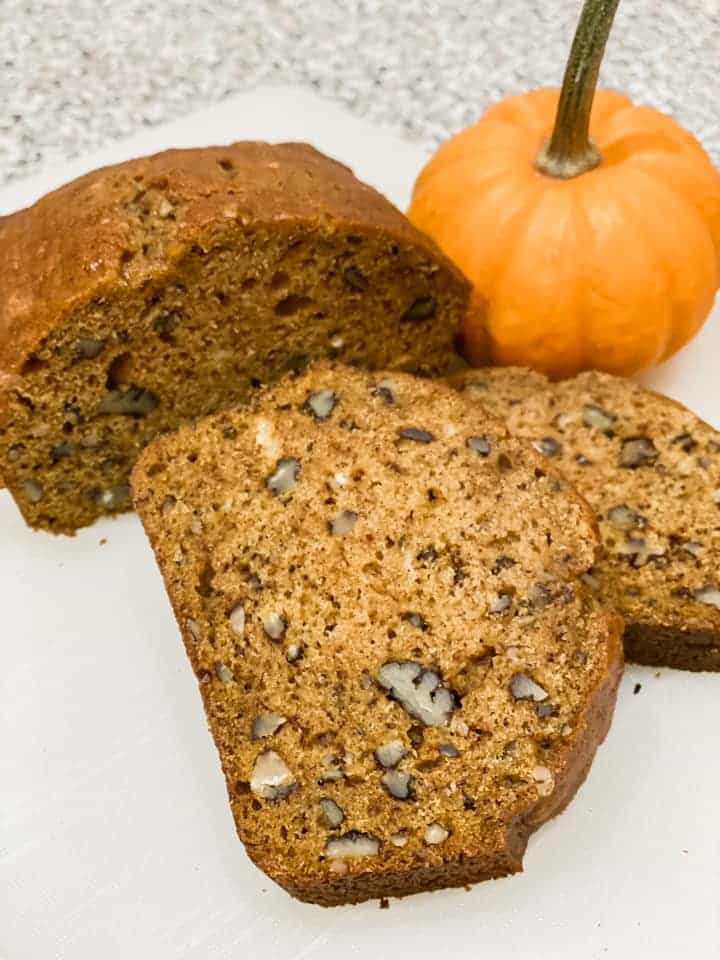 Instructions:
Preheat oven to 350 degrees and grease 3 loaf pans.
Combine eggs, water, oil, applesauce and pumpkin in a bowl.  Add sugar, soda, salt, cinnamon, nutmeg, and flour. Stir until blended. Add nuts and mix well.
Pour mixture evenly into 3 loaf pans. Bake for 1 hour.
Check doneness with a toothpick.
Flavor is best if baked day before using.
CLICK HERE TO DOWNLOAD THIS POSTCARD FOR FREE (then print and affix to heavier cardstock, stamp and mail!)
Oregon Bed and Breakfast Guild is ready to share Oregon with you: it's environment, culture, and heritage. Combine gracious hospitality with ambiance at an inspected and approved Oregon Bed and Breakfast Guild member Inn.
Hospitality Update: Watch for updates as mask restrictions may lift soon under guidance from the Oregon Health Authority, Oregon is still requiring masks in some outdoor public spaces and all indoor public spaces, that includes the inns of the Oregon B&B Guild. 
Let's all be respectful and safe and follow the guidance of the CDC. Our inns are doing everything in our power to keep you safe. Not sure if your favorite inn is open? Give them a call as they just might be.