Shopping Small in Monmouth, Oregon adds up to Big Things.
Small businesses are at the core of every thriving neighborhood. That's why, in the midst of the recession in 2010, American Express created Small Business Saturday® on the Saturday after Thanksgiving to encourage people to Shop Small and bring more holiday shopping to small businesses. Small businesses have been crippled and are counting on all of us to rebuild, promote, and sustain our resilient communities.
The Oregon Bed and Breakfast Guild asked our innkeepers to share what's not to miss in their communities: restaurants, shops, parks, and we'd present a series of blog posts, extending a show of small business camaraderie and economic optimism.
MaMere's Guest House is located in the heart of wine county, the perfect place to call home while you explore the surrounding wineries or visiting Western Oregon University.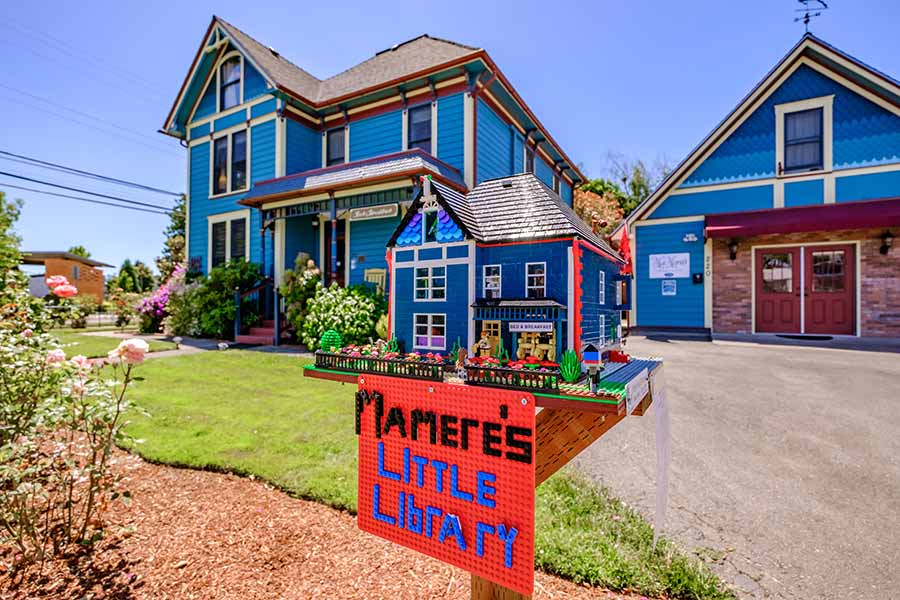 The property is on the National Register of Historic Places and is only a block from Western Oregon University and Monmouth's Main Street. From the Inn tour local vineyards, visit the coast, or just relax and enjoy a glass of wine amongst the beautiful flowers, while listening to music from the Monmouth Amphitheater in Main Street Park.
Two restaurant ideas
Crush Wine Bar – A good for lunch & dinner. Ovenbird Bakery for baked treats and sandwiches. The Sippery – coffee, treats, gelato, dinner and live music.
Gift Boutiques
For adorable gifts and fun things you'll want to keep for yourself: The Find and Western Oregon University Bookstore – Get all your WOU apparel and gifts!
Walking Trails/Parks
For a nice easy walk and some birdwatching: Independence River Walk – walk along the Willamette River and then grab lunch in downtown Independence and Baskett Slough – Easy drive from MaMere's Guest House to this bird sanctuary.
Inspiration Gardens – Originally the land was part of the Mt. Fir Lumber Mill. It was donated to the city in the early 90's and is a project of the Polk County Chapter of OSU Master Gardeners
Something Unique – We have wild peacocks in Monmouth! There is a good chance you will spot one on a walk or drive around town. Rumor has it a Peacock Festival is in the works!
We'd like to extend an invitation to reserve your room at MaMere's Guest House, visit Monmouth and Shop Small on November 28, 2020, any day really, because shopping at a family-owned business such as an inn of the Oregon Bed and Breakfast Guild or purchasing specialty items from your favorite, local online business or store helps to promote more vibrant communities. We thank you in advance.
Oregon Bed and Breakfast Guild is ready to share Oregon with you: it's environment, culture, and heritage. Combine gracious hospitality with ambiance at an inspected and approved Oregon Bed and Breakfast Guild member Inn.
Hospitality Update: Our inns are following COVID-19 protocol guidance from the Oregon Health Authority. 
Although mask guidelines are lifted:
● Some businesses may choose to still require masks.
● Some people may choose to still wear a mask.
We have all struggled through COVID-19 and could use a little kindness. Please be respectful of local businesses and their workers and most importantly kind to yourself.