Christmas Monster Cookies
On the first day of Christmas the apprentice innkeepers at MaMere's Guest House requested something with M&Ms. So they tried a new recipe! It was Christmas Monster Cookies for the win. They have a little bit of something for everyone – M&Ms, pretzels, oats, chocolate chips, & white chocolate chips. A new holiday staple!
Ingredients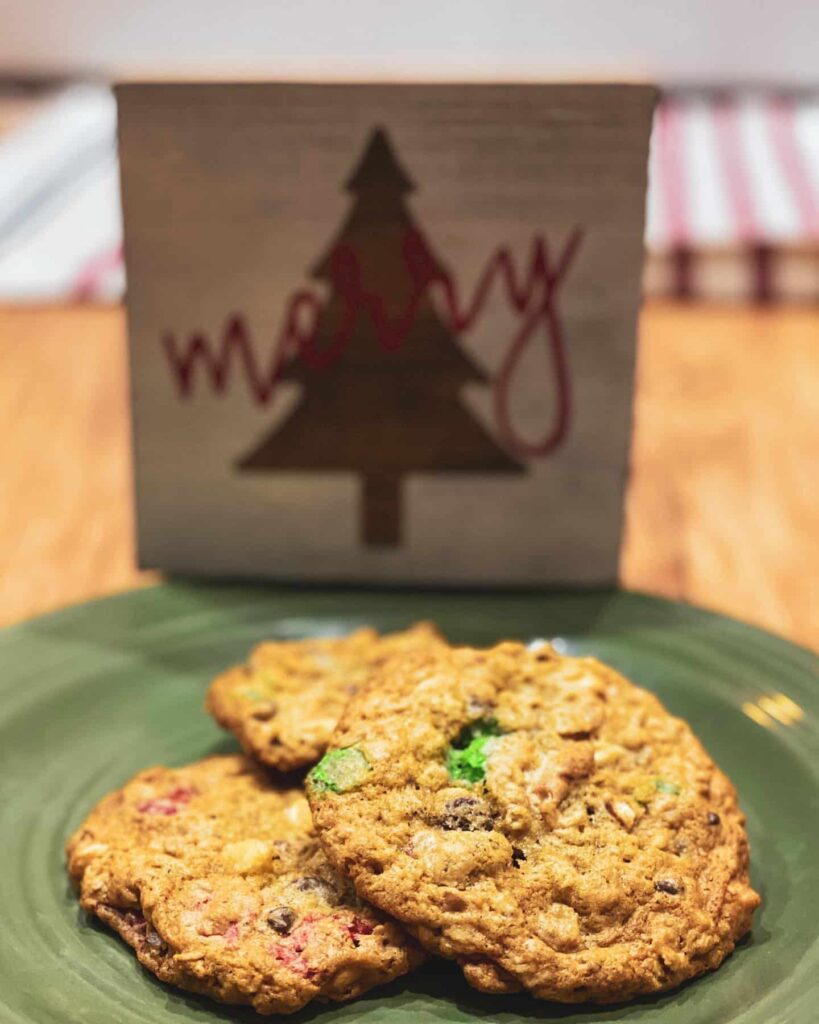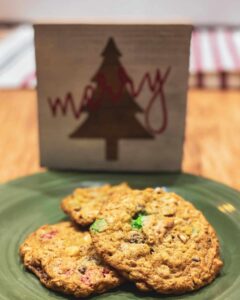 2 sticks (1 cup) salted butter at room temperature
1 cup dark brown sugar
1/2 cup granulated sugar
2 large eggs, plus 1 egg yolk
1 tablespoon vanilla extract
2 cups all-purpose flour
2 teaspoons baking soda
2 teaspoons baking powder
1/2 teaspoon kosher salt
2 cups old fashioned oats
1 1/4 cups holiday M&M's
1 cup mini pretzel sticks, crushed
1 cup semi-sweet chocolate chips or chunks
1/2 cup white chocolate chips
Instructions
1. Preheat the oven to 350° F. Line a baking sheet with parchment paper.
2. In a large mixing bowl, beat together the butter, brown sugar, granulated sugar, and vanilla until combined. Beat in the eggs and 1 egg yolk, 1 at a time, until combined. Add the flour, baking soda, baking powder, and salt. Beat in the oats.
3. Fold in 1 cup of the M&M's, the pretzels, chocolate chips, and white chocolate.
4. Roll the dough into 1/4 cup size balls. Place 3 inches apart on the prepared baking sheet.
5. Transfer to the oven and bake for 8 minutes, then rotate the pan and bake another 2 minutes. Pull the pan out and push the remaining M&M's into the cookies. Bake 2-3 minutes. Remove from the oven and let the cookies cool on the baking sheet. They will continue to cook slightly as they sit on the baking sheet.
6. Eat warm, highly recommended, or let cool and store in an airtight container for up to 4 days. I'm pretty sure they won't last that long.
An inspected and approved member of the Oregon Bed and Breakfast Guild, MaMare's Guest House and Event Center is located in historic Monmouth, Oregon, home to Western Oregon University, which was founded in 1866.
The Historic Howell House, now home to MaMere's Guest House, was built in 1891 by John Howell after moving to Monmouth to educate their children at Oregon Normal School, now Western Oregon University. The house displays Howell's craftsmanship and serves as a kind of advertising for his trade.
Oregon Bed and Breakfast Guild is ready to share Oregon with you: it's environment, culture, and heritage. Combine gracious hospitality with ambiance at an inspected and approved Oregon Bed and Breakfast Guild member Inn.
Hospitality Update: Our inns are following COVID-19 protocol guidance from the Oregon Health Authority. 
Although mask guidelines are lifted:
● Some businesses may choose to still require masks.
● Some people may choose to still wear a mask.
We have all struggled through COVID-19 and could use a little kindness. Please be respectful of local businesses and their workers and most importantly kind to yourself.