36 Hours in Roseburg, Oregon –
What to See, Do, Eat and Where to Stay
What would you do if you only had 36 hours in and near Roseburg, Oregon? See? Eat? Where would you stay? The innkeepers with the Oregon Bed and Breakfast Guild have offered suggestions to make your day-and-a-half Oregon adventure worth every second! Check out these insider tips below.
36 Hours in Roseburg
Where to Eat Lunch in Roseburg
Brix Grill in historic old town Roseburg is consistently good. It's a stylish eatery, full of locals, has a large variety, and great service, say the innkeepers at C.H. Bailey House in Roseburg. Lighthouse Center Bakery is vegan and people drive for miles to eat there. No matter what day you go, it is always busy, but service is great and it never seems overcrowded. The food is great, the place is beautiful, and the outdoor seating is lovely.
Where to Eat Dinner in Roseburg
True Kitchen + Bar is intimate, beautifully decorated, and offers refined Northwest dinners, cocktails and wine. The desserts are amazing, per C.H. Bailey House. The Parrott House, set inside a restored historic home from 1891 has upscale dining, great drinks, a wonderful setting and atmosphere, and a fun Bourbon Bar.
Things to Do in Roseburg
If you only have 36 hours, you'll want to go wine tasting! There are 30 wine tasting rooms and eight local breweries. Try Abacela Winery. Their wine is award winning, but even if everyone in your party doesn't drink, the walk through the vineyards to the gazebo on a hill is great exercise and provides a wonderful place for respite and views. If you take a bottle of wine and some glasses with you, it's even better.
Make sure to leave enough time for the Wildlife Safari in Winston. The Safari is known for its cheetah breeding program and fun experiences, like having an elephant paint a picture for you.
Best Waterfalls in Roseburg or Near Roseburg
There are so many waterfalls in the Umpqua Valley. 'One of our favorites which we ofter hike to it on Christmas Day, is Wolf Creek Falls. It's a two tier waterfall located on the west side of the Umpqua National Forest. You'll find it where rivers of the forest create several waterfalls; Cavitt Creek Falls and Shadow Falls are within five miles of Wolf Creek.
The Courthouse Elm – an Oregon Heritage Tree
The Courthouse Elm 'was given to Douglas County by Binger Hermann. Hermann served in the U.S. Congress from 1885 until 1897, and again from 1903 until 1907. During the intervening years, he was Commissioner of the General Land Office in Washington, D.C.
Where to Stay in Roseburg
C.H. Bailey House is a one-bedroom bungalow, tastefully furnished with full amenities, luxurious linens, complimentary local wine and beer, breakfast and fresh flowers. A guest once said the innkeepers provide, "Culture and class in rural Oregon."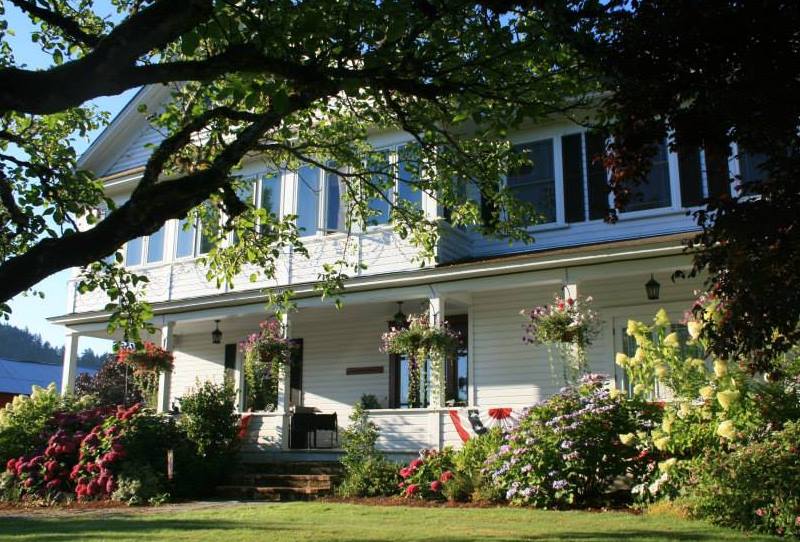 Oregon Bed and Breakfast Guild is ready to share Oregon with you: it's environment, culture, and heritage. Combine gracious hospitality with ambiance at an inspected and approved Oregon Bed and Breakfast Guild member Inn.
Hospitality Update: Our inns are following COVID-19 protocol guidance from the Oregon Health Authority. 
Although mask guidelines are lifted:
● Some businesses may choose to still require masks.
● Some people may choose to still wear a mask.
We have all struggled through COVID-19 and could use a little kindness. Please be respectful of local businesses and their workers and most importantly kind to yourself.