MaMere's Guest House and Event Center in the Heart of Oregon's Wine Country
MaMere's Guest House is located in the heart of wine county, and is the perfect place to call home while you explore the surrounding wineries or visiting Western Oregon University.  The property is on the National Register of Historic Places and is only a block from WOU and Monmouth's Main Street.
MaMere's Guest House is charming, unique and colorful inside and out! Built in 1891 as a boarding house for female students, it has since housed hundreds and continues to do so today in its present form as a Bed and Breakfast Guest House.  From the Inn tour local vineyards, visit the coast, or just relax and enjoy a glass of wine amongst the beautiful flowers, while listening to music from the Monmouth Amphitheater in Main Street Park.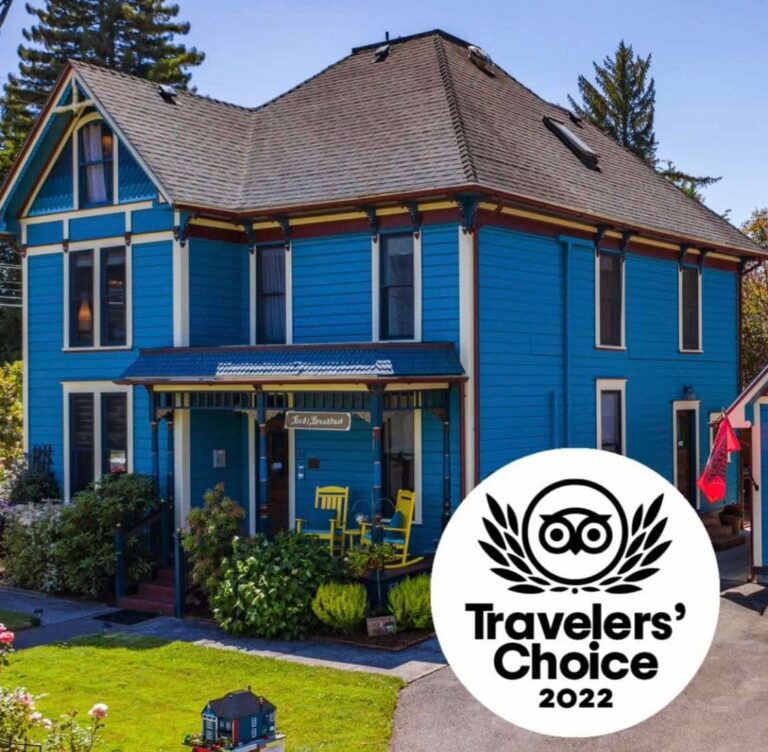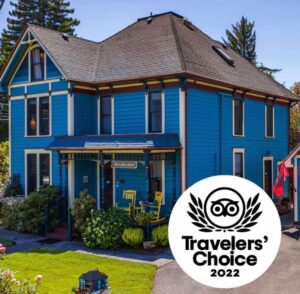 A TripAdvisors 2022 Travelers' Choice Award Winner
Awarded Travelers' Choice 2022 by TripAdvisor, MaMare's demonstrates a commitment to hospitality excellence thanks to their  excellent reviews! This puts them in the top 10% of hotels worldwide!
MaMere's Guest House provides an unforgettable breakfast each morning. Taking advantage of Oregon's Bountiful Central Valley, MaMere's breakfast often include fresh fruits, baked treats, and savory home cooked meals. Offering everything from homemade waffles, and bacon to delicious quiche. Experience the delight, as you wake up to slow roasted coffee, and a specially prepared meal.
"Amazing historical house! This beautiful old home has charm & personality! Cannot add more stars to say it was one of the best B&B experiences we have had." a Tripadvisor contributor.
Planning a 2021 Willamette Valley wedding? MaMere's Guest House and Event Center is the perfect space for intimate wedding ceremonies, elopements, receptions, bridal showers, rehearsal dinners, bachelorette party weekends, and/or lodging for your guests!
Oregon Bed and Breakfast Guild is ready to share Oregon with you: it's environment, culture, and heritage. Combine gracious hospitality with ambiance at an inspected and approved Oregon Bed and Breakfast Guild member Inn.
Hospitality Update: Our inns are following COVID-19 protocol guidance from the Oregon Health Authority. 
Although mask guidelines are lifted:
● Some businesses may choose to still require masks.
● Some people may choose to still wear a mask.
We have all struggled through COVID-19 and could use a little kindness. Please be respectful of local businesses and their workers and most importantly kind to yourself.