The Fulton House Bed and Breakfast, minutes from Downtown Portland.
The Oregon Bed and Breakfast Guild is thrilled to welcome Fulton House Bed and Breakfast as our only Portland B&B. New owners Georgia & Rex have been busy sprucing up The Fulton House for a whole new chapter in the life of this beautiful house.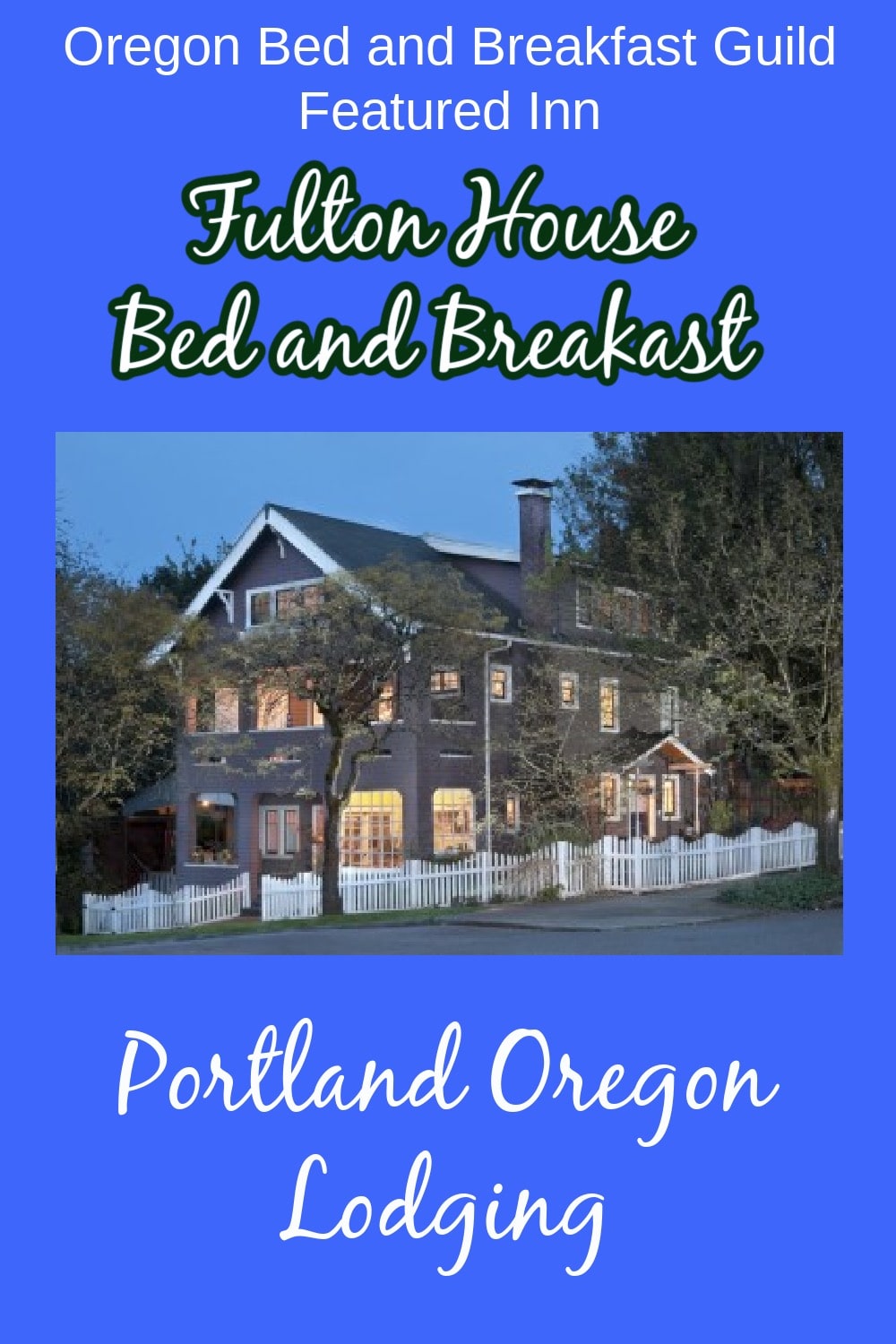 The Fulton House Bed and Breakfast, located in Southwest Portland and one block from Willamette Park and the Willamette River and the Willamette Greenway.
Built in the late 19th century The Fulton House was originally a bordello situated on a log raft in the Willamette River. A century ago the house was lifted, placed on round logs and dragged to its present location. The Fulton House, derives from the small town of Fulton, which was annexed into Portland many decades ago.
With mass transportation nearby you can set out to explore Portland or visit the famous medical facilities at the Oregon Health & Science University (OHSU) via the Portland Aerial Tram up "Pill Hill."
The Fulton House offers four guest rooms, each offers private baths, cable TV, free local and long distance telephone service, high speed wireless internet, and a refrigerator stocked with bottled water, pop and a bottle of wine, all complimentary.
As is with all members of the Oregon Bed and Breakfast Guild, The Fulton House serves a delicious full breakfast that might be french toast, quiche, waffles, blueberry pancakes or Fulton House eggs & potatoes, accompanied by a variety of fresh fruits, scones or muffins, granola, yogurts, juices and beverages. Each afternoon, a special treat of cake or cookies plus beverage are available for your added pleasure.
Oregon Bed and Breakfast Guild is ready to share Oregon with you: it's environment, culture, and heritage. Combine gracious hospitality with ambiance at an inspected and approved Oregon Bed and Breakfast Guild member Inn.
Hospitality Update: Our inns are following COVID-19 protocol guidance from the Oregon Health Authority. Oregon's statewide mask requirement for indoor public places was lifted on March 12.
After mask guidelines are lifted:
● Some businesses may choose to still require masks.
● Some people may choose to still wear a mask.
We have all struggled through COVID-19 and could use a little kindness. Please be respectful of local businesses and their workers and most importantly kind to yourself.