Guest contributor Emily from MaMere's Guest House, invites you to celebrate the beginning of the holiday season with Monmouth's Making Spirits Bright event. It kicks off on the Western Oregon University campus with their 56th annual tree lighting and light parade and continues the next day with the Monmouth Merry Market. And celebrate all season with Santa's Village and Light Displays at Main Street Park. 
Friday, December 1st
Western Oregon University Holiday Light Parade and Tree Lighting
6pm: Holiday Light Parade and WOU's Annual Tree Lighting




Celebrate the beginning of the holiday season on WOU's campus with their 55th annual tree lighting and light parade! Enjoy Cocoa and Cider sponsored by Alumni relations next to the Sequoia tree while listening to guest speakers, celebrating essay contest winners, and watching the magnificent Tree lighting.

7:30 – 9pm: Holiday Activities in the Werner University Center




Come see Santa in the Werner University Center! And while you're there hang out and enjoy more holiday activities including holiday cookie decorating!
8:30-10:30am: Friends of the Senior Center Pancake Breakfast Fundraiser

10am-3pm: Creative Kid's Maker Market at the Monmouth Senior Community Center


Come support the youngest entrepreneurs in our community! Kids will be selling hand-crafted art, crafts, and more!

10am-3pm: Monmouth Merry Market


Your favorite businesses will be hosting exclusive vendors or specials during the market. Including OBBG's own MaMere's Guest House! The first customers to Monmouth's Merry Market will get an exclusive Making Spirits Bright giveaway. A special appearance from WOU's acapellla group, The West of Us, will be caroling around town to participating Monmouth's Merry Market businesses!

4:40pm: Santa's Village and Light Displays at Main Street Park

 

7:30pm: Smith Fine Arts presents Never Come Down
Don't miss 

Smith Fine Art's

 next performance featuring Bluegrass and Americana band Never Come Down. This Portland band is sure to delight. 
Be sure and check out other great holidays events taking place in Monmouth & stay up to date on all things Making Spirits Bright on the Monmouth Business Association website!
Holiday Fun All Season Long – Make Monmouth Bright
Grab some hot cocoa and enjoy holiday light displays in Main Street Park nightly throughout the season. You can see more holiday light decorations throughout town as part of the Make Monmouth Bright Light Decorating Competition.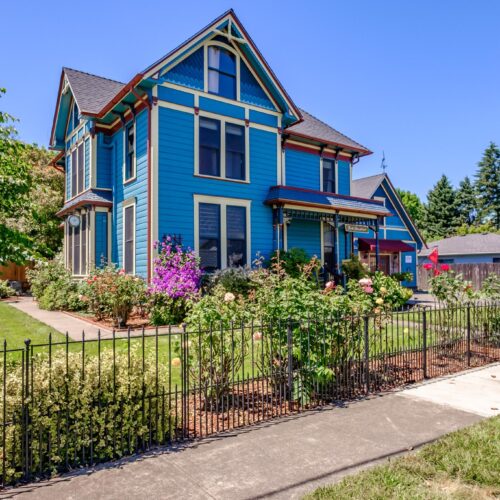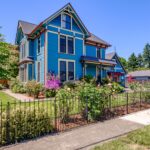 MaMere's Guest House and Event Center is located in the heart of wine county, and is the perfect place to call home while you explore the surrounding wineries or visit Western Oregon University (WOU). We are only a block from WOU and Main Street and an easy drive to Salem, Corvallis, McMinnville, and Independence.
Phone: 503-917-8745  Check Availability
Oregon Bed and Breakfast Guild is ready to share Oregon with you: it's environment, culture, and heritage. Combine gracious hospitality with ambiance at an inspected and approved Oregon Bed and Breakfast Guild member Inn.
Hospitality Update: Our inns are following COVID-19 protocol guidance from the Oregon Health Authority.
Although mask guidelines are lifted:
● Some businesses may choose to still require masks.
● Some people may choose to still wear a mask.
We have all struggled through COVID-19 and could use a little kindness. Please be respectful of local businesses and their workers and most importantly kind to yourself.