National Small Business Week 2022
May 1, 2022 to May 7, 2022
National Small Business Week is May 1 through May 7. America runs on small businesses and small businesses are the retail backbone of our communities and our economy. Shop Small is a nationwide movement dedicated to supporting thousands of small businesses and encouraging shoppers to think small.
For more than 50 years, the U.S. Small Business Administration has celebrated National Small Business Week which recognizes the critical contributions of America's entrepreneurs and small business owners.
National Small Business Week 2022
May 1, 2022 to May 7, 2022
We hope you will celebrate with us by supporting the inns of the Oregon Bed and Breakfast Guild. Support local by shopping local, spreading some kindness, and encourage your community to do the same!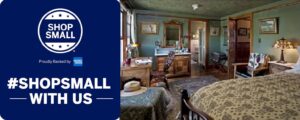 The Oregon Bed and Breakfast Guild offers a wide variety of inns, from a small guest cottage or two-room bed and breakfast to a larger country inn or small historic hotel. No two inns are alike. One thing we all have in common: we are small, owner/manager operated, independent lodging properties. When you stay with us, or purchase a Gift Certificate, you are making a difference by supporting our businesses and our community. Fact: for every dollar spent at a small business in the U.S., approximately 67 cents stays in the local community
The Lodging Gift Certificates of the Oregon Bed and Breakfast Guild can be purchased online line and are redeemable at any one of our 40 Oregon Bed and Breakfasts, available in $25 increments. By giving the gift of a Lodging Gift Certificate from the Oregon Bed and Breakfast Guild, you'll be giving the gift of a unique Oregon Experience. And unlike some other Gift Certificate programs that keep upwards of 20% of the face value, know that 100% goes directly to our innkeepers, each a small individually owned Oregon Inn. We thank you in advance.
When you commit to booking direct you will enjoy many perks and amenities that you would not have access to when booking through a travel agency. Not to mention, you will almost always pay less!
Oregon Bed and Breakfast Guild is ready to share Oregon with you: it's environment, culture, and heritage. Combine gracious hospitality with ambiance at an inspected and approved Oregon Bed and Breakfast Guild member Inn.
Hospitality Update: Our inns are following COVID-19 protocol guidance from the Oregon Health Authority. Oregon's statewide mask requirement for indoor public places was lifted on March 12.
After mask guidelines are lifted:
● Some businesses may choose to still require masks.
● Some people may choose to still wear a mask.
We recognize that there will be mixed feelings about this change. We have all struggled through COVID-19 and could use a little kindness. Please be respectful of a person's individual decision to wear a mask or not, and most importantly kind to yourself.
Our inns are doing everything in our power to keep you safe. Not sure if your favorite inn  is open? Give them a call as they just might be.