Elkhorn Scenic Byway
The Elkhorn Scenic Byway 'packs plenty of sights into a 106-mile loop through the mountains west of Baker City, long the lucrative hunting grounds of the Plateau Indian tribes and, later, where miners came to seek their fortunes. The true treasures are the Elkhorn Mountains and Baker Valley themselves, rich in beauty and history.' Travel Oregon
The byway passes through farmlands along the Powder River before climbing up into a beautiful area of mountain lakes and outdoor adventure. The fall foliage starting here around October is absolutely gorgeous.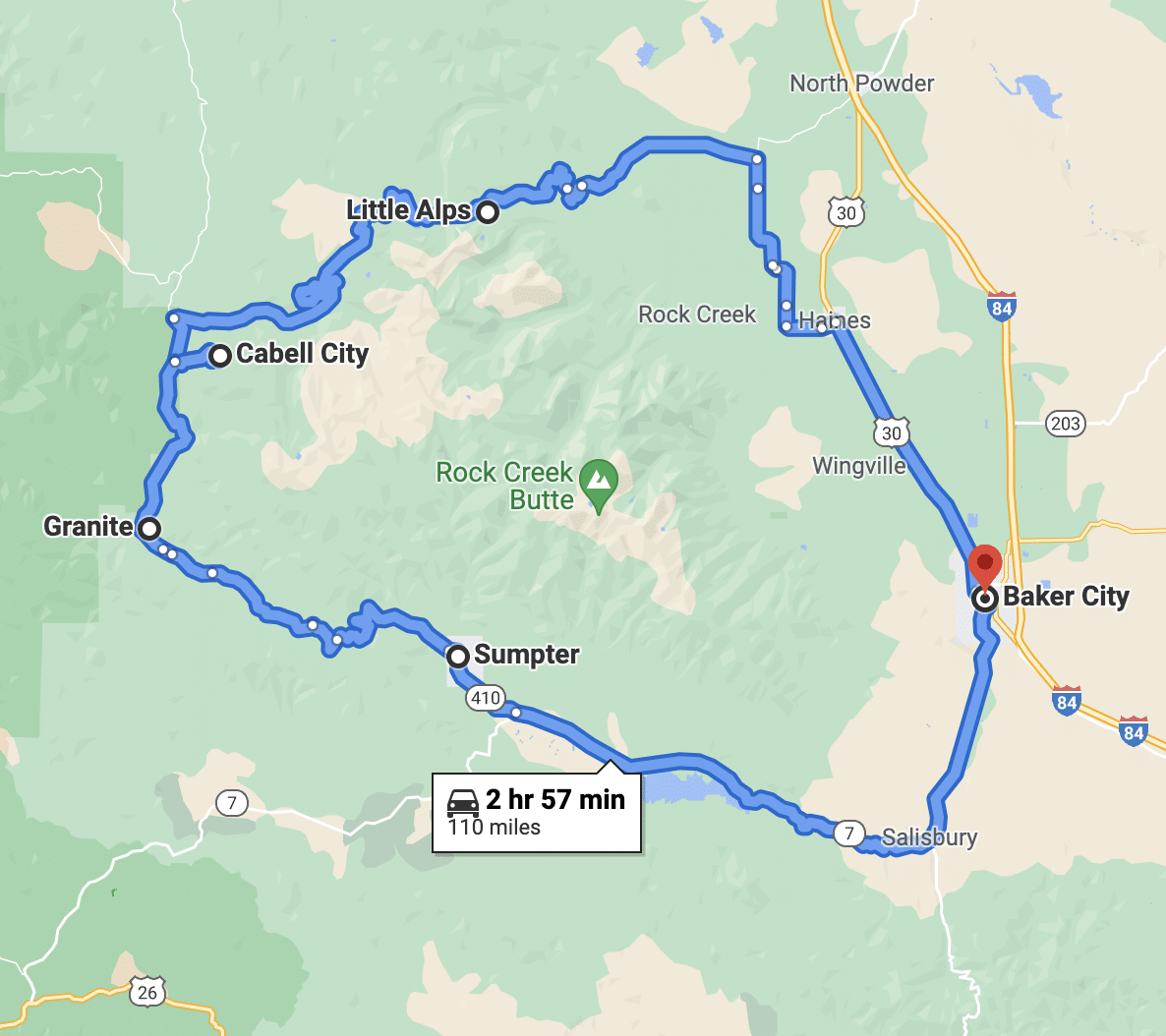 Miners and Farmers
Around 1900, thousands of miners chiseled and dredged millions in gold from the Elkhorn Mountains and Powder River to Sumpter. The massive Sumpter Valley Dredge still floats here, and has been recently restored. The dredge left much of the rocky footprint that you'll see on your trek along Highway 7, and is an important link to Oregon's pioneering past and development. It is one of the largest and most accessible gold dredges in the U.S.
Ghost towns of Oregon
The town of Granite was also big during the gold-rush, and many buildings here, now abandoned, remind us of a once flourishing place in Oregon. John Cabell operated the La Bellevue Mine in Cabell City.  All that remains of the settlement is the cemetery, which houses the graves of Fred and Johanna Cabell and their 8-year-old daughter, as well as a few abandoned buildings and mining equipment.
There is plenty to do on this road trip: hiking, biking, picnicking and oh, so many photo ops. We traveled this route the first part of the week, performing some quality assurance inspections on Oregon Bed and Breakfast Guild inns. We drove the Journey Through Time Scenic Byway to Wilson Ranches Retreat, then explored the Ghost Towns on the Elkhorn Scenic Byway. Quite a bit of snow over the summit so you might plan this trip for next summer. We stopped off in Baker City to see my brother then headed up to the Bronze Antler Bed and Breakfast in Joseph Oregon. It was a lovely couple of days exploring Eastern Oregon
Oregon has 29 designated Scenic Byways! So, get in the car, take some pics, and reignite your soul. Quick note: please check for travel alerts, as well as the road and weather conditions. This free guide to Oregon scenic byways might come in really handy too.
You're going to need road snacks for sure.
Oregon food trails and several Oregon food loops serve local fare with scenery on every side included for you keep you full. And Food Pods, popping up across the state. All the growers and crafters along these trails are committed to sustainable practices and supporting the agricultural legacy of their regions. So, go ahead — eat your heart out!
Visit the Target Market page to begin your search for an inn that will fulfill your interests, birding, hiking, biking, wine tasting, historic destinations, etc.
Oregon Bed and Breakfast Guild is ready to share Oregon with you: it's environment, culture, and heritage. Combine gracious hospitality with ambiance at an inspected and approved Oregon Bed and Breakfast Guild member Inn.
Hospitality Update: Our inns are following COVID-19 protocol guidance from the Oregon Health Authority. 
Although mask guidelines are lifted:
● Some businesses may choose to still require masks.
● Some people may choose to still wear a mask.
We have all struggled through COVID-19 and could use a little kindness. Please be respectful of local businesses and their workers and most importantly kind to yourself.