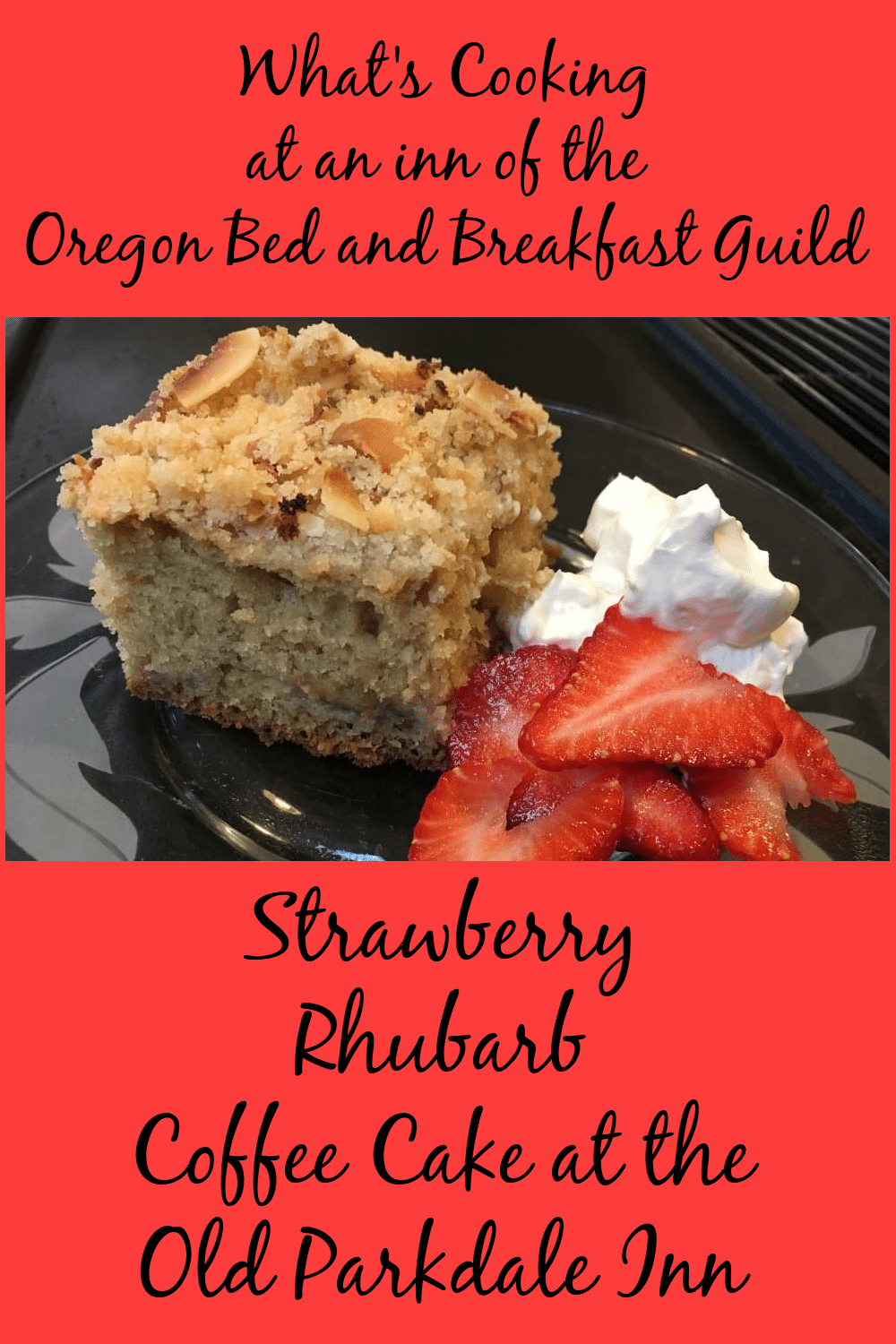 It is spring in the Pacific Northwest.  The rhubarb in the gardens of the Old Parkdale Inn is just about ready to harvest and the Oregon strawberries should begin to come on soon. Put the two together and we get a favorite of our guests, Strawberry-Rhubarb Coffee Cake
3 c fresh rhubarb, cut in 1-inch pieces
2 c fresh strawberries
sweeten with agave nectar (or one c sugar)
1/3 c cornstarch
Cook the strawberries and rhubarb for about 5 minutes.  Combine the sweetener of your choice with the cornstarch and add to fruit.  Cook until bubbly and thick.  Set aside to cool
3 c flour
1 c sugar
1 tsp baking soda
1 tsp baking powder
1 tsp salt
1/8 tsp cinnamon
1 c butter
1 c buttermilk
2 eggs
1 tsp almond extract
Combine dry ingredients.  Cut in butter until the mixture resembles fine  crumbs.  Beat wet ingredients together and add to flour mix, stirring just to moisten.  Spread half the batter in a greased 9x13x2 inch baking pan.  Spread the cooled rhubarb filling over this and spoon the remaining batter in small portions on top of the filling.
Make a topping by combining
3/4 c sugar, 2 cup flour, cut in 1/4 cup butter and then add 1/4 cup flaked coconut
Sprinkle over the coffee cake batter, bake at 350 degree oven for 40-45 minutes.  The innkeepers of the Oregon Bed and Breakfast Guild truely enjoy turning your vacation into a culinary vacation.  Coffee anyone?
The Old Parkdale Inn is located in the Upper Hood River Valley on the north slope of Oregon's tallest peak, Mt. Hood, in the quaint town of Parkdale. Outdoor adventure, farms, wineries and fine dining are nearby. The complete privacy of the inn and the serene gardens are perfect for romantic and restful getaways.
Shop and travel Local
Oregon Bed and Breakfast Guild is ready to share Oregon with you: it's environment, culture, and heritage. Combine gracious hospitality with ambiance at an inspected and approved Oregon Bed and Breakfast Guild member Inn.
Hospitality Update: We all may be a little rusty, and a little leery, on planning trips just yet. And while it's almost safe enough to climb aboard that travel train, we're ready when you are! Our inns have been proactively doing everything in our power to keep you safe and welcome you back. Not sure if your favorite inn is open? Give them a call as they just might be.