Oregon Bird Watching in the Willamette Valley
There is an amazing wildlife show at these three Oregon wildlife refuges. Oregon Bird Watching is amazing. Especially this time of year when activity along the major flyways increase.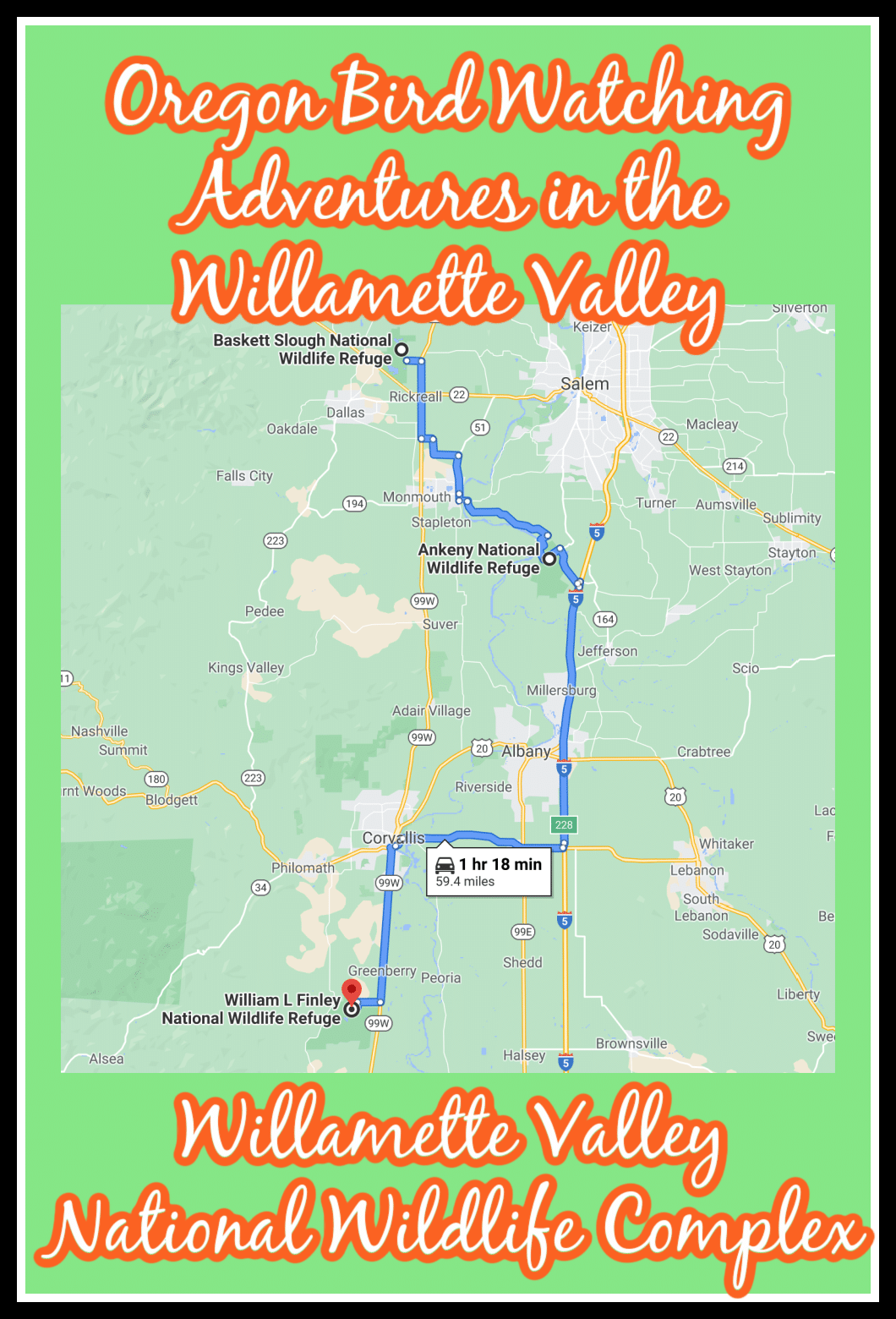 The Oregon Cascades Birding Trail (OCBT) is a great place to begin your birding adventure. From there you can decide where you'd like to visit. When you have made that decision turn to the website for the Oregon Bed and Breakfast Guild and I am sure you will find an inn close by.
The Willamette Valley is known for its unique Bed and Breakfasts, fertile land with orchards, vineyards and rolling grass fields.  Nestled between the snow-capped volcanic peaks of the Cascade Mountains and the forests of the Coast Range it's no wonder the valley offers an abundance of birds and bird habitats and the Willamette Valley Birding Trail will take you there.
Willamette Valley National Wildlife Complex provides protection for historically abundant oak savanna, native prairie, riparian forest and wetland habitats. In these three protected places, endangered plant populations grow, summer songbirds nest, and wintering waterfowl find sanctuary in vast wetlands.
A hungry flock of Canada Geese soar high and then land to munch the grass across deep lush pastures at the Baskett Slough Wildlife Refuge near Dallas, Oregon. They arrive at Baskett Slough from far off arctic nesting grounds and have come to this U.S. Fish and Wildlife Service refuge for the habitat.
Located near the confluence of the Willamette and Santiam Rivers, Ankeny National Wildlife Refuge. Established in 1965, the refuge provides wetlands and riparian woodland sanctuary for migratory and resident wildlife which range from the tiny Pacific chorus frog to the black-tailed deer.
Established in 1964, the William L. Finley National Wildlife Refuge's primary management goal is to provide wintering habitat for dusky Canada geese. Driving through the 5,325 acres of the refuge and the 341 acres of its Snag Boat Bend Unit, is like taking a step back into the natural history of the Willamette Valley.
The State of Oregon is a bird watcher's paradise. There are extensive reserves and habitats that serve as excellent nesting and brood rearing areas for waterfowl and colonial nesting birds including American white pelican and several heron species. Many of our Member Inns have habitats on their grounds or are located near land ideal for birding. Grab your binoculars, choose an inn, and set out on your bird watching adventure.
Oregon Bed and Breakfast Guild is ready to share Oregon with you: it's environment, culture, and heritage. Combine gracious hospitality with ambiance at an inspected and approved Oregon Bed and Breakfast Guild member Inn.
Hospitality Update: Our inns are following COVID-19 protocol guidance from the Oregon Health Authority. Oregon's statewide mask requirement for indoor public places was lifted on March 12.
After mask guidelines are lifted:
● Some businesses may choose to still require masks.
● Some people may choose to still wear a mask.
We recognize that there will be mixed feelings about this change. We have all struggled through COVID-19 and could use a little kindness. Please be respectful of a person's individual decision to wear a mask or not, and most importantly kind to yourself.