Say farewell to summer in Parkdale, Oregon. Plan your end of summer escape that includes a stay at the Old Parkdale Inn Bed and Breakfast.
East Gorge Food Trail: This trail boasts many family-owned farms and family experiences, like orchard u-pick, canneries, and farm-to-table dining. You'll also find crafted cider, beer, and wine on your route. You can also enjoy this trail car free! Stay at the Old Parkdale Inn
Where to Stay in Mount Hood
Old Parkdale Inn: Location! Location! Location! The Hood River Fruit Loop is located in the beautiful Hood River Valley at the foot of majestic Mt. Hood offers you a variety of wines, fruits, vegetables, flowers, ciders, and food. Outdoor adventures such as kayaking, windsurfing, skiing, snowboarding, biking and hiking await. Mt. Hood Meadows, Cooper Spur Mountain Resort, and Timberline Ski areas are only a short drive away, as is the vast Mt. Hood National Forest where trails and wildlife abound.
Tour the Hood River County Fruit Loop
It's harvest time in the Hood River Valley. Thousands of acres of apples and pears at both u-pick, we pick and commercial family farms. Hood River County Fruit Loop, a scenic 35-mile driving tour through the scenic Hood River Valley, past fruit stands, family farms, and wineries.
Oregon Trail: Follow the steps of pioneers.
Head to the Historic Barlow Road and see a replica of the old tollgate between mileposts 44 and 45 in Rhododendron. This is where pioneers had to pay $5 to cross. You'll can also see the Laurel Hill Chute, a vertical area where settlers lowered their wagons.
Head to the Mt Hood National Forest and take a dip in Trillium Lake, a popular place to cool off that offers spectacular views of Oregon's highest point, Mt. Hood.
Visit the Mt. Hood Cultural Center and Museum. The museum tells the history of skiing, snowboarding, and early days of Mt. Hood. Make times to peruse the Mt. Hood Gallery, which includes an interactive 3D mountain model, a unique exhibit on the evolution of skiing at Mt Hood, and a miniature replica of a fire lookout.
Cycling the Hood River County Fruit Loop
Cycling the Hood River Valley and its quiet back roads, opens up a world of gorgeous scenery, handcrafted beers and ciders, farm stands, museums, and wineries. A network of excellent cycling roads winds through the valleys fruit orchards. In the spring, be witness to an explosion of cherry, pear and apple blossoms. Summer finds the early summer fruits, warm days and cool nights. In the fall bask in the splendor of fall foliage and an amazing Oregon harvest.
Chase a Waterfalls in Mount Hood or Near the Old Parkdale Inn

Tamanawas Falls are amazing at 100 feet high and 40 feet wide. The trailhead footbridge is the midpoint of a 8-mile stretch of the East Fork of the Hood River hosting nesting Harlequin Ducks. Belted Kingfisher are common but it's the songbirds you're likely to remember long after they've sung their tunes. The trailhead is only 9-miles from the Old Parkdale Inn.
Ramona Falls: This shaded waterfall is in a forest along the Pacific Crest Trail on the upper Sandy River — on the west side of Mount Hood. The falls are about 120 feet tall, consisting of a wall of cascades.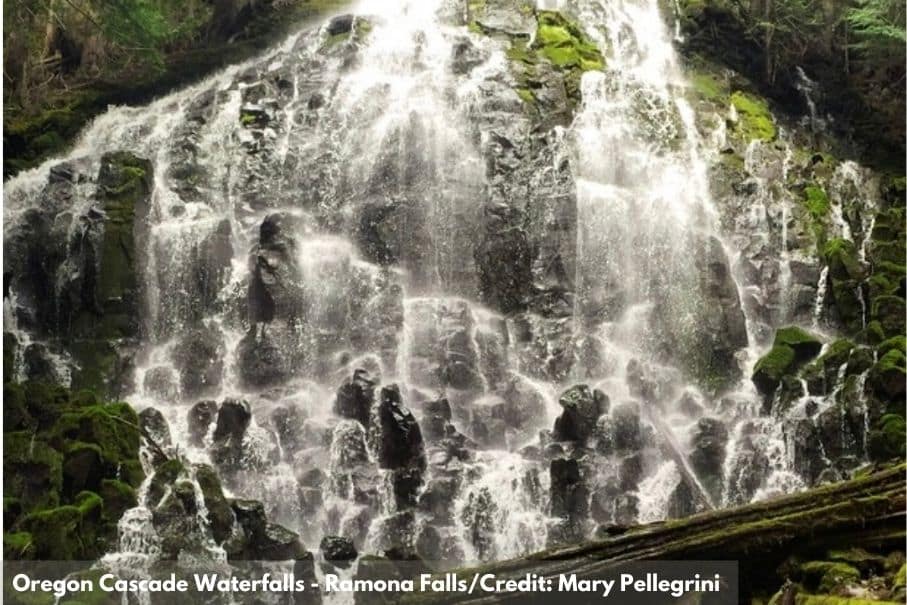 Little Zig Zag River Falls (W19): One of Oregon's hidden gems. A picturesque stream leads to a photogenic waterfall on this family-friendly trail; complete with a picnic table at the very start. It couldn't be more perfect.
Pencil Falls (W21): This glacier-fed waterfall is in the alpine area of Mount Hood Meadows. A small path leads to a great viewing.
Upper Heather Canyon Falls (W22): Where the Timberline Trail crosses Heather Creek, is thought to be one of the most scenic areas of Mount Hood. In Heather Canyon a series of waterfalls tumbles beneath this trail.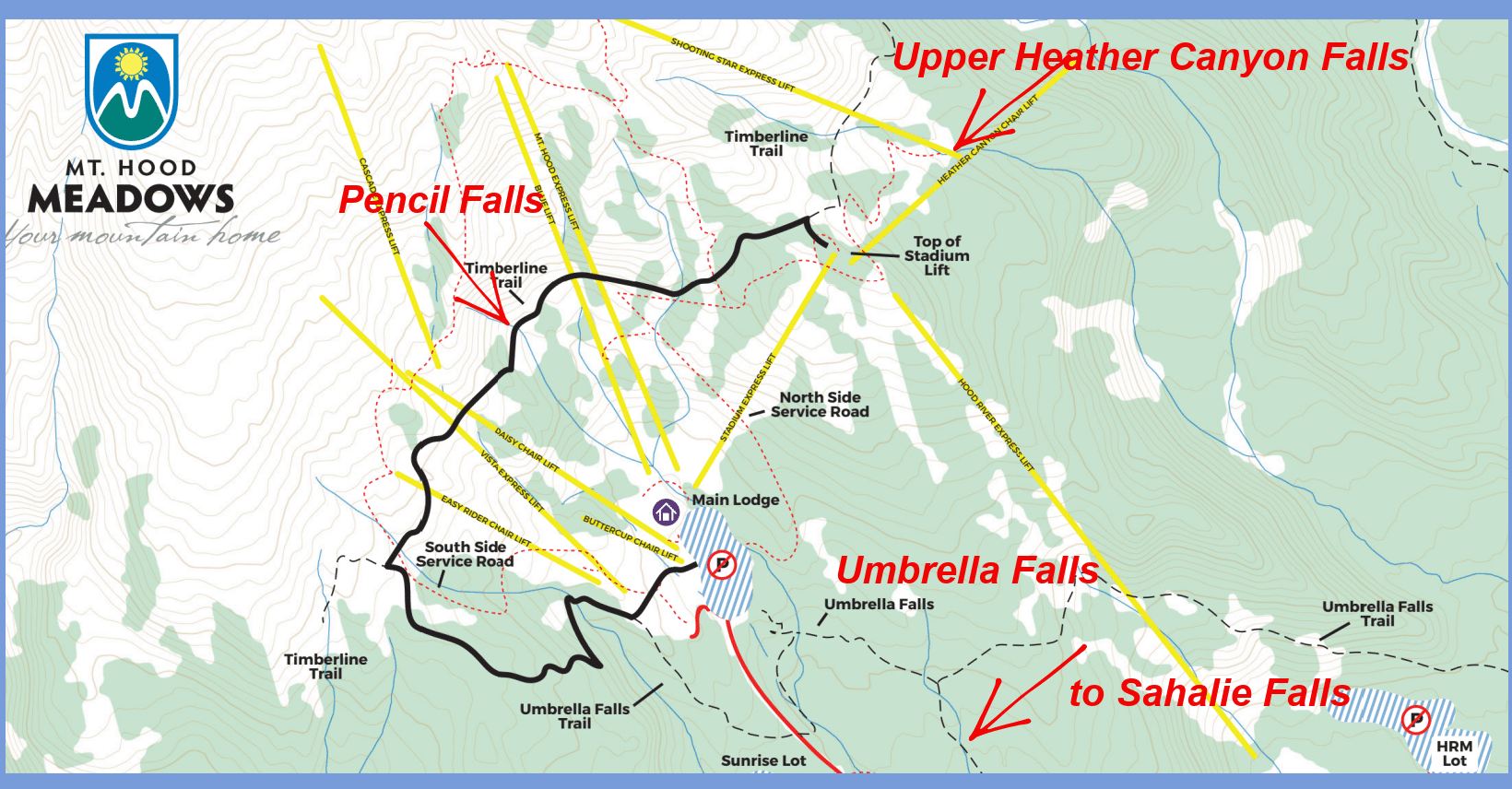 Umbrella Falls (W23): This popular and family-friendly waterfall is accessible from scenic hiking trails. Look up! You'll see a chair lift too. Click here to read all about the hike.
White River Falls (W33): The waterfall is the main focus of the White River Falls State Park and for good reason — the scenic White River plunges 90-feet from a basalt shelf. It's been written up in many books too, see the titles here.
Oregon Bed and Breakfast Guild is ready to share Oregon with you: it's environment, culture, and heritage. Combine gracious hospitality with ambiance at an inspected and approved Oregon Bed and Breakfast Guild member Inn.
Hospitality Update: Our inns are following COVID-19 protocol guidance from the Oregon Health Authority. Oregon's statewide mask requirement for indoor public places was lifted on March 12.
After mask guidelines are lifted:
● Some businesses may choose to still require masks.
● Some people may choose to still wear a mask.
We have all struggled through COVID-19 and could use a little kindness. Please be respectful of local businesses and their workers and most importantly kind to yourself.