'Travel brings us up close to some of our planet's most stunning natural wonders and connects us with cultures around the globe. It also has the power to change places and the lives of the people who live there, for better or worse.' Sustainable Travel International
Sustainable Business Practices
From the use of organic bath products and green cleaning solutions to natural fiber bedding and eco-friendly mattresses many member inns of the Oregon Bed and Breakfast Guild are committed to providing luxury accommodations with sustainable business practices in mind.
Breakfasts are prepared with fresh, locally sourced Oregon grown fruits and vegetables. And some of our inns have taken ambitious action, working towards a net zero future. These climate solutions will protect the planet and its treasures by mitigating our carbon footprint, generating awareness, and helping the earth heal.
Sustainable Travel Solar Arrays
Chehalem Ridge Bed and Breakfast installed a 20,000 kWh solar array in December 2014. Being connected to the grid the generated power we don't directly use goes back into the grid. In the months of April through September, the array generates more power than the B&B uses. PGE credits it for what they generate.
'Over an entire year, the array meets 70-80% of the B&B's power needs. We manually change the tilt of the panels seasonally to take advantage of the angel of the sun. We've paid off the array between federal and state subsidies and the power generation' reports the owner/innkeepers Kristin and Curt.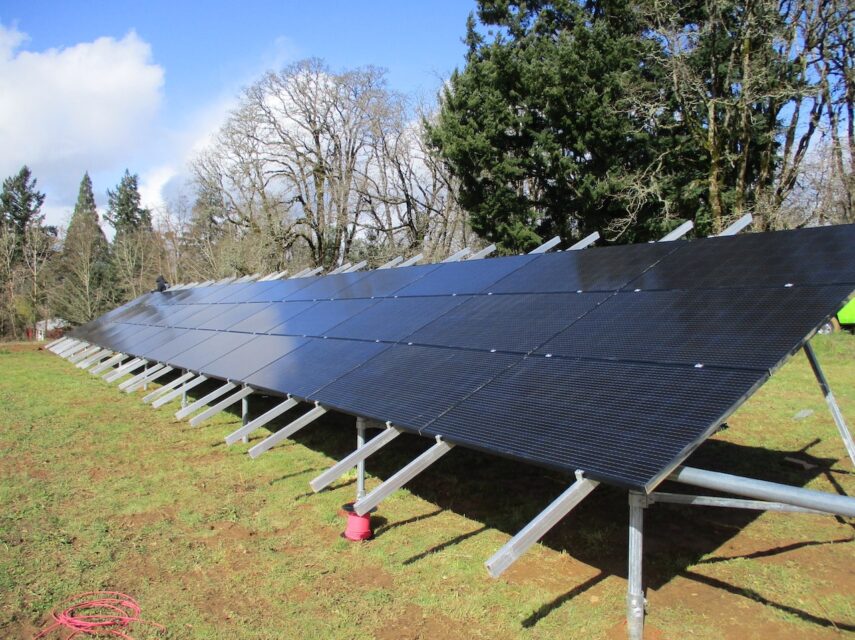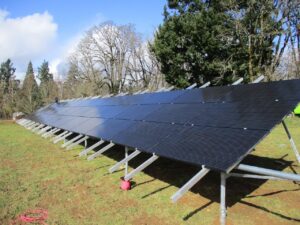 Yamhill Vineyards Bed & Breakfast has 39 above ground panels generating energy for the B & B, which is also the innkeepers home. According to the environmental benefits, from the time of installation in April 2022 and January 14, 2023, the installation has saved 23,499 pounds of CO2 from entering the atmosphere, the equivalent of 177 trees planted.
Geothermal
Yamhill Vineyards Bed & Breakfast has Geothermal heating and cooling. The inground loops pick up the constant temperature of the ground. The Water Furnace has an added pump for cooling the compressor which takes the heat from the compressor and transfers it to the hot water heater, thus we have a lot of hot water.
Along with this system Yamhill Bed and Breakfast also has a Honeywell air filtering system. Filtering the air in the house. We have a fan that can exchange the whole house air to keep the house air clean and fresh.
Carbon Neutral Credits
WildSpring is fortunate to be located in an astonishingly beautiful part of our planet. They try to keep it that way.
Everything they do here has been designed to have a minimum impact on the environment, and all our choices were made with three questions in mind: Will it be beautiful in a natural way? Will it help protect the environment? Will it make guests feel cared for? Read about their practices to ensure guest comfort and well being.
WildSpring is a remarkable place with an incredibly serene energy that creates a sense of connection to the land and to those who have shared it through the years.
There is a sense of timeless reverence here, and it's easy to lie in one of the hammocks looking up at the treetops swaying in the wind and imagine a different life.
In Japan, they call it "forest bathing," based on research that shows time spent in nature lowers stress levels and increases the emotional and physical ability to heal. Click on the teal box to the right for more information. And, they are carbon neutral.
Electric Vehicle Charging Stations
Old Parkdale Inn – Mt Hood Region – one Tesla and one ClipperCreek are a free amenity for registered guests and also will be available to those passing through Parkdale along the Mt Hood and Columbia Gorge Electric Byway.
Willamette Valley Bed and Breakfast – Willamette Valley Region – two Level 2 chargers for electric vehicles.
C. H. Bailey House – Southern Oregon Region – a EV charger
WildSpring Guest Habitat – Southern Oregon Coast – Tesla and Universal Level 2 J1772 charging units
Oregon Bed and Breakfast Guild is ready to share Oregon with you: it's environment, culture, and heritage. Combine gracious hospitality with ambiance at an inspected and approved Oregon Bed and Breakfast Guild member Inn.
Hospitality Update: Our inns are following COVID-19 protocol guidance from the Oregon Health Authority. 
Although mask guidelines are lifted:
● Some businesses may choose to still require masks.
● Some people may choose to still wear a mask.
We have all struggled through COVID-19 and could use a little kindness. Please be respectful of local businesses and their workers and most importantly kind to yourself.