Call it the Clearing, Stumptown, City of Roses, P-Town, PDX, Ripcity, Bridgetown, or Little Beirut. Portland answers to them all

Portland Oregon: 'A Lot of People Have Lived Here'. Your experience in "City of Roses" and surrounding area will be perfect with a stay at Fulton House Bed and Breakfast, our only Portland area bed and breakfast. You'll find unique accommodations close to the region's many attractions, including:
Gardens
The International Rose Test Garden sits high in Portland's northwestern hills in Washington Park and offers 10,000 beautiful rose bushes with views of the city & snow capped Mount Hood to the east
The Japanese Garden & Lan Su Chinese Garden – a city block of pure tranquility in the Pearl District
Crystal Springs Rhododendron Garden in southeast Portland holds 2500 Rhododendrons, azaleas & other flowering plants
Recreation
The Willamette River runs through the downtown historic districts with bike paths and parks along the banks,
325 public parks throughout the city
Washington Park is one of the oldest parks in Portland and home to Oregon Zoo and Hoyt Arboretum, has over 15 miles of trails in 410 acres.
Mt. Tabor Park in southeast Portland offer 195 acres of hiking, birding, picnicking, playground & beautiful views of the city to the west and & mountains to the east
Markets – Something for Everyone!
Saturday Market is a Saturday & Sunday event at the waterfront featuring local arts & crafts along with live music & food carts
Portland Farmer's Market, located at Portland State University in the South Park Blocks, offers fresh produce, artisan breads & cheeses, food carts & live entertainment every Saturday
Culture & History
Portland Art Museum, Theatre & Symphony
Oregon Historical Society Museum
Bed and Breakfast in Portland, Oregon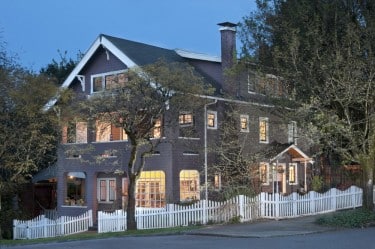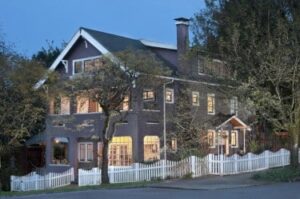 The Fulton House Bed and Breakfast located in Southwest Portland. One block from Willamette Park and the Willamette River and the Willamette Greenway. 503-892-5781 View Availability
Oregon Bed and Breakfast Guild is ready to share Oregon with you: it's environment, culture, and heritage. Combine gracious hospitality with ambiance at an inspected and approved Oregon Bed and Breakfast Guild member Inn.