Tumalo Falls outside of Bend, Oregon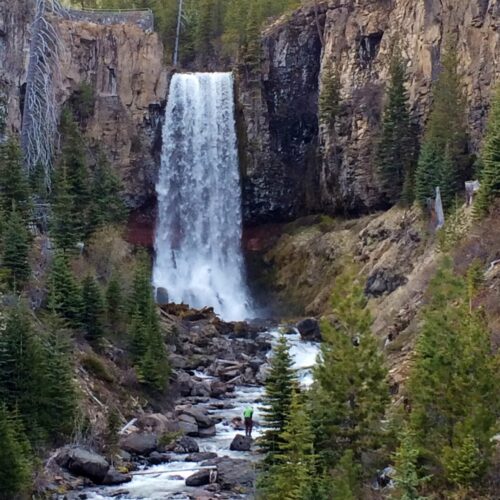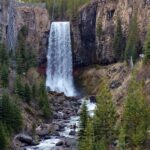 Tumalo Falls is both the tallest, 89 feet, and most impressive waterfall along Tumalo Creek – as well as one of the most popular outdoor destinations in the vicinity of Bend.
You can Chase Waterfalls with us by subscribing to this blog, follow us on Pinterest, and on our Facebook Page. According to Wiki there are at least 238 waterfalls in Oregon!  I'm guessing even more than that. Wouldn't it be grand to witness the beauty of every one of them? With 77 waterfalls on the Oregon side of the Columbia River Gorge alone, we've set out to find them all plus those in the nearby Mt Hood National Forest, Washington and beyond. And when we do we'll share our finds with you, our guests, so you too can set out to Chase Waterfalls.
Our Oregon Trail of Waterfalls map leads you on an Oregon road trip to remember. We look forward to seeing you soon.
Oregon Bed and Breakfast Guild is ready to share Oregon with you: it's environment, culture, and heritage. Combine gracious hospitality with ambiance at an inspected and approved Oregon Bed and Breakfast Guild member Inn.
Hospitality Update: Our inns are following COVID-19 protocol guidance from the Oregon Health Authority. 
Although mask guidelines are lifted:
● Some businesses may choose to still require masks.
● Some people may choose to still wear a mask.
We have all struggled through COVID-19 and could use a little kindness. Please be respectful of local businesses and their workers and most importantly kind to yourself.