Old Parkdale Inn Offers lodging near Mt Hood and the Columbia River Gorge
The Old Parkdale Inn is located in the Upper Hood River Valley on the north slope of Oregon's tallest peak, Mt. Hood, in the quaint town of Parkdale. Outdoor adventure, farms, wineries and fine dining are nearby. The complete privacy of the inn and the serene gardens are perfect for romantic and restful getaways.
All three Old Parkdale Inn well appointed, Oregon themed rooms have queen beds, private baths, a mini fridge, microwave, and coffee machine with a large selection of teas, coffee, and cocoa. The rooms are also equipped with a wall mounted smart TVs with satellite reception, hairdryer, alarm clock, fans, and heaters.
Driving an Electric Vehicle? Old Parkdale Inn has two EV chargers, one Tesla and one ClipperCreek offered as an amenity for their guests. They are also will be available to those passing through Parkdale along the Mt Hood and Columbia Gorge Electric Byway.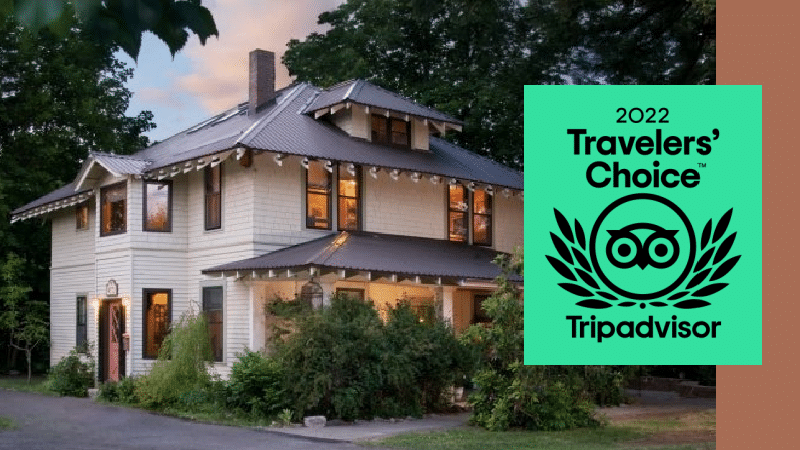 Old Parkdale Inn Bed and Breakfast in the Hood River Valley
The Old Parkdale Inn is equipped with FREE Wireless internet in the house. You'll enjoy a hearty Northwest breakfast presenting and savoring Hood River delicacies in the Inn's dining room.  As members of the Hood River Organics Community Supported Agriculture group a box of fresh, locally grown organic fruits and vegetables is delivered to the inn once a week. This produce, along with fresh herbs from the gardens and fruits and vegetables from the local farm stands and farmer's markets, are used as ingredients in the breakfasts served every morning along with locally roasted organic coffee.
'Everything you'd expect in a warm and cozy clean B&B. The room was wanting for nothing…very well stocked with attention to the smallest details.' a Tripadvisor contributor
For the outdoor enthusiast Mt. Hood Meadows Ski Resort, Timberline Ski Area, Cooper Spur Mountain Resort, the Columbia River Gorge are all just minutes away and outdoor adventures abound.
For the wine lover visit "A World of Wine in 40 miles" on the backroads of the Columbia Gorge wine growing region. And breweries!  Oregon has the most small artisan breweries per capita than any other state in the union! Solera Brewery is walking distance down the street.
Oregon Bed and Breakfast Guild is ready to share Oregon with you: it's environment, culture, and heritage. Combine gracious hospitality with ambiance at an inspected and approved Oregon Bed and Breakfast Guild member Inn.
Hospitality Update: Our inns are following COVID-19 protocol guidance from the Oregon Health Authority. 
Although mask guidelines are lifted:
● Some businesses may choose to still require masks.
● Some people may choose to still wear a mask.
We have all struggled through COVID-19 and could use a little kindness. Please be respectful of local businesses and their workers and most importantly kind to yourself.