Columbia Gorge Wineries, less than 60 miles east of Portland, Oregon. The Columbia Gorge AVA, includes land surrounding the Columbia River, with vineyards and wineries in both Oregon and Washington. Due to the unique climate and geography found in The Gorge, this AVA exhibits a wide range of micro climates in a relatively small region. It's marketed as "A World of Wine in 40 Miles'
The Columbia Gorge Winegrowers Association
Wine Tours in the Columbia River Gorge. Relax and experience Oregon & Washington wine country on a guided tour.
Martin's Gorge Tours Wine Tours in Oregon & Washington. View the expansive list of featured wineries on the website. Due to The Gorge's unique geology and it's variety of growing conditions, the diversity of wine grapes are unlikely to be matched anywhere else. This viticulture area straddles both sides of the Columbia River.
Columbia Gorge Wine Tours Columbia Gorge Wine Tours offers small group and private tours in the Columbia River area of OR & WA.
'Tours are fun, educational and novices are encouraged. Learn about the Columbia Gorge wine making and why we have over 20 varietals of wine to try in our region.'
MountNBarrel – This is a bike touring company. It also offers Yoga in the Vines Signature all-inclusive tour includes several itinerary variations depending on what best fits the needs of your party that day. All-inclusive tour packages and potential itineraries with your choice of transportation – bikes, e-bikes, and shuttle.
Old Parkdale Inn – 541-352-5551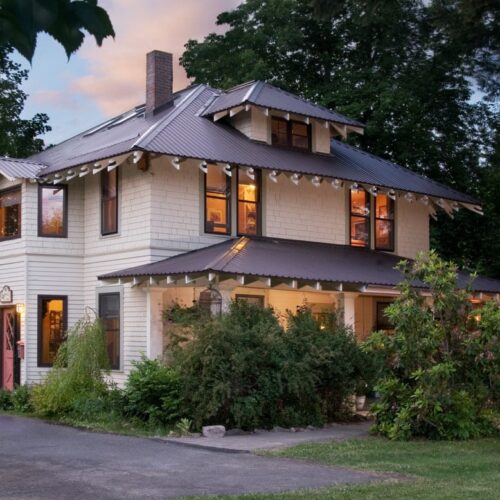 Marketed as "A World of Wine in 40 Miles" the Columbia River AVA has vineyards straddling the mighty Columbia both in Oregon and Washington, exhibiting a wide range of micro climates in a relatively small region. In the Hood River Valley alone we invite you to visit 12 wineries and tasting rooms, all no more than 20 miles from the Old Parkdale Inn on the scenic 35 mile drive we call the Fruit Loop
Mount Hood – Parkdale, Oregon
View Expanded Listing   View Website   View availability
Oregon Bed and Breakfast Guild is ready to share Oregon with you: it's environment, culture, and heritage. Combine gracious hospitality with ambiance at an inspected and approved Oregon Bed and Breakfast Guild member Inn.
Hospitality Update: Our inns are following COVID-19 protocol guidance from the Oregon Health Authority. 
Although mask guidelines are lifted:
● Some businesses may choose to still require masks.
● Some people may choose to still wear a mask.
We have all struggled through COVID-19 and could use a little kindness. Please be respectful of local businesses and their workers and most importantly kind to yourself.