Lemon Ricotta Pancakes at the Carlton Inn Bed and Breakfast
Lemon Ricotta Pancakes
1-1/4 cups all-purpose flour
3 Tablespoons granulated
2 teaspoons baking powder
1/2 teaspoon baking soda
1/4 teaspoon salt
1 cup part-skim ricotta cheese (do not substitute fat-free)
1 large egg
2 large egg whites
1/2 cup lemon juice
2 teaspoons grated lemon zest
1 Tablespoon canola oil, more for brushing on the griddle/skillet
Preheat oven to 200 degrees.  In a large bowl, whisk together flour, sugar, baking powder, baking soda and salt. In a medium bowl, whisk together ricotta, egg, egg whites, lemon juice, lemon zest and canola oil. Fold this mixture into the dry ingredients to make a thick batter.
Brush a nonstick skillet with canola oil and heat over medium-low.  With a 1/4 cup measure, drop the batter onto the skillet, spreading it slightly. Cook the pancakes until browned on the underside and beginning to set, about 2 minutes.  Flip and cook until browned on the second side and cooked at the center, about two minutes longer. Transfer the cooked pancakes to a baking sheet and place in the oven to keep warm.  Brush the griddle or skillet with the remaining oil and repeat with remaining batter.
Blueberry Sauce
1-1/2 Tablespoons fresh lemon juice
2 teaspoons cornstarch
2-1/4 cups fresh or frozen blueberries
1/3 cup sugar
2 Tablespoons water
1/4 teaspoon salt
In a small bowl, combine the lemon juice and cornstarch, then set aside. In a medium saucepan, combine the blueberries, sugar, water and salt.  Bring mixture to a boil over high heat.  Reduce to a simmer and stir in lemon juice-cornstarch mixture.  Simmer, stirring, until the sauce thickens slightly, about 2 minutes more.  Cover and set aside.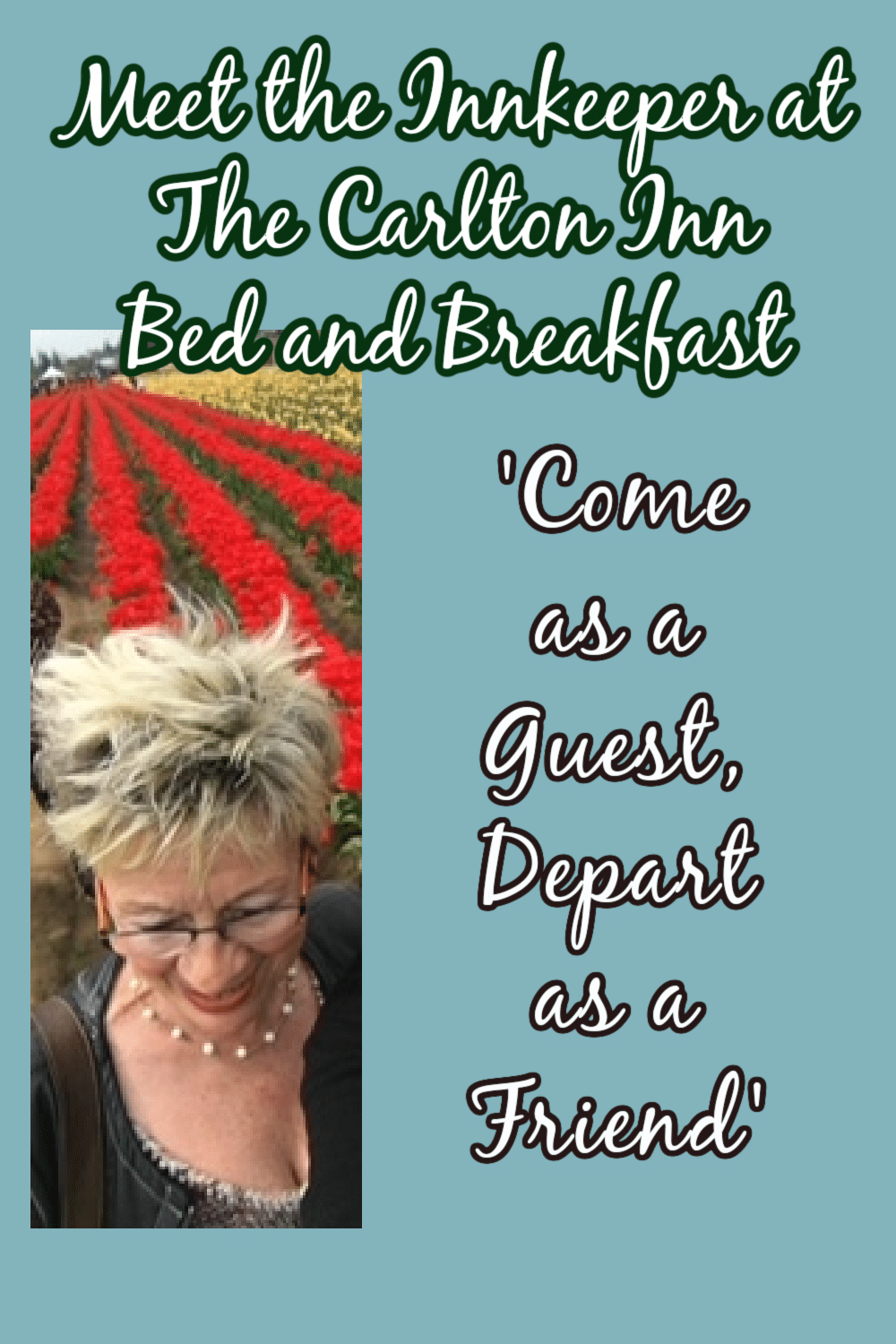 Built in 1915, The Carlton Inn Bed & Breakfast, is in the charming community of Carlton, Oregon.
The Inn offers 4 guest rooms, each with a private bath. The bedding ensemble includes comforters, micro-fiber sheets, and pillows covered with hypo-allergenic slip covers. All rooms have central air conditioning and wireless internet. Farm fresh eggs from the backyard flock make their way into gourmet breakfasts at the inn including Lemon Ricotta Pancakes.
Shop and travel Local
The Oregon Bed and Breakfast Guild offers a wide variety of inns, from a small guest cottage or two-room bed and breakfast to a larger country inn or small historic hotel.
Oregon Bed and Breakfast Guild is ready to share Oregon with you: it's environment, culture, and heritage. Combine gracious hospitality with ambiance at an inspected and approved Oregon Bed and Breakfast Guild member Inn.
Hospitality Update: Our inns are following COVID-19 protocol guidance from the Oregon Health Authority. 
Although mask guidelines are lifted:
● Some businesses may choose to still require masks.
● Some people may choose to still wear a mask.
We have all struggled through COVID-19 and could use a little kindness. Please be respectful of local businesses and their workers and most importantly kind to yourself.