Umbrella Falls, in the Mt Hood National Forest, is found near the headwaters of the East Fork of the Hood River. It veils 59 feet over a rough wall of reddish bedrock amid a forested meadow glade.
Because Umbrella Falls exhibits a significant variance in flow as the season progresses. Snow will linger in the basin well into July, but by September the amount of water flowing over the falls is greatly reduced.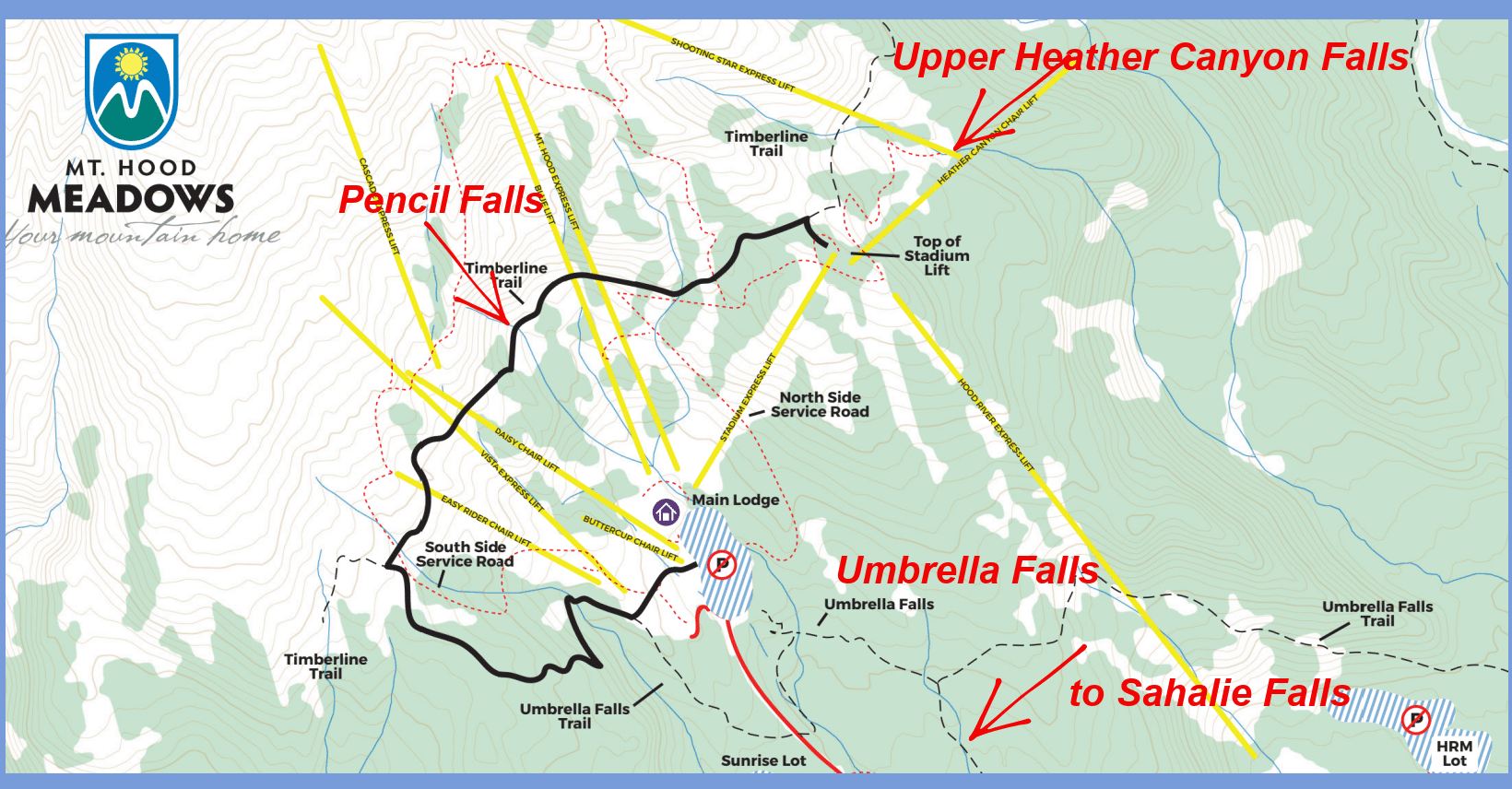 Summer is an ideal time to hit the hiking trails on Mt Hood for wildflowers and waterfalls. For the Best Oregon Waterfalls with spectacular Wildflower Bloom start at the Mt Hood Meadows Ski Resort parking lot, take the service road up to Upper Heather Canyon Falls (#22) then hike the Timberline Trail past Pencil Falls (#21) and back down to the lodge. The wildflowers were amazing. The views were stunning. Take a bit off your mileage with a ride on the Stadium chair lift for trail access.
You can extend your hike with the Umbrella Falls (#23) and Sahalie Falls, a 3.4 mile moderately trafficked trail located near Mount Hood Parkdale, Oregon that offers scenic views and is rated as moderate. The trail is primarily used for hiking, walking, wildflowers, nature trips, and bird watching and is best used from May until September.
Start, and end, your adventure chasing wildflowers and waterfalls on Mt Hood at the Old Parkdale Inn Bed and Breakfast.
Chase Oregon Waterfalls with us by following the Pinterest and Facebook pages of the Oregon Bed and Breakfast Guild.
Oregon B&Bs Draw Doodle Map of Must-See State Waterfalls for Socially-Distant Adventures
The Oregon Bed and Breakfast Guild has created an Oregon waterfalls map, a beautiful, limited edition, double-sided map. The huge piece of art measuring 24-inches across and 18-inch down will be carefully folded and mailed free-of-charge to travelers upon request, while supplies last.
Where to Stay. What to Do. Where to Eat. Where to Play
We've included where to stay, things to do in Oregon, where to eat, even where to play the famed Oregon Trail game.
Our Oregon Trail of Waterfalls map leads you on an Oregon road trip to remember. We look forward to seeing you soon.
The map also highlights various bits of information, like the many Oregon food trails and pods, Instagram-worthy drives, popular in-state movie spots, and scenic bikeways.
Oregon Bed and Breakfast Guild is ready to share Oregon with you: it's environment, culture, and heritage. Combine gracious hospitality with ambiance at an inspected and approved Oregon Bed and Breakfast Guild member Inn.
Hospitality Update: Our inns are following COVID-19 protocol guidance from the Oregon Health Authority. 
Although mask guidelines are lifted:
● Some businesses may choose to still require masks.
● Some people may choose to still wear a mask.
We have all struggled through COVID-19 and could use a little kindness. Please be respectful of local businesses and their workers and most importantly kind to yourself.