Multnomah Falls in the Columbia River Gorge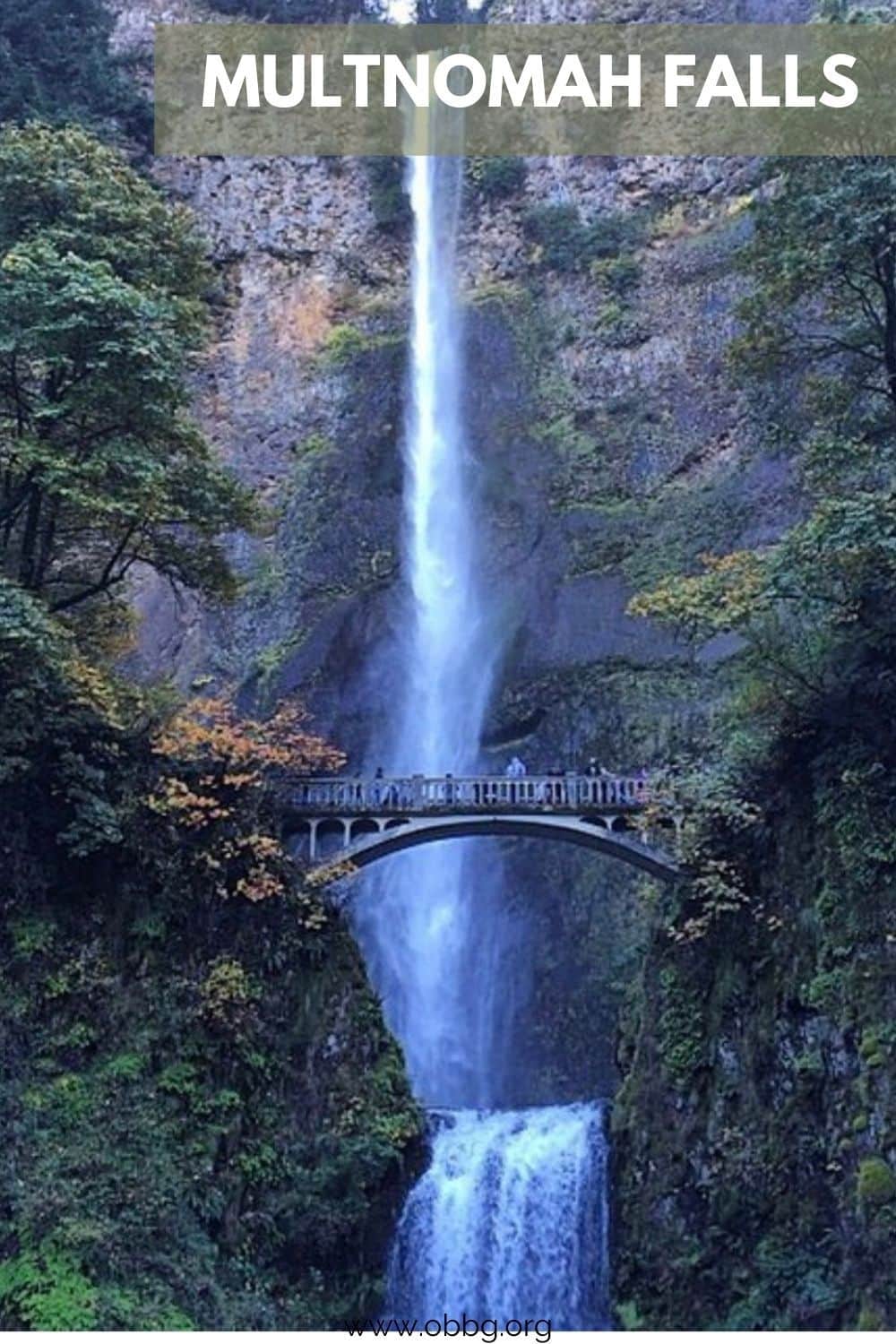 Multnomah Falls is the most visited recreation site in the Pacific Northwest with 2 million stopping each year to take in the views. As a local innkeeper I suggest visiting the falls on either ends of the day and midweek to beat the crowds. I also suggest taking the time to hike the 6 miles Wahkeena – Multnomah Falls loop so as to 'discover' 6 more waterfalls, if you indeed love to chase waterfalls.
Fed by underground springs from Larch Mountain, the flow over the falls varies, usually its highest during winter and spring. Multnomah Falls offers one of the best places in the Columbia River Gorge National Scenic Area to study geology exposed by floods. Five flows of Yakima basalt are visible in the falls' cliff face.
The earthcache 'Multnomah Falls', GC98X65, studies the different types of exposed basalt layers.
Our Chasing Waterfalls and Oregon Waterfall Wednesdays series continues. According to Northwest Waterfall Survey there are well over 1000 waterfalls in Oregon! We've set out to witness the beauty of as many as we can. We'll share our finds with you, our guests, so you too can set out to Chase Waterfalls.
Where to Stay. What to Do. Where to Eat. Where to Play
Chase Oregon Waterfalls with us by following the Pinterest and Facebook pages of the Oregon Bed and Breakfast Guild. Choose an Oregon Bed and Breakfast Guild member in Portland or the Columbia River Gorge as your home base while chasing waterfalls in the Columbia River Gorge
The Oregon Trail of Waterfalls Map from the Oregon Bed and Breakfast Guild will inspire you
Download the map and start the new year right with some Oregon inspiration. We've included where to stay, things to do in Oregon, where to eat. You'll find a mountain of epic trip ideas for your next outdoor, cultural or culinary adventure in every corner of the state. Now more than two dozen inns are ready to help you plan your most EPIC Oregon road trip!
Oregon Bed and Breakfast Guild is ready to share Oregon with you: it's environment, culture, and heritage. Combine gracious hospitality with ambiance at an inspected and approved Oregon Bed and Breakfast Guild member Inn.
Hospitality Update: Our inns are following COVID-19 protocol guidance from the Oregon Health Authority. 
Although mask guidelines are lifted:
● Some businesses may choose to still require masks.
● Some people may choose to still wear a mask.
We have all struggled through COVID-19 and could use a little kindness. Please be respectful of local businesses and their workers and most importantly kind to yourself.