Where to fly fish near Hood River
Tammy inquired: I'd like to spend our last day in Oregon fly fishing, possibly near Hood River. Any suggestions?
Hood River County reaches from the summit of the state's tallest mountain, Mt Hood, to the middle of its biggest river, the mighty Columbia. Its many great fishing destinations vary from high-mountain lakes to mighty rivers.
Lost Lake is located about 20 miles southwest of Hood River, Oregon. The lake is bordered by old growth alpine forest that grows to the water's edge. The surrounding basin is sleep sided and heavily wooded. The dramatic north side of Mt. Hood forms a fitting backdrop.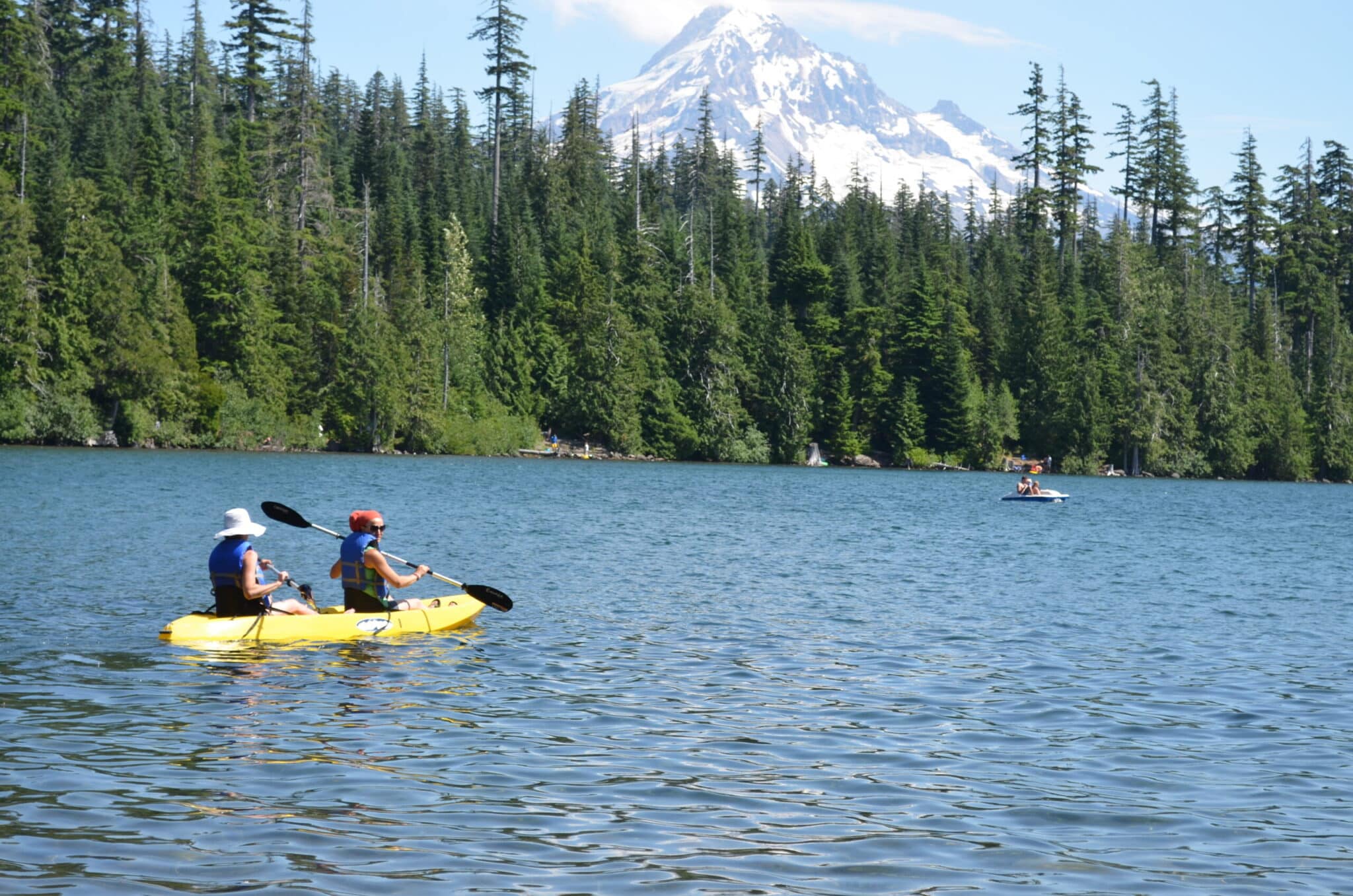 The East Fork of the Hood River may be a bit under the radar at the moment but not for long. This section doesn't have the big fish that the main fork of the Hood River does but it will keep you busy with modest active trout perfect for a 3 or 5 weight rod in the summer time and a dry fly. It's a great beginner & intermediate river with easy access. Polallie Trailhead about 23 miles south of Hood River. A NW Forest Parking pass is required in the main lot.  
Laurance Lake is potentially the best fly fishing lake in the Mount Hood region because angling regulations don't allow the killing of wild fish. 23 miles from Hood River. Wild Bull Trout, wild rainbows and wild cutthroats inhabit this reservoir and provide an interesting mix in fishing.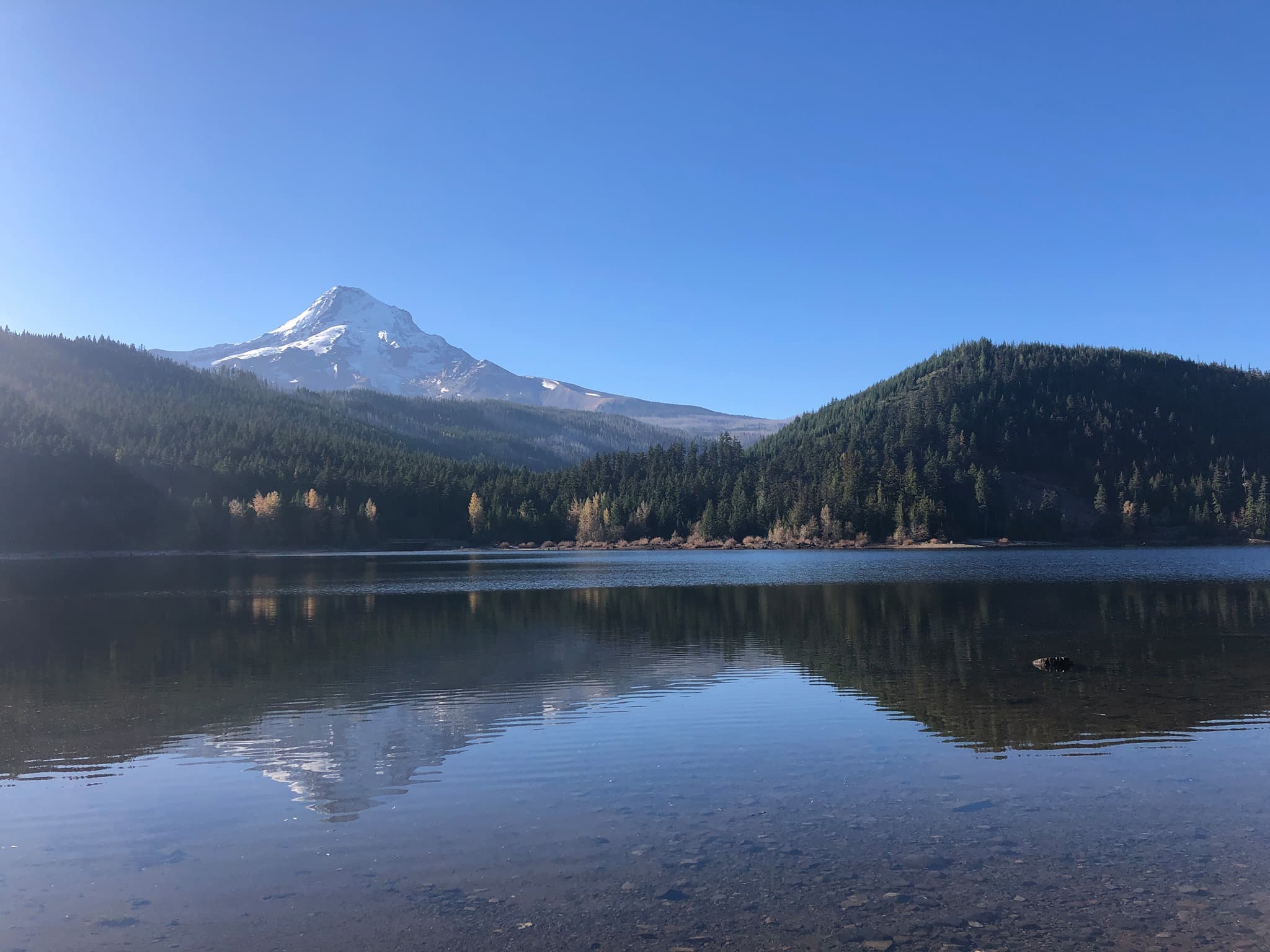 Punchbowl Falls, where steelhead fishing is available year-round. 7 miles from Hood River. The West Fork area is highly popular with local fishermen who claim this to be the better spot for catches. 
Deschutes River 37 miles east of Hood River is a very good stretch of the famous trout and steelhead fisheries
Resources
Gorge Fly Shop – Gorge Fly Shop can supply you with everything you need to have a great day of fishing on the water, including. They have everything from fly reels to wading gear, fly lines, and more. Stop by Gorge Fly Shop at 3200 Lower Mill Dr, Hood River, OR 97031. Gorge Fly Shop is open Monday through Saturday from 9:30 AM to 6:00 PM and Sundays from 10:00 AM to 4:00 PM. Call 541-386-6977 if you have any questions.
Oregon Department of Fish and Wildlife – Seasonal fish and licensing information can all be found on the ODFW website. – Even great fishing spots to try out! A variety of licenses are available to Oregon residents and non-residents. Want to go fly-fishing for trout? This season starts in May, and once you get to the summer months anglers will be casting for Steelhead until the chill of fall.
Pack your bags, check in with Gorge Fly Shop and begin your Oregon Fishing trip. The member inns in the Mt Hood and the Gorge Region of the Oregon Bed and Breakfast Guild are here to accommodate you.
Oregon Bed and Breakfast Guild is ready to share Oregon with you: it's environment, culture, and heritage. Combine gracious hospitality with ambiance at an inspected and approved Oregon Bed and Breakfast Guild member Inn.
Hospitality Update: Our inns are following COVID-19 protocol guidance from the Oregon Health Authority. 
Although mask guidelines are lifted:
● Some businesses may choose to still require masks.
● Some people may choose to still wear a mask.
We have all struggled through COVID-19 and could use a little kindness. Please be respectful of local businesses and their workers and most importantly kind to yourself.