Asparagus Quiches from The Carlton Inn Bed and Breakfast
National Asparagus Day – May 24
These delicious mini Asparagus Quiches are simple, tasty and can be served as a hearty breakfast or a light meal anytime. Thanks to the innkeeper at The Carlton Inn Bed and Breakfast for sharing. They can be made in small ramekins for a elegant presentation or in a simple muffin tin.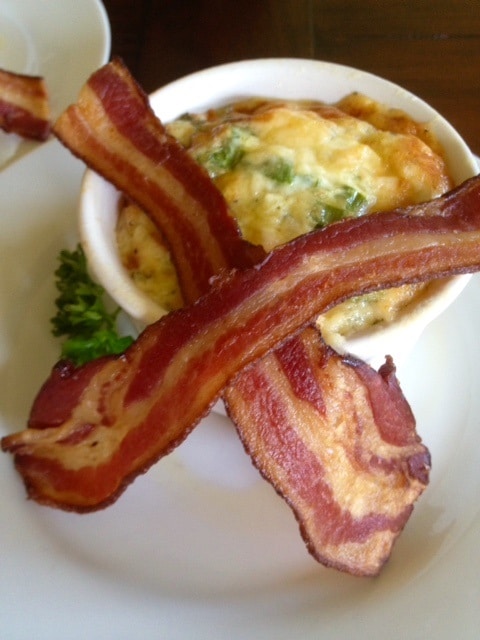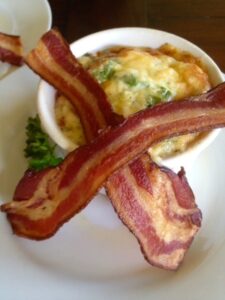 Serves 10-12 – muffin size
Ingredients:
2 tsp olive oil
1/2 cup sliced onion
2 garlic clove, minced
1 pound asparagus, trimmed and cut in pieces
cooking spray
1 1/4 cups milk
1 cup shredded Gruyere cheese (Havarti is a good alternative)
3 TBLS chopped fresh parsley
2 tsp Dijon Mustard
1/2 tsp sea salt
1/4 tsp pepper
5 large eggs, lightly beaten
3 TBLS grated fresh parmesan cheese
1/4 cup green onion
Instructions:
1.  Preheat oven to 350F
2.  Spray a standard 12 cup muffin pan with cooking spray. I've also used ramekins (fewer portions)
3.  Heat oil in a large nonstick skillet over medium-high heat. Add onion and garlic, sauté 1 minute. Add asparagus, sauté another 2-3 minutes. Spread the mixture into the muffin tin.
4.  Combine milk, cheese, parsley, Dijon mustard, salt, pepper, and eggs in a large bowl.
5.  Pour milk mixture over asparagus mixture and sprinkle with parmesan and green onions.
6.  Bake at 350F for 20-25 minutes (longer if using ramekins) or until knife inserted in center comes out clean.
7.  Let stand 5 minutes before serving
Built in 1915, The Carlton Inn Bed & Breakfast is located within the charming community of Carlton, known as "The Wine Capital of Oregon." A short drive and you'll reach even more places to explore.
The Carlton Inn Bed and Breakfast has four comfortable bedrooms, 1 with a king size bed and private bath,  3 with private bath and queen size beds, living room with wood burning fireplace and TV area along with central air conditioning and wireless internet throughout.
Shop and travel Local
Oregon Bed and Breakfast Guild is ready to share Oregon with you: it's environment, culture, and heritage. Combine gracious hospitality with ambiance at an inspected and approved Oregon Bed and Breakfast Guild member Inn.
Hospitality Update: Our inns are following COVID-19 protocol guidance from the Oregon Health Authority. 
Although mask guidelines are lifted:
● Some businesses may choose to still require masks.
● Some people may choose to still wear a mask.
We have all struggled through COVID-19 and could use a little kindness. Please be respectful of local businesses and their workers and most importantly kind to yourself.