Four County Point in the Tillamook State Forest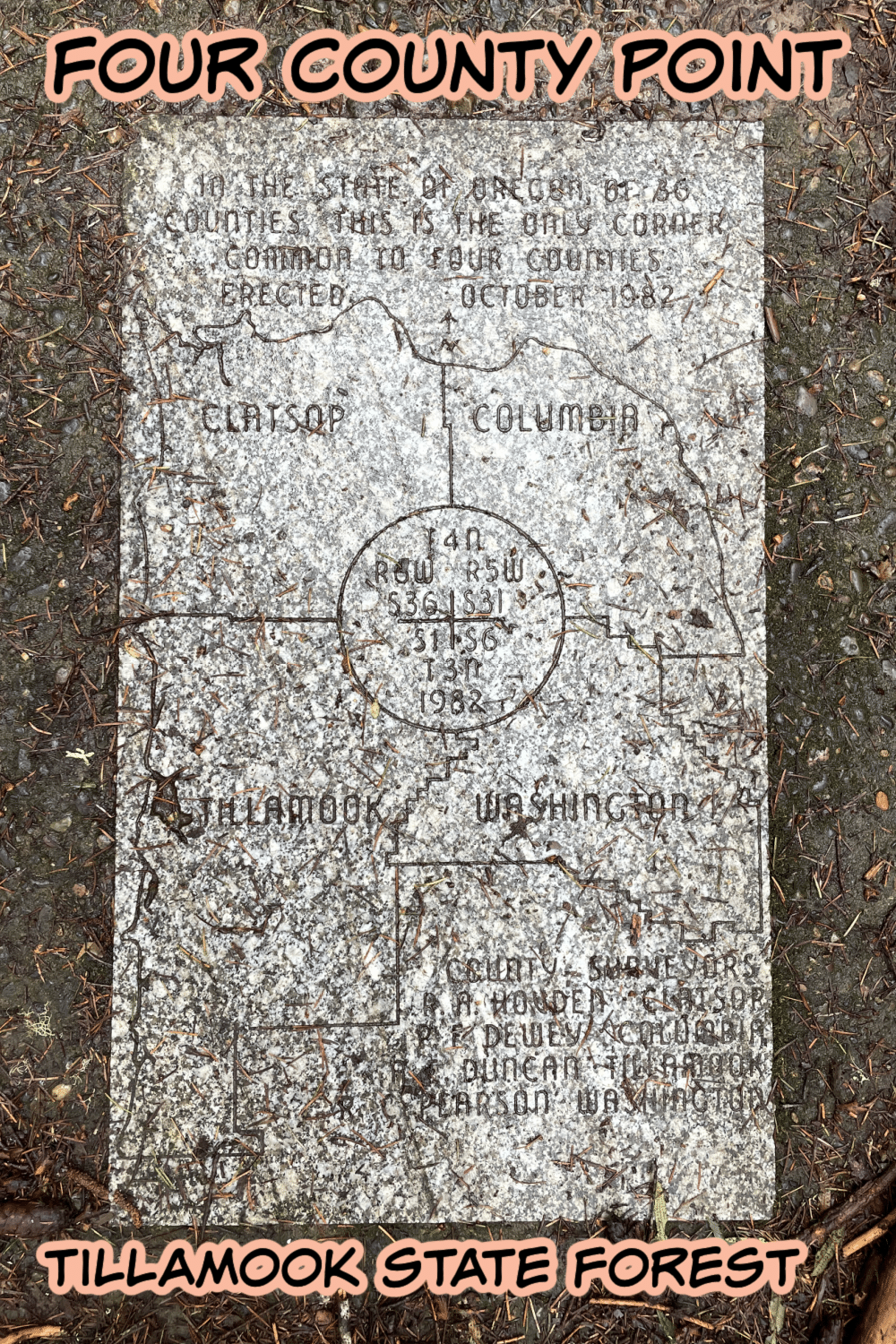 We all know the another Four Corners in America that is a big-time tourist destination. That would be the only place where four state boundaries meet: Utah, Colorado, New Mexico and Arizona.
In Oregon, our Four County Point in the Tillamook State Forest notes the meeting of Clatsop, Columbia, Washington and Tillamook counties. A stone sunk into the Coast Range forest, not far off U.S. 26, marks the only place in Oregon where four county points meet.
Hike the Four County Point Trail
Four County Point is located on US Highway 26 and we invite you to take a moderate 1 mile hike hike through a Douglas Fir Forest on your way to the Oregon Coast from a Willamette Valley or Portland bed and breakfast. Or a reversed trip: from a Coast bed and breakfast inland.
Bonus: for those searching geocaches – 4 – Corners Oregon geocache GCAD7A
Oregon Bed and Breakfast Guild is ready to share Oregon with you: it's environment, culture, and heritage. Combine gracious hospitality with ambiance at an inspected and approved Oregon Bed and Breakfast Guild member Inn.
Hospitality Update: Our inns are following COVID-19 protocol guidance from the Oregon Health Authority. Oregon's statewide mask requirement for indoor public places was lifted on March 12.
After mask guidelines are lifted:
● Some businesses may choose to still require masks.
● Some people may choose to still wear a mask.
We recognize that there will be mixed feelings about this change. We have all struggled through COVID-19 and could use a little kindness. Please be respectful of a person's individual decision to wear a mask or not, and most importantly kind to yourself.
Our inns are doing everything in our power to keep you safe. Not sure if your favorite inn  is open? Give them a call as they just might be.