The Pumpkin Panna Cotta with Caramelized Pears has become a favorite at the Old Parkdale Inn Bed and Breakfast table.
Pumpkin Panna Cotta
1 1/2 Cups Half & Half
2 to 3 Tablespoons Maple Syrup
3/4 Cup Pumpkin Puree
1 Teaspoon Cinnamon
1/4 Teaspoon Nutmeg
1 Package (1/4 Ounce) Gelatin
1/3 Cup Milk
Caramelized Pear:
1 Large or 2 Small to Medium Pears
1 1/2 Tablespoon Butter
1/2 Teaspoon Cinnamon
1 1/2 Tablespoon Sugar
Sweetened Whipped Cream
Place the milk in a small bowl and sprinkle the gelatin over it, stir gently and leave for 5 minutes to soften. Combine the half and half in a small saucepan with the syrup and pumpkin, and heat until the mixture just reaches the scalding point but does not boil, whisking often. Remove from the heat and whisk in the cinnamon and nutmeg. Whisk in the gelatin mixture until smooth. Divide the mixture into 4 glasses or ramekins and refrigerate.
Cut the pear/pears in half, remove the core and peel, then cut into small dice. In a heavy frying pan heat the butter until sizzling. Add the pears, sugar and cinnamon and stir. Cook over medium heat stirring often until the pears and very tender and obtain a nice golden brown color. Remove from the heat and place in a covered bowl until needed.
To serve, allow the panna cotta to come to room temperature for 30 minutes before serving. Add a dollop of sweetened cream to each panna cotta, then spoon on some of the pears in their juice. Serve immediately.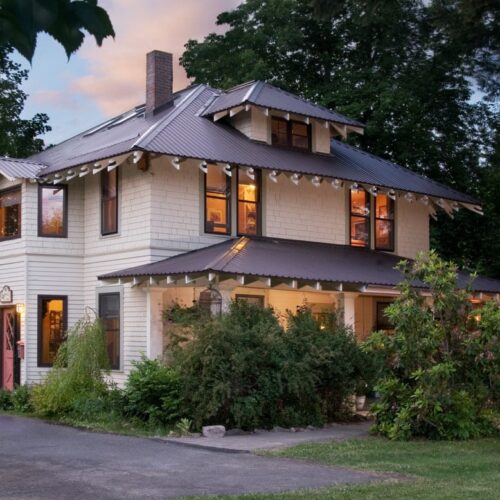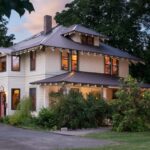 Old Parkdale Inn Bed and Breakfast – Recognized as an Oregon Bike Friendly Business and now with two EV charging stations. Mid way between Hood River, the Columbia River Gorge and Mt Hood, the Old Parkdale Inn with three well appointed guests rooms, is the ideal home base for outdoor adventures or a quiet retreat
Phone: 541-352-5551 View Old Parkdale Inn Availability
Oregon Bed and Breakfast Guild is ready to share Oregon with you: it's environment, culture, and heritage. Combine gracious hospitality with ambiance at an inspected and approved Oregon Bed and Breakfast Guild member Inn.
Hospitality Update: Our inns are following COVID-19 protocol guidance from the Oregon Health Authority. 
Although mask guidelines are lifted:
● Some businesses may choose to still require masks.
● Some people may choose to still wear a mask.
We have all struggled through COVID-19 and could use a little kindness. Please be respectful of local businesses and their workers and most importantly kind to yourself.