Give the Gift of Lodging on the Oregon Coast
If you know someone who dreams of the Oregon Coast even when they're landlocked, a Gift of Lodging will make their dreams come true
The Pacific Coast Scenic Byway; 'Wind, Waves and a Long, Winding Road. Yes, it's possible to drive the entire Pacific Coast Scenic Byway in a single day. But it's also pointless. Because you wouldn't have time to experience any of the breathtaking viewpoints, stunning state parks and quaint coastal towns.
A thriving arts culture, from visual & written to music & theatre can be found all along coastal Oregon
Bird watchers might be surprised by the diversity of species to be found along the coast, from bald eagles to puffins & brown pelicans
Farmers markets offer the chance to experience the local organic produce, crafts from artisans, baked goods, flowers & more
Seven lighthouses are open to the public and offer a glimpse into their past & present
World-class whale watching for gray & killer whales from land, sea & air
Fairs, festivals and other events offer a glimpse of how locals celebrate their life & heritage on the Oregon coast
Outdoor recreation ranges from vast dunes for sandboarding & dune buggy tours to surfing, world-class golfing, tide pool exploring, hiking, fishing, kayaking, surfing, crabbing & clamming.
Explore the End of Lewis & Clark Trail Museum, Maritime Museum & Tillamook air museum and a world-class aquarium.
And much more!
Shop Small Online on the Oregon Coast
Your generous Gift of Lodging will pair the recipient with an opportunity to explore Oregon's Wild Pacific Coastline and enjoy a stay at an Oregon Coast Bed and Breakfast.
Brey House Ocean View B&B Inn – The ocean awaits the recipient of your generous gift just across the street.Private baths, private entrances.Wonderful breakfast served in the ocean view breakfast room.Quilts, snuggy warm blankets, fluffy bath towels.Fireplaces, tv, DVD, small in -room refrigerators
Oceanside is a tranquil village that is isolated, but not remote. turtlejanes bed and breakfast is a delightful inn with two en suite guest rooms with spectacular views of the ocean. It is a 3-minute walk to the beach. Eclectic house-made breakfasts and delightful afternoon snacks are provided daily.
Also in Oceanside: A relaxing and romantic getaway at Thyme and Tide Bed and Breakfast awaits. Sleep nestled in a canopy queen bed between Cape Lookout and Cape Meares. Fall asleep to the sound of surf and wake up to a delicious hot breakfast. Beaches are a mile away. Filtered horizon water/sunset view from both rooms.
WildSpring Guest Habitat is a small, eco-friendly resort in Port Orford. On 5 peaceful and secluded acres, it offers comfortable luxury in a parklike environment. Enjoy cabin suites built like small homes filled with art and antiques. Guest Hall, sculpture garden and open-air slate spa overlook the ocean.
Can't decide which inn the recipient might find the most relaxing? Give the gift of rest and relaxation by purchasing Gift Certificates from the Oregon Bed and Breakfast Guild and they can choose.
Order Oregon B&B Gift Certificates Now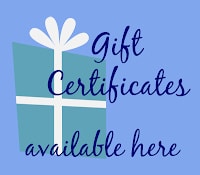 E-mail info@obbg.org or call OBBG at 503-893-4210. Please leave a message as this line is monitored by our busy innkeepers. We'll get back to you for the details: who will be the recipient of your thoughtful gift, acquire your payment method and shipping information. We'll send them by mail, to either you or the recipient, with delivery confirmation. The recipient will have a great time getting away to a high-quality destination of their choice.
OBBG Lodging Gift Certificates are available in $25 increments and can be redeemed at every Oregon Bed & Breakfast Guild member across the state. With 25 members to choose from that's a lot of choices and with an 18 months expiration recipients have plenty of time to redeem them at the Inn of their choosing.
The Oregon Bed and Breakfast Guild offers a wide variety of inns, from a small guest cottage or two-room bed and breakfast to a larger country inn or small historic hotel.
Oregon Bed and Breakfast Guild is ready to share Oregon with you: it's environment, culture, and heritage. Combine gracious hospitality with ambiance at an inspected and approved Oregon Bed and Breakfast Guild member Inn.
Hospitality Update: Our inns are following COVID-19 protocol guidance from the Oregon Health Authority. 
Although mask guidelines are lifted:
● Some businesses may choose to still require masks.
● Some people may choose to still wear a mask.
We have all struggled through COVID-19 and could use a little kindness. Please be respectful of local businesses and their workers and most importantly kind to yourself.