Located just 28 miles from Crater Lake National Park, The Prospect Historic Hotel-Motel and Dinner House can be the perfect home base when birding on the Crater Lake Loop of the Oregon Cascade Birding Trail. The Rogue River is minutes away with mature riparian habitat surrounded by mixed conifer forests. Peregrine Falcon, Calliope and Rufus Hummingbirds nest in these forests. Diamond Lake supports high concentrations of diving birds. The rich, diverse habitats on the Crater Lake Loop provide home for a large variety of birds. Crawford Creek Meadows is home to at least eight species of nesting owls.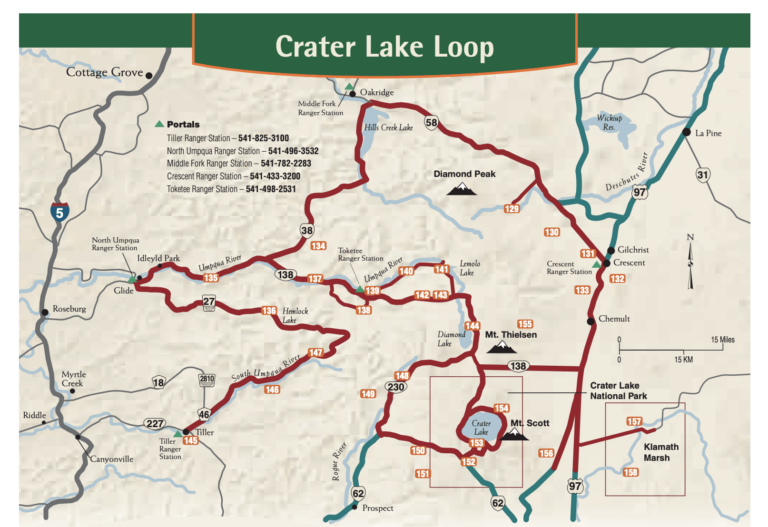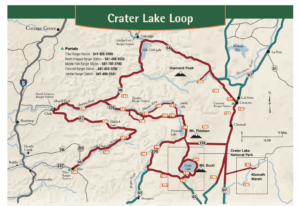 Prospect Historic Hotel and Dinner House
The Prospect Historic Hotel Bed and Breakfast, built in the late 1800's, is listed on the National Register of Historic Places. The magnificent stage house sits on five acres with grounds great for strolling or just relaxing after a long day's hike.
Nestled in the woods behind the main house, the 14 motel units offer exceptional privacy and convenience. The motel is accommodating to travelers with large groups.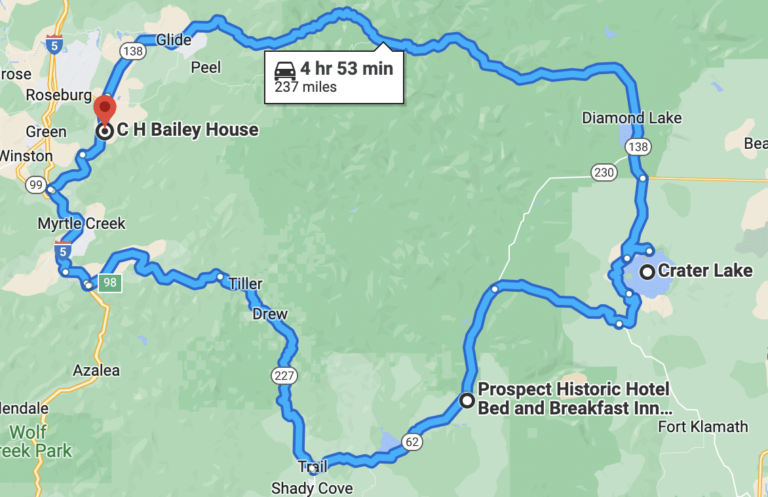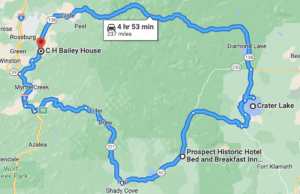 Might we suggest you start, or end, your journey at C.H. Bailey House in Roseburg. Travel the Rogue – Umpqua Scenic Byway, exploring waterfalls and birding sites along way onto the Crater Lake Loop. Stop off at Prospect then head south to the Mt. McLoughlin Loop of the Oregon Cascades Birding Trail. This loop will take you along the north-western flanks of the Upper Klamath Basin and possibly the most ecologically diverse section on the entire route. With over 25 inns, The Guild makes it easy to explore Oregon, traveling through scenic and diverse landscapes and knowing a comfortable Bed and Breakfast awaits your arrival.
When your journey ends, your bags are unpacked, and you're scrolling through your vacation photos you will reminisce on memories of great accommodations, food, conversation and birding in Oregon.
Oregon Bed and Breakfast Guild is ready to share Oregon with you: it's environment, culture, and heritage. Combine gracious hospitality with ambiance at an inspected and approved Oregon Bed and Breakfast Guild member Inn.
Hospitality Update: Our inns are following COVID-19 protocol guidance from the Oregon Health Authority. 
Although mask guidelines are lifted:
● Some businesses may choose to still require masks.
● Some people may choose to still wear a mask.
We have all struggled through COVID-19 and could use a little kindness. Please be respectful of local businesses and their workers and most importantly kind to yourself.