Come feel the mist of Oregon waterfalls on your face! So many to choose from in the Oregon Cascades and here are but a few. 
OREGON CASCADE WATERFALLS
Ramona Falls (W17): This shaded waterfall is in a forest along the Pacific Crest Trail on the upper Sandy River — on the west side of Mount Hood. The falls are about 120 feet tall, consisting of a wall of cascades.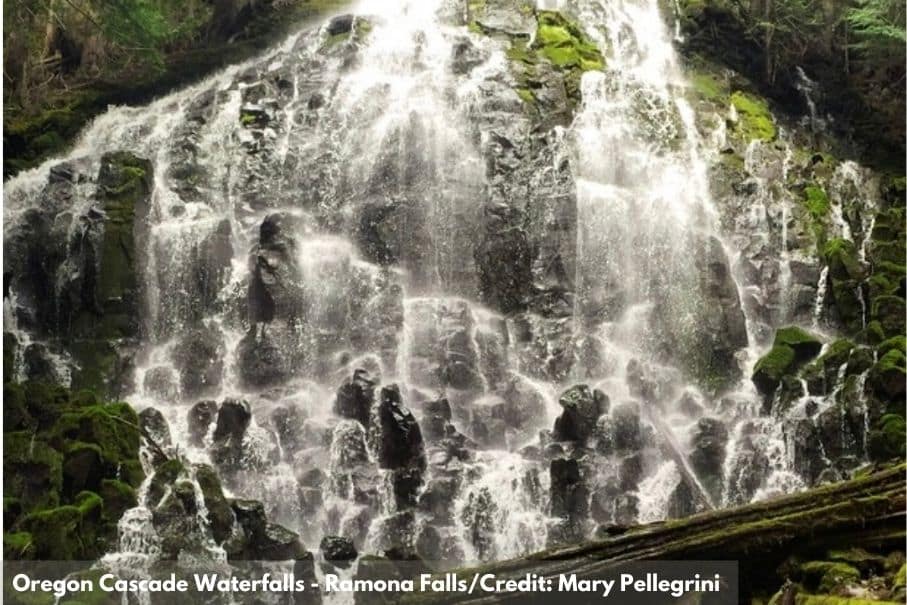 Tamanawas Falls (W18): Bring your binoculars and prepare to see a lot of birds and a stunning waterfall! The falls are AMAZING at 100 feet high and 40 feet wide. The trailhead footbridge is the midpoint of a 8-mile stretch of the East Fork of the Hood River hosting nesting Harlequin Ducks. Belted Kingfisher are common but it's the songbirds you're likely to remember long after they've sung their tunes.
Little Zig Zag River Falls (W19): One of Oregon's hidden gems. A picturesque stream leads to a photogenic waterfall on this family-friendly trail; complete with a picnic table at the very start. It couldn't be more perfect.
Yocum Falls (W20): This waterfall is right in the heart of the Mount Hood National Forest. It sits in Zigzag canyon with many waterfalls, including Little Zigzag River Falls and Ramona Falls.
Pencil Falls (W21): This glacier-fed waterfall is in the alpine area of Mount Hood Meadows. A small path leads to a great viewing.
Upper Heather Canyon Falls (W22): Where the Timberline Trail crosses Heather Creek, is thought to be one of the most scenic areas of Mount Hood. In Heather Canyon a series of waterfalls tumbles beneath this trail.
Umbrella Falls (W23): This popular and family-friendly waterfall is accessible from scenic hiking trails. Look up! You'll see a chair lift too. Click here to read all about the hike.
White River Falls (W33): The waterfall is the main focus of the White River Falls State Park and for good reason — the scenic White River plunges 90-feet from a basalt shelf. It's been written up in many books too, see the titles here.
Tamolitch Falls (W45): Follow the McKenzie river through the old growth forest to Tamolitch Falls, which flows into a lava formed Blue Pool, renowned for its iridescent blue coloring. Want to see it for yourself? Here's what you need to know.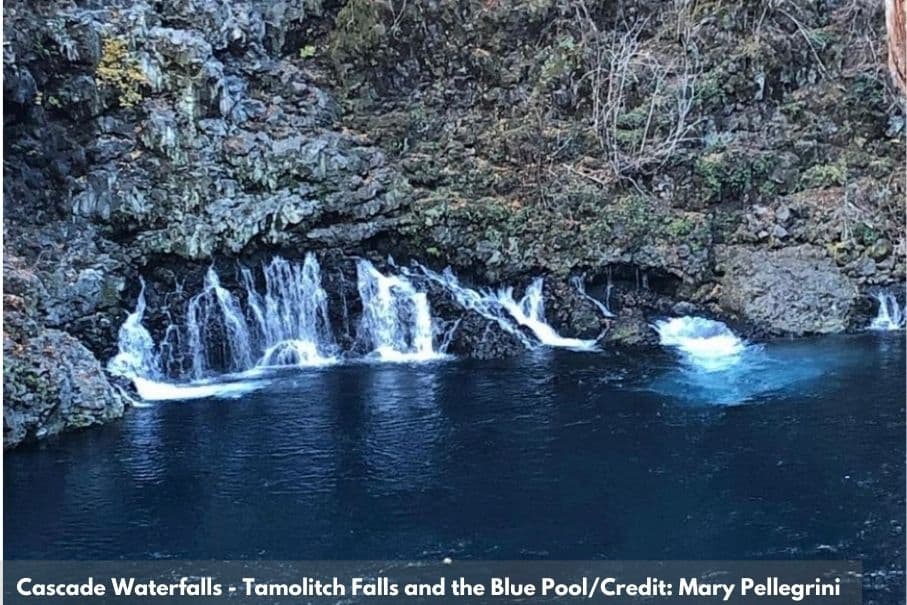 Sahalie Falls (W46): Sahalie Falls, is the first and tallest of three waterfalls on the roaring McKenzie River. It plunges about 100 feet over a naturally formed lava dam. Here's how to hike there.
Koosah Falls (W47): Koosah Falls, aka Middle Falls, is the second of the three major waterfalls of the McKenzie River, in the center of the Willamette National Forest. The waterfall plunges into a pool, south of Santiam Pass, a renowned 4,817-foot mountain pass in the Cascade Range. Visit with time to make the most of the McKenzie River National Recreation Trail and other nearby activities.
Our Oregon Trail of Waterfalls map leads you on an Oregon road trip to remember. We look forward to seeing you soon.
Oregon Bed and Breakfast Guild is ready to share Oregon with you: it's environment, culture, and heritage. Combine gracious hospitality with ambiance at an inspected and approved Oregon Bed and Breakfast Guild member Inn.
Hospitality Update: Our inns are following COVID-19 protocol guidance from the Oregon Health Authority. 
Although mask guidelines are lifted:
● Some businesses may choose to still require masks.
● Some people may choose to still wear a mask.
We have all struggled through COVID-19 and could use a little kindness. Please be respectful of local businesses and their workers and most importantly kind to yourself.