It's lavender time in Oregon!
Time to eat, drink and smell the flowers.
The Newberg Lavender Trail events run through July and because of our wet spring, several of the U-cut farms are extending visits into August.
Enjoy the beauty and scents of lavender as you travel the Oregon Back Roads through pastoral countrysides to each destination.
As a Bed & Breakfast in the heart of Newberg, the innkeepers of Chehalem Ridge B&B are happy to share the best places to find lavender in the Willamette Valley.
Walking distance from Chehalem Ridge Bed & Breakfast in Newberg, sits the picturesque U-Pick lavender farm, Wayward Winds. Don't miss their award-winning lavender essential oil or delicious lavender syrups. They have eight(!) different variations of syrup including inventive flavors like Lavender Pear and Lavender Ginger Peach.
Sip and dine on a lavender cocktail, lavender scented savory entrée, lavender-themed dessert, or lavender truffles at SubTerra Kitchen & Cellar.
Each lavender farm is unique and offers different activities year round, ranging from lavender bouquet cutting to mini-festivals with music, food, and vendors. Entry to each location is free.



In the Hood River Valley
Hope Ranch Lavender – Double mountain views in a field of lavender. Located just south of downtown Hood River, Hope Ranch Lavender is acres of sweet fragrance and tranquil beauty.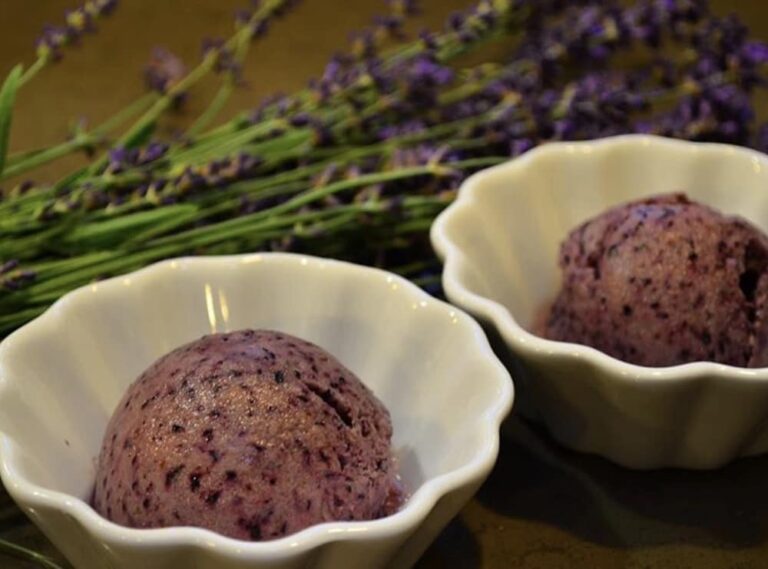 The Old Parkdale Inn is located in the Upper Hood River Valley on the north slope of Oregon's tallest peak, Mt. Hood, in the quaint town of Parkdale. Outdoor adventure, lavender farms, wineries and fine dining are nearby. During harvest, guests can make a bouquet of fresh cut lavender from the bushes on the Inn's grounds.
Lavender Blueberry Sorbet is a palette cleansing first course at the Old Parkdale Inn Bed and Breakfast, a dish produced from an explosion of Blueberries and Lavender in Oregon's Hood River Valley. Ingredients
Hood River Lavender Farms offers quality products, exceptional views and vibrant gardens, and welcoming staff. During peak
lavender season ask about U-Pick or stop by during harvest to see them distill their beautiful essential oils. Every Saturday and Sunday in July, celebrating the 20th Annual Lavender Daze Festival with live music, local vendors, and of course lots of lavender!
An amazing lavender experience awaits you. Nestled among the vineyards and tranquil fields of Southern Oregon are six unique family-run lavender destinations.
Member inns of the Oregon Bed and Breakfast Guild are located near many Oregon Lavender Farms and the Innkeepers will be glad to suggest day trips and adventures for touring the Oregon Back Roads.
Oregon Bed and Breakfast Guild is ready to share Oregon with you: it's environment, culture, and heritage. Combine gracious hospitality with ambiance at an inspected and approved Oregon Bed and Breakfast Guild member Inn.
Hospitality Update: Our inns are following COVID-19 protocol guidance from the Oregon Health Authority. 
Although mask guidelines are lifted:
● Some businesses may choose to still require masks.
● Some people may choose to still wear a mask.
We have all struggled through COVID-19 and could use a little kindness. Please be respectful of local businesses and their workers and most importantly kind to yourself.