Youngberg Hill Vineyards and Inn will take your breath away with the most beautiful views, a warm luxurious Inn, and exceptional estate wines.
We think it's the perfect time to plan your getaway. You definitely deserve it. There's nowhere better than Youngberg Hill, high on a hill and surrounded by 50 acres of vineyard and farmland.
Sit back, relax, and enjoy the view. Wine tastings are included with every stay!
Youngberg Hill provides the perfect location for those seeking a quiet, romantic getaway. The Inn is 10,000 square foot with four large guest rooms, three are corner rooms, and three suites, all with private baths. All rooms have spectacular views of the valley below. The entire main floor is common area for guests to enjoy the peace and tranquility of this special place.
Located 20 minutes from over 80 premier Oregon wineries guests have the opportunity to explore the 20 year old organic vineyard, taste the Youngberg Estates award winning wines while relaxing on the expansive veranda surrounding the house. Youngberg Hill provides a great base for touring the other fine wineries of the Oregon wine country.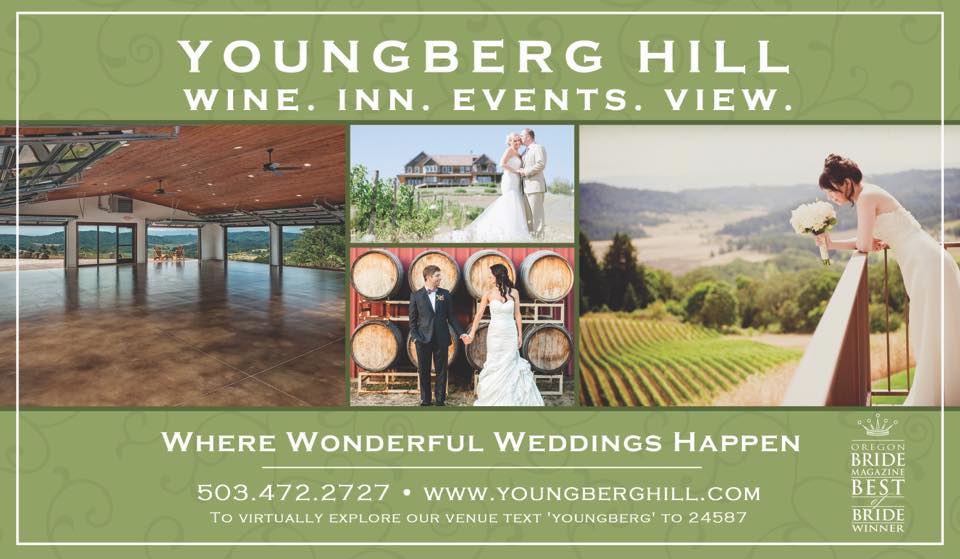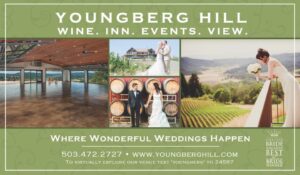 This is spectacular location for a beautiful and elegant wine country wedding. Because each wedding is unique, your hosts look forward to working closely with you to create the day of your dreams. The Youngberg Hill Vineyard Event Center allows guests worry-free, year-round access to everything Youngberg Hill has to offer.
Gorgeous place, great base
'writing this while looking out at the view from our room … and the views are breathtaking. This is a beautiful place with lovely rooms and a brilliant host team. They also make some gorgeous wines'. a TripAdvisor Contributor
Order Oregon B&B Gift Certificates Now. Redeem them at Youngberg Hill or any one of our member inns.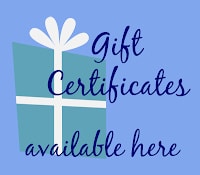 E-mail info@obbg.org or call OBBG at 503-893-4210. Please leave a message as this line is monitored by our busy innkeepers. We'll get back to you for the details: who will be the recipient of your thoughtful gift, acquire your payment method and shipping information. We'll send them by mail, to either you or the recipient, with delivery confirmation. The recipient will have a great time getting away to a high-quality destination of their choice.
OBBG Lodging Gift Certificates are available in $25 increments and can be redeemed at every Oregon Bed & Breakfast Guild member across the state. With 25 members to choose from that's a lot of choices and with an 18 months expiration recipients have plenty of time to redeem them at the Inn of their choosing.
The Oregon Bed and Breakfast Guild offers a wide variety of inns, from a small guest cottage or two-room bed and breakfast to a larger country inn or small historic hotel.
Oregon Bed and Breakfast Guild is ready to share Oregon with you: it's environment, culture, and heritage. Combine gracious hospitality with ambiance at an inspected and approved Oregon Bed and Breakfast Guild member Inn.
Hospitality Update: Our inns are following COVID-19 protocol guidance from the Oregon Health Authority. 
Although mask guidelines are lifted:
● Some businesses may choose to still require masks.
● Some people may choose to still wear a mask.
We have all struggled through COVID-19 and could use a little kindness. Please