Oregon has approximately 6200 acres of apple orchards in three major regions:  the Willamette Valley, the Mid-Columbia Valley and eastern Oregon's Milton-Freewater area.  The most popular varieties of apple grown in Oregon are Fuji and Gala but in the Hood River Valley there are orchardists growing over 75 varieties.
"Come stay where fine wines are born!" and some pretty tasty breakfasts, too, at Yamhill Vineyards Bed and Breakfast
Apple Berry Delight 
Preparation time: 45 minutes
Serving: 4
Preheat oven to 350°
Ingredients:
1 cup + 2 Tablespoons Krustez Pancake Mix or mix your own to equal
1 ½ cups batter
¾ cup+2 Tablespoons Water
2 Tablespoons Chopped Hazelnuts (optional)
2 Tablespoons Butter melted in 9 inch pie plate
½ – 1 Apple peeled, cored & sliced thin, Granny Smith or any cooking apple
⅓ Cup Blackberries, Cranberries, Blueberries or Marion berries
½ Teaspoon Cinnamon
4 Tablespoons Syrup – innkeeper likes Mrs. Butterworth's the best
Instructions:
Mix pancake mix, Hazelnuts and water together, will be a little lumpy. Let stand. Swirl melted butter in the pie plate so that the edges are coated. Place the thin sliced apples around the bottom of the pie plate. Add the berries of choice. Sprinkle the cinnamon evenly over the apples and berries. Gently pour the syrup over the apples and berries. Spoon the pancake batter gently over the apples and berries.  Do not pour as this will disturb the apple arrangement.
BAKE: 30-35 minutes at 350° degrees
Loosen sides of pancake when done; put a plate on top and turn over, like an upside down cake.  Serve with whipped cream and candied Hazelnuts. Extra syrup is optional. Enjoy.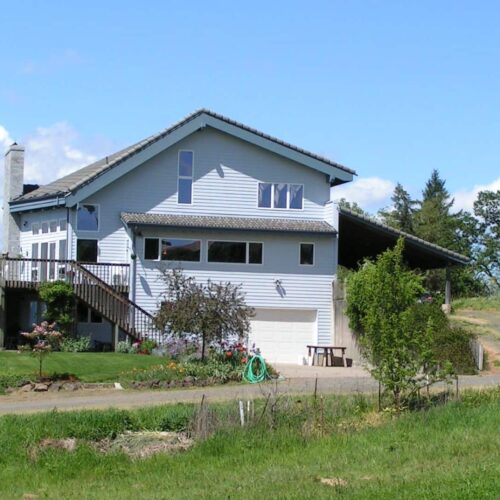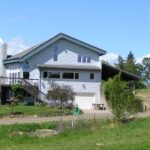 Yamhill Vineyards Bed and Breakfast  "Come stay where fine wines are born!" A little known gem located in the heart of the Willamette Valley wine country. Yamhill Vineyards Bed & Breakfast is surrounded by vineyards, spectacular views, and offers you a relaxing country retreat. Phone: 503-662-3840 View Availability at Yamhill Vineyards B&B
Shop and travel Local
Oregon Bed and Breakfast Guild is ready to share Oregon with you: it's environment, culture, and heritage. Combine gracious hospitality with ambiance at an inspected and approved Oregon Bed and Breakfast Guild member Inn.
Hospitality Update: Our inns are following COVID-19 protocol guidance from the Oregon Health Authority. 
Although mask guidelines are lifted:
● Some businesses may choose to still require masks.
● Some people may choose to still wear a mask.
We have all struggled through COVID-19 and could use a little kindness. Please be respectful of local businesses and their workers and most importantly kind to yourself.