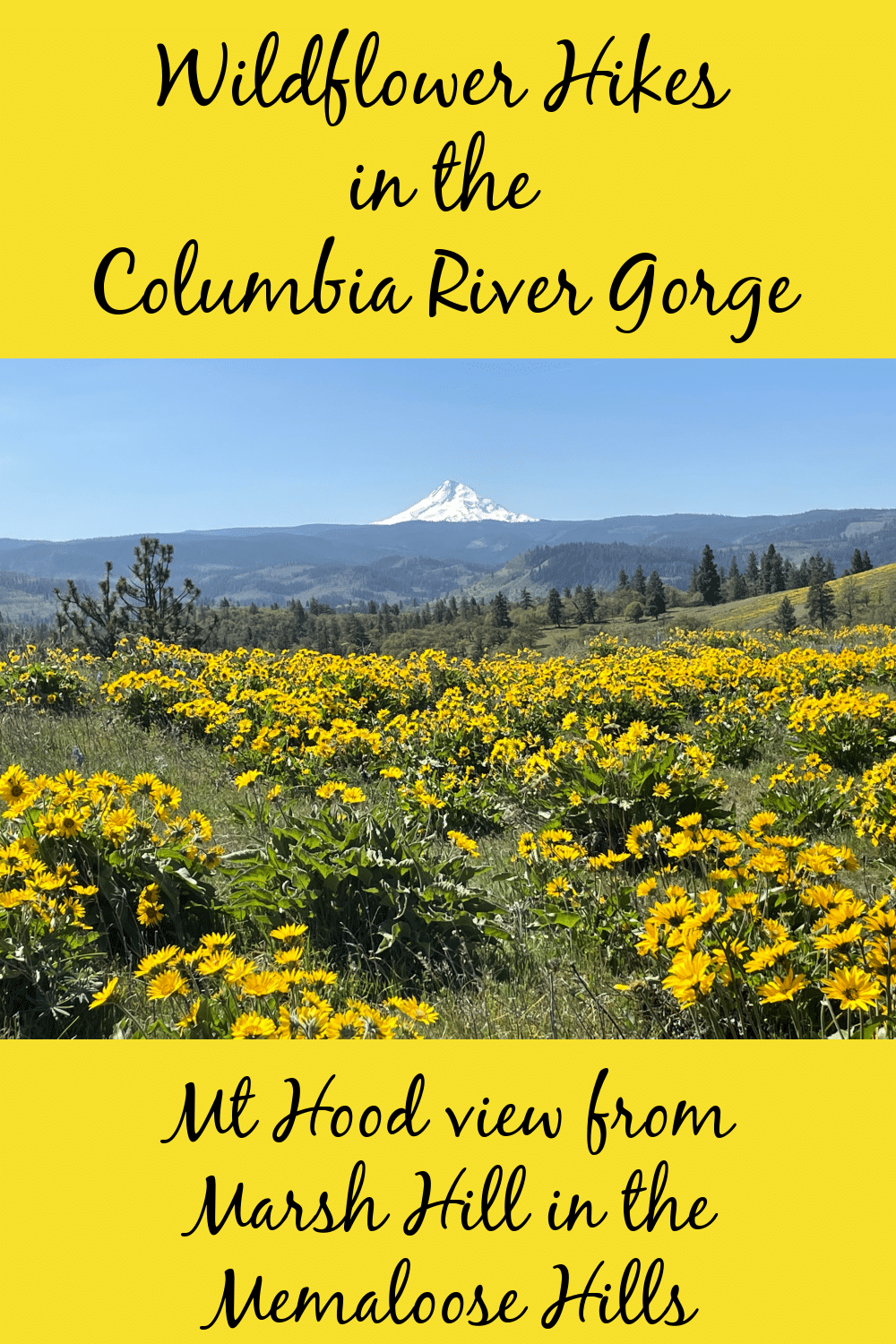 Wildflowers are popping up across the landscape in Columbia River Gorge. Spring wildflower bloom in the Gorge is a stunning display you don't want to miss. Plan your wildflower hike soon.
Memaloose Hills is a 2.8 mile moderately trafficked loop trail located in the Columbia River Gorge that features beautiful wild flowers and is rated as moderate. The hike takes you through a moderate oak forest with occasional evergreens. Featured photo is from the high point on the trail, Chatfield Hill
This trail begins in the town of Mosier, follows Mosier Creek up the hill, through a pioneer cemetery, onto the Mosier Plateau. This trail is part of Gorge Towns to Trails project, a comprehensive trail system that wraps around the Columbia Gorge, linking communities with recreation. The trail was completed in the summer 2013 with numerous partners and volunteers.
Parking is on the north side of WA14 where you can pick up trails for longer hikes and more great wildflower and bird viewing.  Catherine Creek Trail #4400 is a one mile paved trail with great views of the Columbia River on the south side of WA14. Catherine Creek Arch (1.9m) and Catherine Creek Labyrinth (5.5 miles) trails can be picked up here.
This easy stroll provides stunning views up and down the Gorge.  In late spring, the balsam root and other wildflowers are abundant.  You can't talk about the Rowena Plateau without talking about the Tom McCall Nature Preserve. The Nature Conservancy has worked to preserve the fauna and flora here. Starting in spring, volunteers lead interpretive hikes.
Sevenmile Hill Trail is a 2 mile moderately trafficked loop trail that features beautiful wild flowers and is rated as moderate.
You'll have stunning Columbia River Gorge Views on these trails, through open grasslands, vernal ponds and oak woodlands. Bring your camera.
Start your day at a Oregon Bed and Breakfast near Mt. Hood and the Columbia Gorge with a breakfast prepared from fresh local products. Or take a relaxing day trip from a Portland region bed and breakfast
Oregon Bed and Breakfast Guild is ready to share Oregon with you: it's environment, culture, and heritage. Combine gracious hospitality with ambiance at an inspected and approved Oregon Bed and Breakfast Guild member Inn.
Hospitality Update: We all may be a little rusty, and a little leery, on planning trips just yet. And while it's almost safe enough to climb aboard that travel train, we're ready when you are! Our inns have been proactively doing everything in our power to keep you safe and welcome you back. Not sure if your favorite inn is open? Give them a call as they just might be.