This Rogue Creamery Cheddar Breakfast Sandwich is a Northwest Culinary Treat
Rogue Creamery Cheddar Sandwiches as served at the Old Parkdale Inn Bed and Breakfast. Created on home made figassa with a ricotta spread, scrambled eggs, spinach, red onion and Rogue Creamery Rogue's Mary Cheddar. Mix up the cheese flavors with Oregon fruits and vegetables.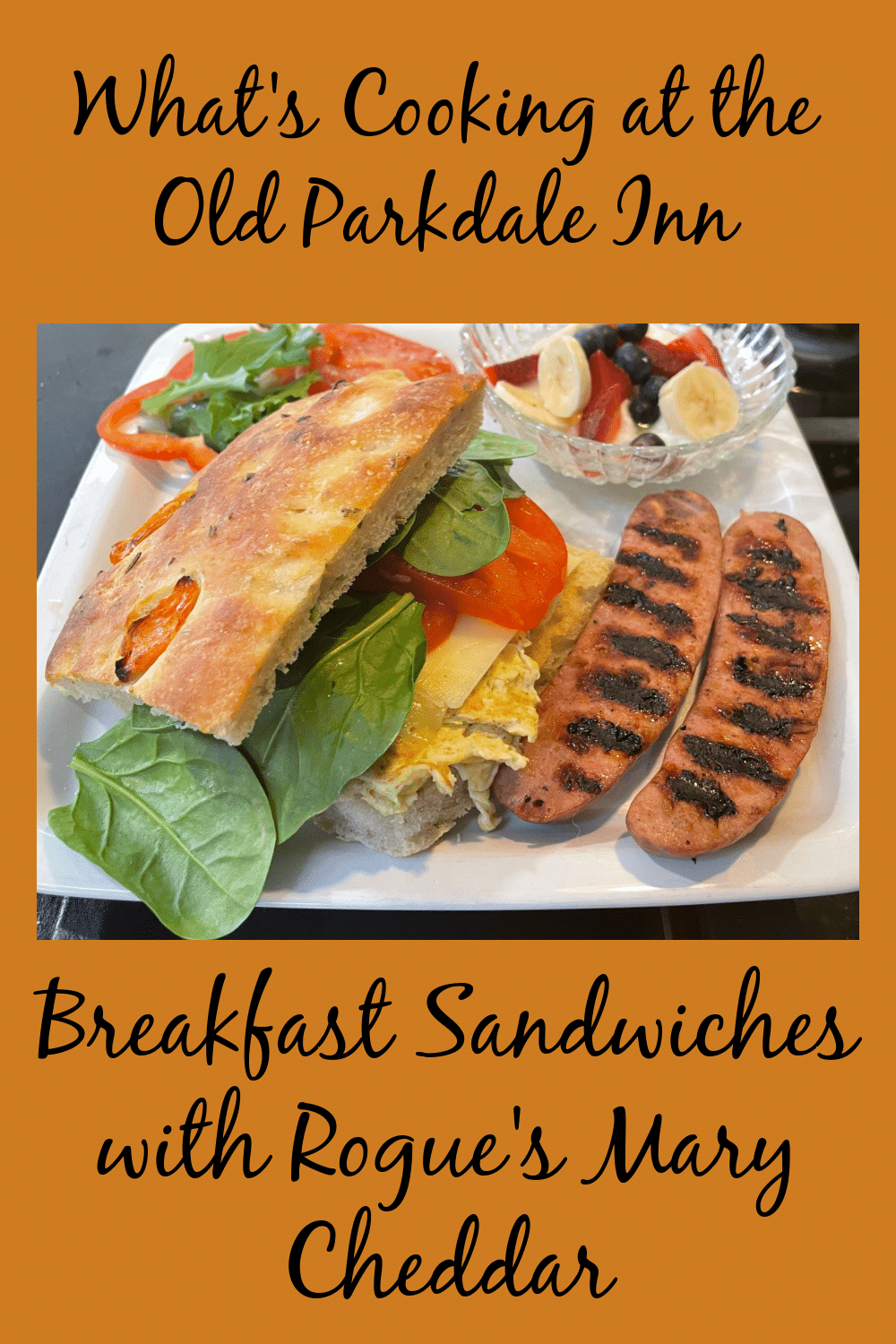 Rogue Creamery Cheddar Breakfast Sandwich with your favorite ingredients
For each sandwich:
2 thick slices rustic 9 grain bread – sandwich in photo was made with fresh home made rosemary/tomato figassa
2 eggs, seasoned and scrambled
6 slices Rogue Creamery Rogue's Mary Cheddar
2 thin slices tomato or try a thinly sliced Oregon apple
hand full of fresh organic spinach
3 slices red onion rings
Caramelize the onion in a little butter to sweeten the flavor or served raw. The bread toasted or, after assembly, pressed in a panini press and grilled. 'My assembly looked like this: bottom slice of figassa with a ricotta spread, egg, cheese, tomato, spinach, top slice of figassa with ricotta spread. We served with sweet mustard, chicken apple sausage and lots of fresh fruit. Enjoy.'
The Old Parkdale Inn is located in the Upper Hood River Valley on the north slope of Oregon's tallest peak, Mt. Hood, in the quaint town of Parkdale. Outdoor adventure, farms, wineries and fine dining are nearby. The complete privacy of the inn and the serene gardens are perfect for romantic and restful getaways.
Shop and travel Local
Oregon Bed and Breakfast Guild is ready to share Oregon with you: it's environment, culture, and heritage. Combine gracious hospitality with ambiance at an inspected and approved Oregon Bed and Breakfast Guild member Inn.
Hospitality Update: We all may be a little rusty, and a little leery, on planning trips just yet. And while it's almost safe enough to climb aboard that travel train, we're ready when you are! Our inns have been proactively doing everything in our power to keep you safe and welcome you back. Not sure if your favorite inn is open? Give them a call as they just might be.