Elk Creek Falls is one of many waterfalls located within the small Elk Creek basin, just above the South Fork Coquille River.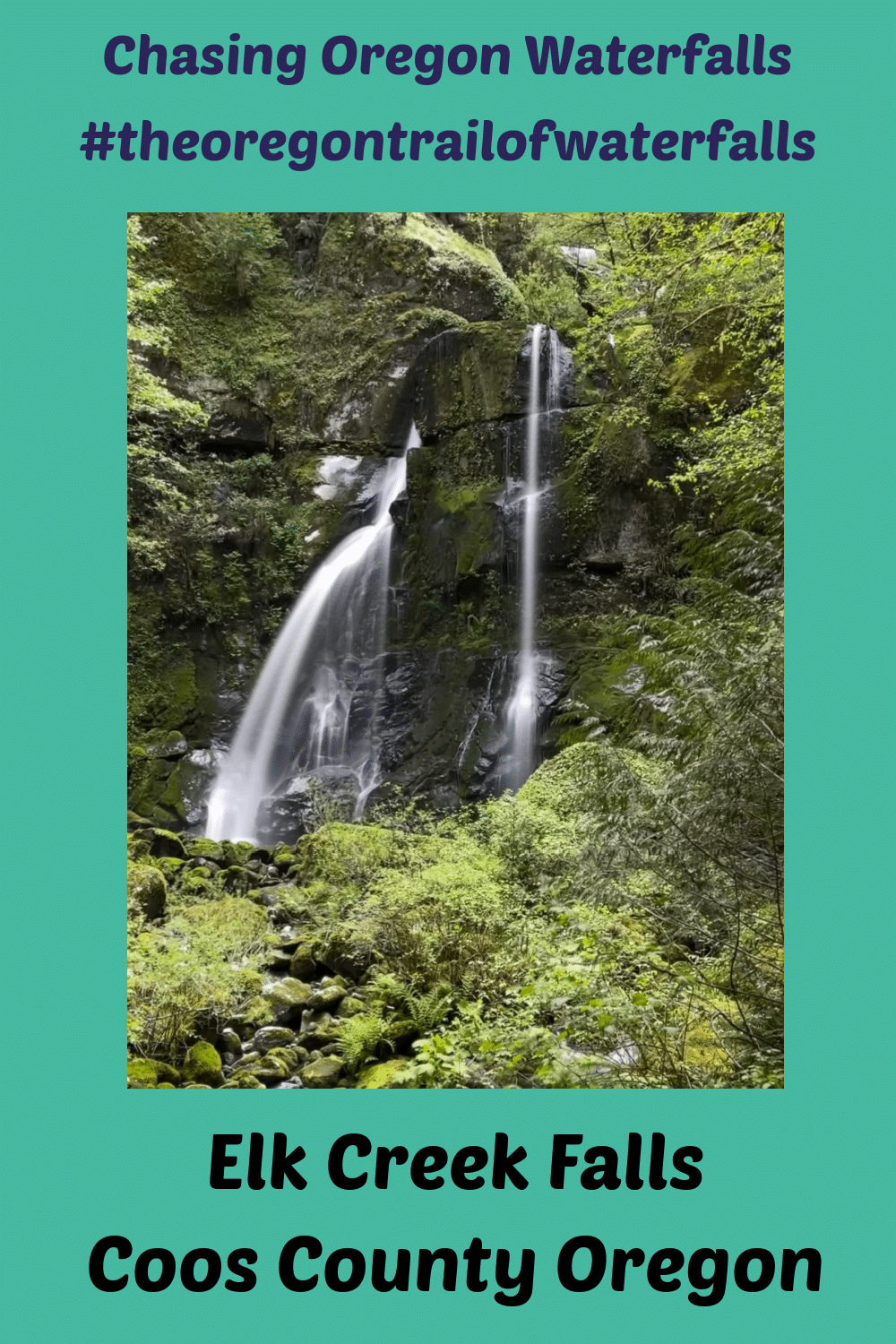 Due to the constricted canyon and the thick forest growth lining the creek only the final 83-foot tall tier of the falls is clearly visible from the end of the short, easy trail used to access the falls.
Just downstream of the viewpoint for the falls, the trail intersects the Big Tree Trail, which leads moderately steeply up hill to a stand of old-growth trees, among which can be found the world's largest living Port Orford Cedar tree – 12 feet in diameter and 230 feet tall.
It's possible to drive the entire Pacific Coast Scenic Byway in a single day. But why would you when you have 6 member inns of the Oregon Bed and Breakfast Guild from Cannon Beach to Port Orford? Take a few days, take a few side trips and enjoy the ride. Elk Creek Falls is about an hour off of the Pacific Coast Highway. WildSpring Guest Habitat, Port Orford, is our closest inn to the Falls.
Chase Oregon Waterfalls with us by following the Pinterest and Facebook pages of the Oregon Bed and Breakfast Guild.
The Oregon Trail of Waterfalls Map from the Oregon Bed and Breakfast Guild will inspire you
Download the map and start the new year right with some Oregon inspiration. We've included where to stay, things to do in Oregon, where to eat. You'll find a mountain of epic trip ideas for your next outdoor, cultural or culinary adventure in every corner of the state. Now more than two dozen inns are ready to help you plan your most EPIC Oregon road trip!
Oregon Bed and Breakfast Guild is ready to share Oregon with you: it's environment, culture, and heritage. Combine gracious hospitality with ambiance at an inspected and approved Oregon Bed and Breakfast Guild member Inn.
Hospitality Update: Our inns are following COVID-19 protocol guidance from the Oregon Health Authority. 
Although mask guidelines are lifted:
● Some businesses may choose to still require masks.
● Some people may choose to still wear a mask.
We have all struggled through COVID-19 and could use a little kindness. Please be respectful of local businesses and their workers and most importantly kind to yourself.