Golden Falls is the cornerstone to Golden and Silver Falls State Park, east of Coos Bay, and is among the largest and most powerful waterfalls found in the Coast Range of Oregon.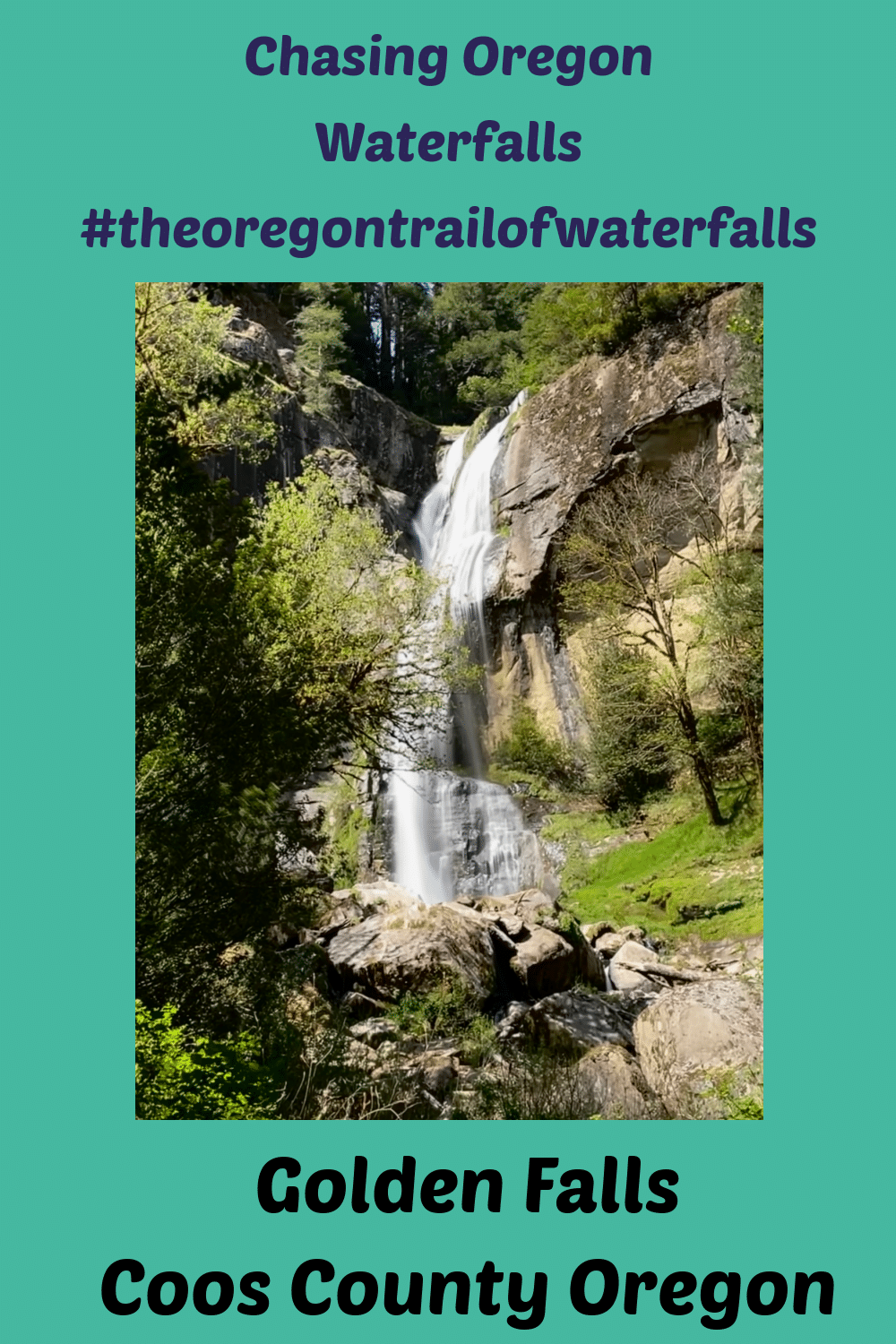 In the winter and early spring months a considerable volume of water thunders over this impressive waterfall, first dropping into a narrow slot carved into the side of a lofty cliff, and then spouting outwards from the slot about halfway down the cliff face.
The falls was measured to stand 254 feet tall, which makes it among the tallest waterfalls west of the Willamette River in Oregon.
Chase Oregon Waterfalls with us by following the Pinterest and Facebook pages of the Oregon Bed and Breakfast Guild.
It's possible to drive the entire Pacific Coast Scenic Byway in a single day. But why would you when you have 6 member inns of the Oregon Bed and Breakfast Guild from Cannon Beach to Port Orford? Take a few days, take a few side trips and enjoy the ride. Golden and Silver Falls State Park is 25 miles NE of Coos Bay, Oregon. WildSpring Guest Habitat, Port Orford, is our closest inn to the Park.
Bonus: for those searching geocaches – Golden and Silver Falls Revisited GC2ZKRK
The Oregon Trail of Waterfalls Map from the Oregon Bed and Breakfast Guild will inspire you
Download the map and start the new year right with some Oregon inspiration. We've included where to stay, things to do in Oregon, where to eat. You'll find a mountain of epic trip ideas for your next outdoor, cultural or culinary adventure in every corner of the state. Now more than two dozen inns are ready to help you plan your most EPIC Oregon road trip!
Oregon Bed and Breakfast Guild is ready to share Oregon with you: it's environment, culture, and heritage. Combine gracious hospitality with ambiance at an inspected and approved Oregon Bed and Breakfast Guild member Inn.
Hospitality Update: Our inns are following COVID-19 protocol guidance from the Oregon Health Authority. 
Although mask guidelines are lifted:
● Some businesses may choose to still require masks.
● Some people may choose to still wear a mask.
We have all struggled through COVID-19 and could use a little kindness. Please be respectful of local businesses and their workers and most importantly kind to yourself.