North Oregon Coast Birding
"The northern coast of Oregon stretches from the mouth of the historic Columbia River south to fog-shrouded Cascade Head, an area of broad tidal estuaries and rugged headlands that flank stretches of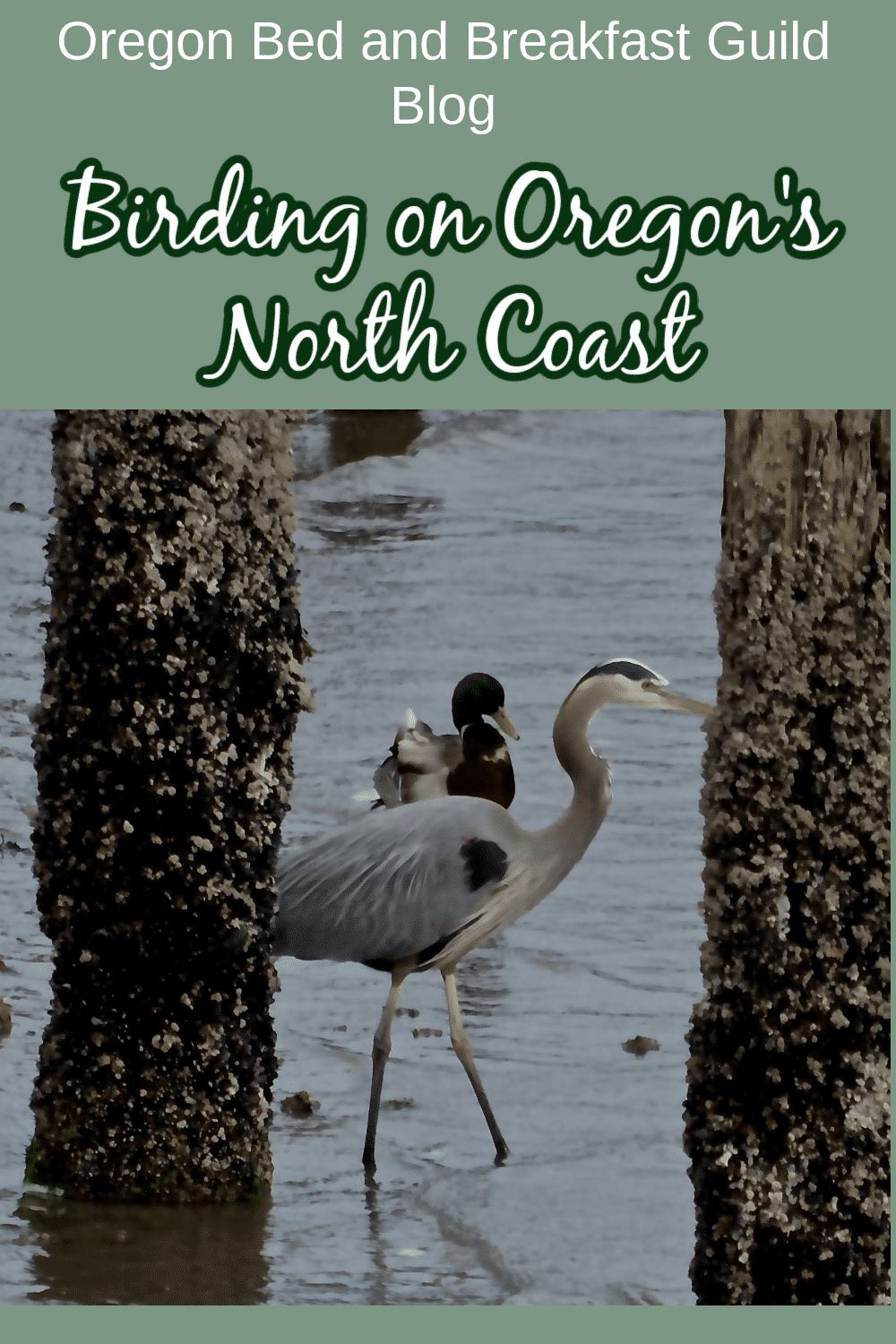 sandy beaches."  This from the North Coast map of the Oregon Coast Birding Trail. From Astoria, to Seaside, the town of Tillamook, to Lincoln City. Close to 375 species of birds have been recorded on the Northern Oregon Coast and quite a few Oregon Bed and Breakfasts are awaiting your arrival.
Start your Oregon coast adventure in Astoria, Oregon, overlooking the mighty Columbia River. Astoria's historic downtown is minutes from the floodplains and open wetlands of the lower Columbia River ecosystem.
The Necanicum Estuary is one of the best sites on the north coast to watch shorebirds during migration. The Pacific Coast Scenic Byway winds through flooded pasture, river frontage and estuaries surrounding Tillamook Bay Estuaries, bays, plentiful river systems, coastal rainforests and an extensive watershed ecosystem offers unmatched bird watching opportunities.
Heading down the coast toward Lincoln City is the Cascade Head Nature Preserve where spectacular sitka spruce forests end with views of the Salmon River Estuary. Roosevelt elk graze the open grasslands that are habitat for the endangered Oregon Silverspot Butterfly.
Oregon Bed and Breakfast inns on the Oregon Coast welcome you. You can certainly inn hop from Oceanside to Port Orford and stay at member inns along the way. Take your pick, grab your binoculars and be prepared to be dazzled by the abundance of wildlife and spectacular scenery on the Oregon Coast.

Oregon Bed and Breakfast Guild is ready to share Oregon with you: it's environment, culture, and heritage. Combine gracious hospitality with ambiance at an inspected and approved Oregon Bed and Breakfast Guild member Inn.
Hospitality Update: Our inns are following COVID-19 protocol guidance from the Oregon Health Authority. 
Although mask guidelines are lifted:
● Some businesses may choose to still require masks.
● Some people may choose to still wear a mask.
We have all struggled through COVID-19 and could use a little kindness. Please be respectful of local businesses and their workers and most importantly kind to yourself.