Book Direct at an Oregon Bed and Breakfast Guild member inn. Book Direct is a trending thing we can all embrace and benefit from.
When you commit to booking direct, you will enjoy many perks and amenities that you would not have access to when booking through a travel agency. Not to mention, you will almost always pay less!
More than a hashtag
We believe that the #BookDirect message is more than just an annual hashtag and is a crucial one we should be spreading every single day. Also known as 'Guest Education Day' our goal is to explain the mutual benefits for both guests and hosts.
As small business owners our innkeepers truly appreciate your direct bookings. This not only allows you a more specialized experience as you interact directly with us, you also benefit the local economy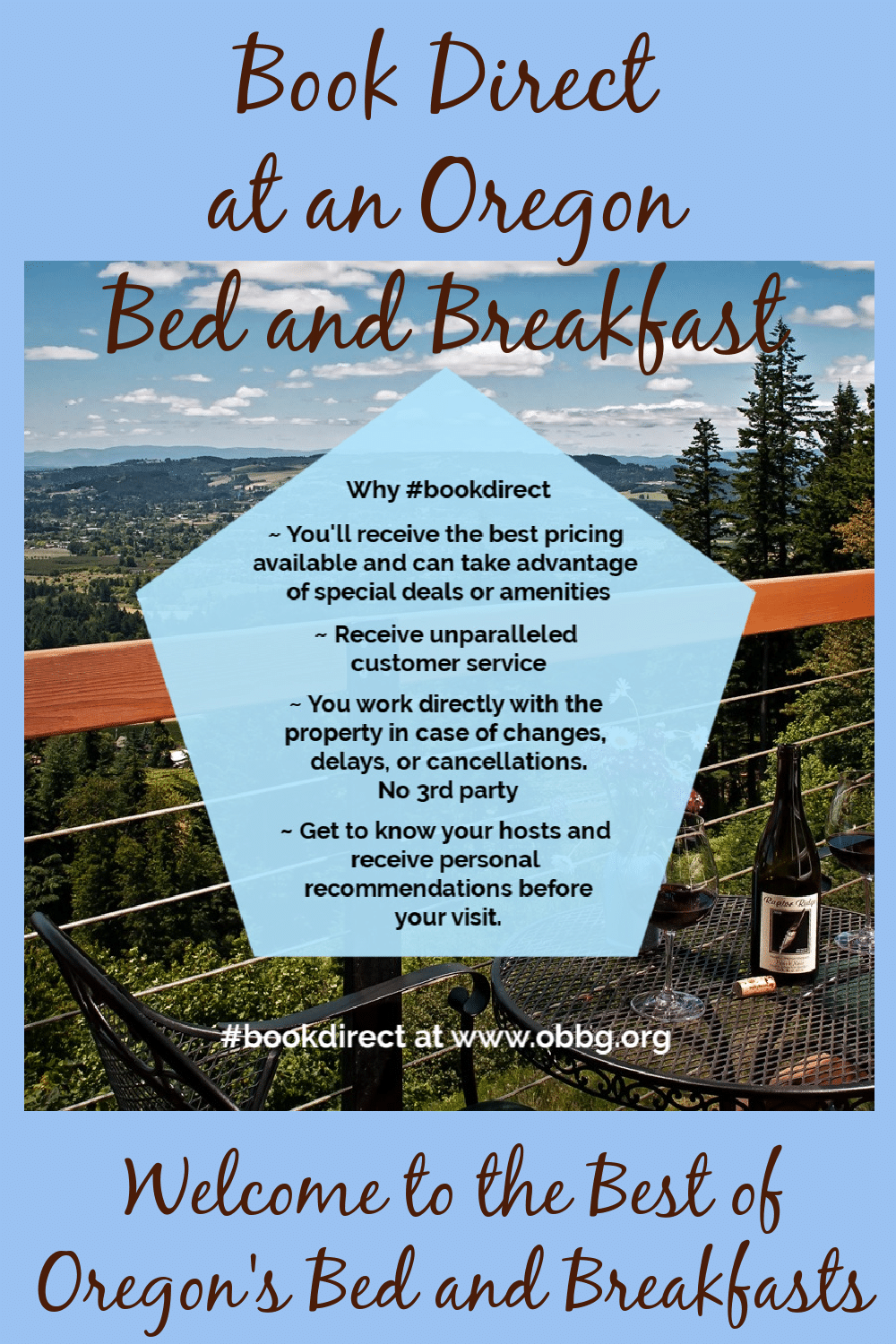 When booking direct:
You're most always guaranteed the lowest pricing available. 'An OTA (online travel agent) may be able to influence the price to get you to book but there is little they can do to improve your stay.' Support your local businesses and #bookdirect! You save on your getaway, receive personalized service and the business saves on steep commissions – it's a win win
The truth is, these booking sites charge at least 15% of each booking to the small business owner and sometimes charge you a 'service fee'. The independent innkeeper really appreciates it when you book directly with them through their website
You work directly with the property in case of changes, delays, or cancellations
You typically will not have to pay additional booking, change, or cancellation fees.
You will enjoy exclusive benefits and can take advantage of special deals, amenities, and packages
Managers and homeowners know the properties and the area better than anyone and can better match travelers to homes and help plan a better vacation experience.
How can you, the traveler Join the Movement and make sure you're always booking direct?
Always verify you are on the inn's, or bed and breakfast's website before you book.
When in doubt, call the Inn directly for assistance.
Be careful using the blue Book a Room button in Google. It NEVER goes directly to the the inn's website. It ALWAYS goes to an online travel agency such as Booking.com or Expedia, or one of their downstream booking partners.
We invite you to read our online reviews. And then we encourage you to go directly to our websites and Book Direct: for all the right reasons
Oregon Bed and Breakfast Guild is ready to share Oregon with you: it's environment, culture, and heritage. Combine gracious hospitality with ambiance at an inspected and approved Oregon Bed and Breakfast Guild member Inn.
Hospitality Update: Our inns are following COVID-19 protocol guidance from the Oregon Health Authority. 
Although mask guidelines are lifted:
● Some businesses may choose to still require masks.
● Some people may choose to still wear a mask.
We have all struggled through COVID-19 and could use a little kindness. Please be respectful of local businesses and their workers and most importantly kind to yourself.