Eat Your Way to Christmas with 24 Recipes You Can Print, Stamp and Mail this Holiday Season
More than a dozen bed and breakfasts across the U.S. have whipped up their best holiday recipes in postcard form. Make one every day as a Christmas countdown or print, stamp, and mail, to share deliciousness across the miles. 
Three Oregon Bed and Breakfasts, A'Tuscan Estate Bed and Breakfast, MaMere's Guest House & Event Center, and Chehalem Ridge Bed & Breakfast are part of an edible advent calendar! The new book contains 24 print and mail recipe postcards, all of which can be printed for FREE. These recipes are delicious and great for Thanksgiving too so why wait until December 1 to start.
Perched on eight acres atop Chehalem Mountain overlooking the Willamette Valley and Coast Range, the inn's four guest rooms and one suite, all with en suite bathrooms, offer a peaceful retreat between adventures with spectacular views of both mountain and valley.
Serves 4
Ingredients:
4 cardamon pods
2 cinnamon sticks
4 whole cloves
3 star anise
4 black peppercorns
4 cups apple cider
1 bottle red wine
1 orange, zested and juiced
2 tablespoons maple syrup
4 dried orange slices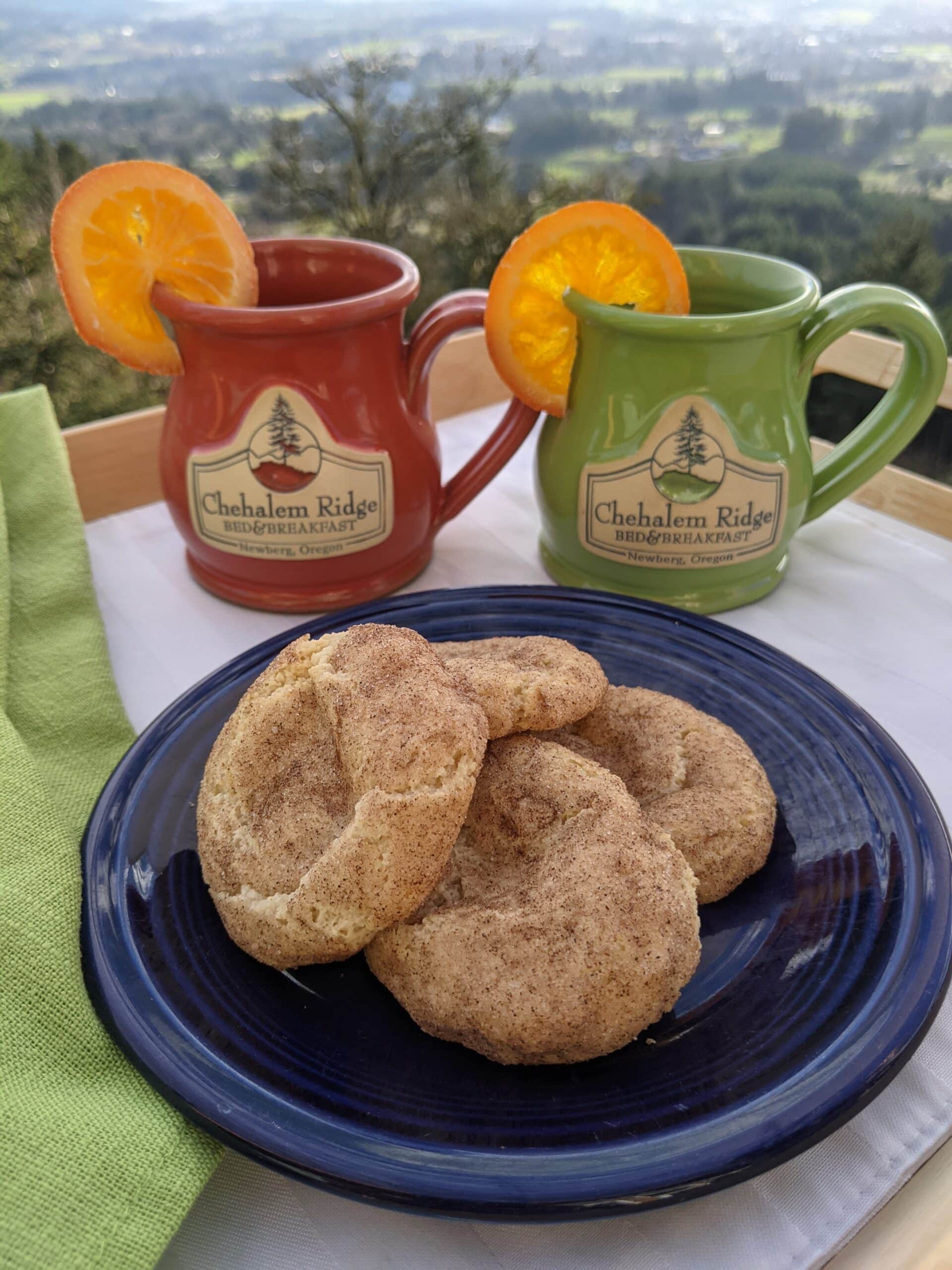 Instructions:
With the side of a knife, crush the cardamon pods just a bit. Combine the spices,
cider, wine, orange zest and juice, and maple syrup in a medium saucepan. Bring to a boil and reduce to a simmer over low heat for 10 minutes.
Strain the wine and ladle into mugs. Cut the dried orange slice from one edge to the middle. Garnish the rim of each mug with one dried orange peel.
Notes: we use Sweetened Dried Orange Slices from Trader Joes and Old Vine Zinfandel from Sineann Winery. Can be made ahead of time and kept warm in a preheated carafe or slow cooker.
CLICK HERE TO DOWNLOAD THIS POSTCARD FOR FREE (then print and affix to heavier cardstock, stamp and mail!)
 
Nineteen inns, beds and breakfast and boutique hotels across the country have joined together to create Edible Christmas, mailable recipes in the form of postcards as a yummy way to countdown the days till Christmas.
The edible advent calendar offers a new recipe every day from December 1st through Christmas Eve, December 24th, and a whimsy artistic look. The recipe postcards measure 9" across and 6" down and can be printed on a regular-sized sheet of printer paper. One would then affix the design to heavier card stock, stamp, and mail.
The book of postcards is free and may be downloaded or printed at www.EdibleChristmas.com. Recipes include holiday drinks, Christmas cookies, sweet and savory festive entrees, breads,
dressing, and more.
"The idea is to count your blessings, not calories," says Erin Gilchrist, innkeeper with A'Tuscan Estate Bed & Breakfast in McMinnville, Oregon. "By making these postcards free to download, we've whipped up a way to bring people together, regardless of location and circumstance." Gilchrist provided two recipes for the postcards: Baked Spiced Oatmeal with Cranberries, Apples and Walnuts and Red Velvet White Chocolate Cake Truffles