Eco Earth Globe In Salem Oregon
Happy Earth Day 2022
Riverfront Park in Salem, Oregon, is home to a number of annual events, including the World Beat Festival, 4th of July Celebration, Christmas tree lighting, and many various walk/run events. It is also home to the Eco Earth Globe, located at the southern portion of the park.
Story Behind the Globe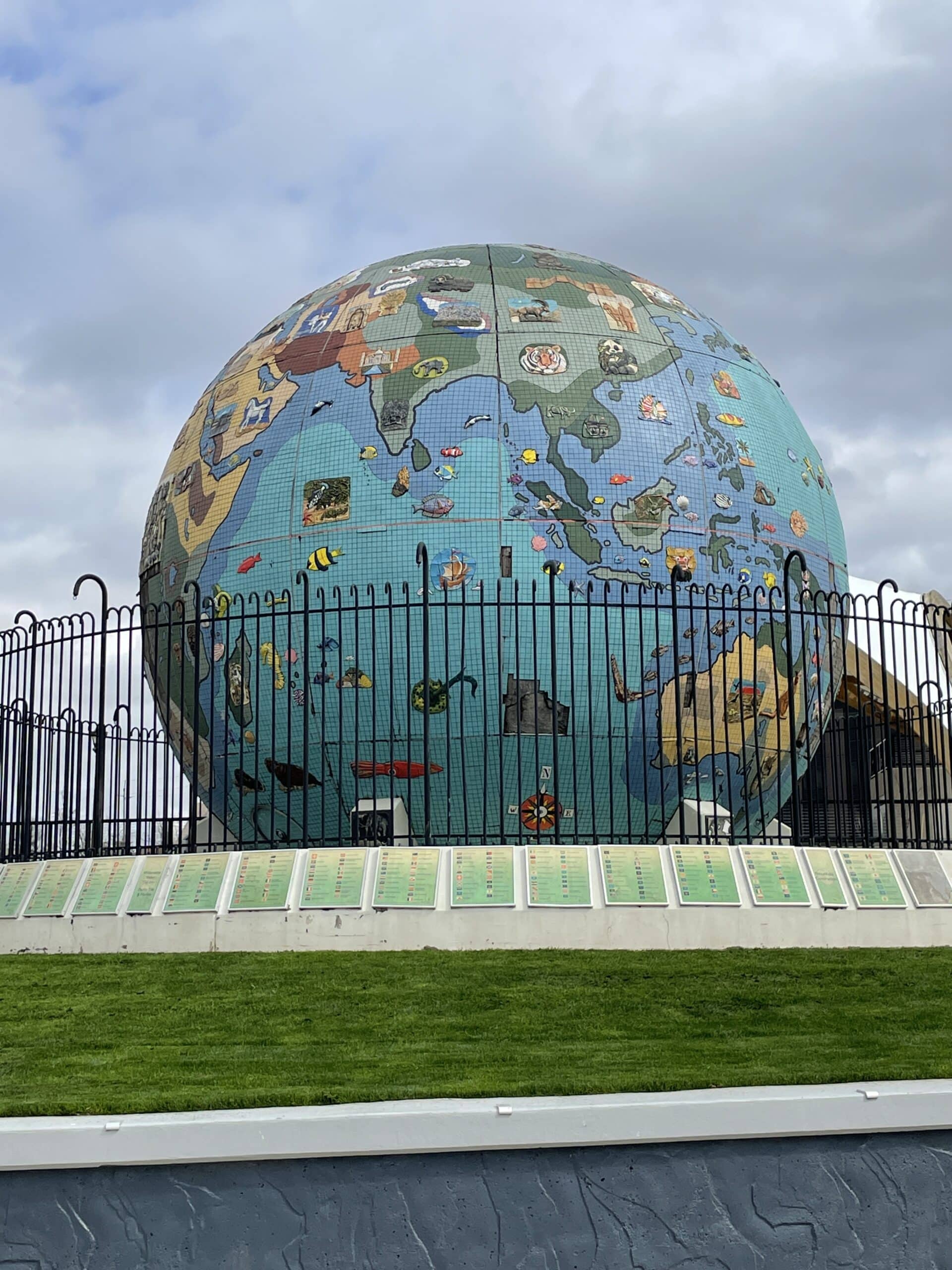 This sphere was originally a large pressurized tank used by Boise Cascade to hold acids that were used to "cook" wood chips into pulp. It was a 5-year process to transform this "acid ball" into a beautiful piece of art that includes 86,000 tiles depicting the entire globe, created by local artists and students, reflecting the diversity on land and water.
Eco-Earth Globe Restoration
After years of exposure to the elements, the Eco-Earth Globe began to lose tiles and show signs of disrepair. The Salem Parks Foundation has graciously stepped up to coordinate a community fundraising effort with a goal to raise $300,000 (of the $400,000 estimated total) for these repairs.
Story Behind Riverfront Park
The City of Salem bought this property from Boise Cascade and started clearing it during the 1980s. The 26-acres of existing parkland is the result of industrial land conversion. Paper, flour, and woolen mills, as well as a coal gasification plant and an auto junkyard formerly occupied the site. The Riverfront Carousel was added in 2001. The most recent addition to the park came in 2005, when the Salem Rotary Club, as their centennial project, raised funds and built an open-air pavilion in the park. In addition to the pavilion, the overlook and floating boat dock were also added in 2005. Not only is the dock home to the Willamette River Queen, but it can also accommodate canoes and kayaks while offering a beautiful view of the Willamette River.
Visit Salem and the Willamette Valley Bed and Breakfasts of the Oregon Bed and Breakfast Guild. Plan a few days to explore the beautiful Riverfront Park, the state capitol, museums, and other historic sites well worth seeing. With over 40 city parks, Salem also has plenty of open space especially near the Willamette River.
Oregon Bed and Breakfast Guild is ready to share Oregon with you: it's environment, culture, and heritage. Combine gracious hospitality with ambiance at an inspected and approved Oregon Bed and Breakfast Guild member Inn.
Hospitality Update: Our inns are following COVID-19 protocol guidance from the Oregon Health Authority. Oregon's statewide mask requirement for indoor public places was lifted on March 12.
After mask guidelines are lifted:
● Some businesses may choose to still require masks.
● Some people may choose to still wear a mask.
We have all struggled through COVID-19 and could use a little kindness. Please be respectful of local businesses and their workers and most importantly kind to yourself.
Let's all be respectful and safe and follow the guidance of the CDC. Our inns are doing everything in our power to keep you safe. Not sure if your favorite inn is open? Give them a call as they just might be.