Remember the orange popsicle filled with vanilla ice cream? Who didn't love them then and who doesn't still love them now? On our return trips from California we always stop at the Heath Ranch for Organic Oranges to use in Orange Ricotta Pancakes, Fresh Orange Smoothies, Fruit Salads and more. A creamy French Toast with a lovely Challah we picked up at Pine Street Bakery in Hood River. Makes the best French Toast and when combined with cream cheese, vanilla and orange, a dreamy Creamy Orange French Toast
Let's begin
In a small bowl cream together 1/2 tsp orange zest, 1 tsp sugar and 4 oz softened cream cheese
In another bowl Whip together:
3 large eggs
½ tsp vanilla extract
zest from a orange
juice from that orange
cup of milk
2 Tbsp heavy cream
2 tsp sugar
Spread the cream cheese mixture between two slices of bread.
I like to lay the sandwiches on a cookie sheet where the milk and egg mixture has been poured, flipping them after about 5 minutes. The type of bread you are using will determine how long to soak. Dryer bread a little longer that a very moist bread like Challah. Fry on a hot griddle until golden, about 3-5 minutes on each side.
Meanwhile, combine fresh orange juice from half an orange, 1/2 cup maple syrup, 1/2 tsp vanilla extract and a half teaspoon of orange zest in a small sauce pot. Bring to simmer and take off heat.
Serve piping hot garnished with thinly slices oranges and a dusting of powdered sugar.
You can adjust this recipe to satisfy dietary needs. I've used coconut or almond milk for lactose intolerant guests. A Vanilla Soy Creamer adds flavor. There are some very good non dairy cream cheese products available.
Order Oregon B&B Gift Certificates Now. Redeem them at L2 Bastide B&B or any one of our member inns.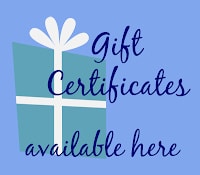 E-mail info@obbg.org or call OBBG at 503-893-4210. Please leave a message as this line is monitored by our busy innkeepers. We'll get back to you for the details: who will be the recipient of your thoughtful gift, acquire your payment method and shipping information. We'll send them by mail, to either you or the recipient, with delivery confirmation. The recipient will have a great time getting away to a high-quality destination of their choice.
OBBG Lodging Gift Certificates are available in $25 increments and can be redeemed at every Oregon Bed & Breakfast Guild member across the state. With 25 members to choose from that's a lot of choices and with an 18 months expiration recipients have plenty of time to redeem them at the Inn of their choosing.
The Oregon Bed and Breakfast Guild offers a wide variety of inns, from a small guest cottage or two-room bed and breakfast to a larger country inn or small historic hotel.
Oregon Bed and Breakfast Guild is ready to share Oregon with you: it's environment, culture, and heritage. Combine gracious hospitality with ambiance at an inspected and approved Oregon Bed and Breakfast Guild member Inn.
Hospitality Update: Our inns are following COVID-19 protocol guidance from the Oregon Health Authority. 
Although mask guidelines are lifted:
● Some businesses may choose to still require masks.
● Some people may choose to still wear a mask.
We have all struggled through COVID-19 and could use a little kindness. Please be respectful of local businesses and their workers and most importantly kind to yourself.