What Are Pfeffernüsse Cookies?
Christmas Cookies from the Innkeepers of the Oregon Bed and Breakfast Guild. This one from the Old Parkdale Inn
Pfeffernüsse are German spice cookies. Pfeffernüsse translates to peppernuts, which makes sense. These cookies are flavored with a cozy blend of warm spices, including black pepper. They traditionally contain anise. This recipe calls for shortening and margarine instead of butter, as butter tends to spread. I had butter and didn't want to go to the store. Hence my cookies did spread a bit more than they should have but they still tasted delicious
Ingredients
½

 

cup

 

molasses

¼

 

cup

 

honey

¼

 

cup

 

shortening

¼

 

cup

 

margarine

2

 

large

 

eggs

4

 

cups

 

all-purpose flour

¾

 

cup

 

white sugar

½

 

cup

 

brown sugar

2

 

teaspoons

 

anise extract

2

 

teaspoons

 

ground cinnamon

1 ½

 

teaspoons

 

ground cardamom

1 ½

 

teaspoons

 

baking soda

1

 

teaspoon

 

ground cloves

1

 

teaspoon

 

ground nutmeg

1

 

teaspoon

 

ground ginger

1

 

teaspoon

 

ground black pepper

½

 

teaspoon

 

salt

1

 

cup

 

confectioners' sugar for dusting
Directions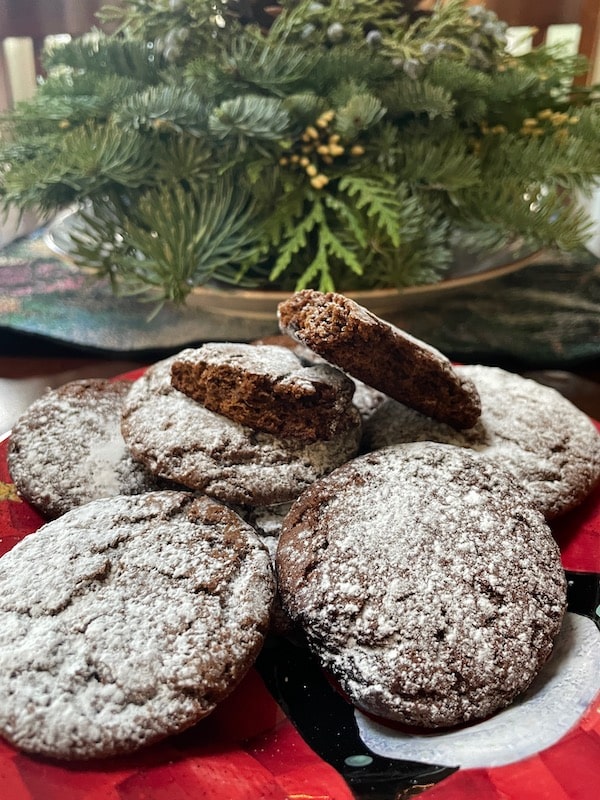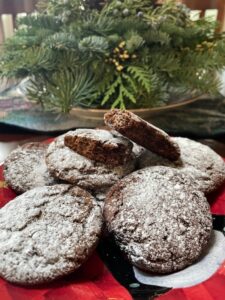 Place molasses, honey, shortening, and margarine in a saucepan over medium heat; cook and stir until creamy. Remove from heat and allow to cool to room temperature. Beat in eggs.
Combine flour, white sugar, brown sugar, anise, cinnamon, cardamom, baking soda, cloves, nutmeg, ginger, black pepper, and salt in a large bowl. Add molasses mixture; stir until thoroughly combined. Refrigerate dough until well chilled, about 2 hours.
Preheat the oven to 325 degrees F (165 degrees C).
Roll dough into acorn-sized balls and place 1 inch apart on baking sheets.
Bake in the preheated oven until firm to the touch with slight cracking, 10 to 15 minutes. Cool on the baking sheets briefly before removing them to a wire rack to cool completely.
Dust cooled cookies with confectioners' sugar. Store in an airtight container.
An inspected and approved member of the Oregon Bed and Breakfast Guild, the Old Parkdale Inn is located in the Hood River Valley, the largest pear growing region in our nation.
Oregon Bed and Breakfast Guild is ready to share Oregon with you: it's environment, culture, and heritage. Combine gracious hospitality with ambiance at an inspected and approved Oregon Bed and Breakfast Guild member Inn.
Hospitality Update: Our inns are following COVID-19 protocol guidance from the Oregon Health Authority. 
Although mask guidelines are lifted:
● Some businesses may choose to still require masks.
● Some people may choose to still wear a mask.
We have all struggled through COVID-19 and could use a little kindness. Please be respectful of local businesses and their workers and most importantly kind to yourself.