Blueberry Croissant French Toast served at the Old Parkdale Inn B&B, in the quiet and relaxed atmosphere of this Mt. Hood B&B.
National Croissant Day is January 30th but this buttery dish is served anytime at the Old Parkdale Inn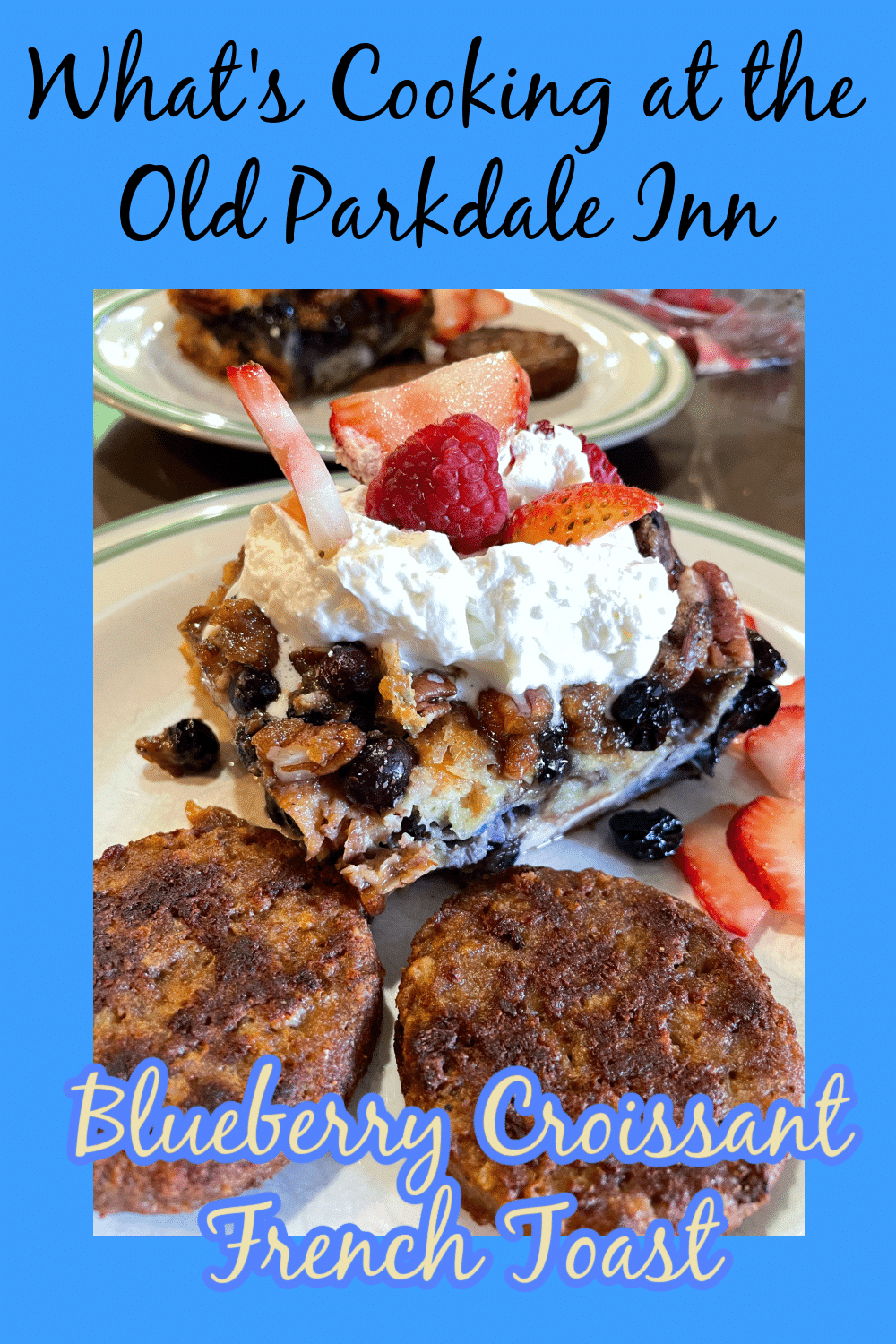 This Blueberry Croissant French Toast is a perfect breakfast entrée for both spring and summer, and super pretty when topped with fresh Oregon berries.
Let the quiet and relaxed atmosphere of the comfortable Old Parkdale Inn Bed and Breakfast be your lodging alternative to a hotel or motel in the Hood River Valley. And maybe if you ask ahead they'll treat you to this decadent Blueberry Croissant French Toast.

Blueberry Croissant French Toast
6-7 Large Croissants, torn into pieces
8 oz Cream Cheese
1 1/2 Cup Blueberries (fresh or frozen)
12 Eggs
1 1/2 Cups Milk
1/2 Cup Maple Syrup
1 tsp Cinnamon
1/2 Cup Butter, melted
1/2 Cup Brown Sugar
3/4 Cup Pecans
Thoroughly grease a 9×13 baking dish with butter or non stick spray. Tear up croissants and place half in bottom of baking dish. Cut up cream cheese into small pieces and place them on top of croissants. Put half the blueberries on top of cream cheese. Layer other half of torn croissants on top, then the rest of blueberries. Beat eggs, milk, maple syrup and cinnamon together in a bowl. Pour egg mixture over croissant mixture. Cover and refrigerate overnight.
In the morning, scatter pecans over french toast. Melt butter & add brown sugar to it to make a glaze like mixture. Drizzle mixture over french toast. Bake in 350 degree oven for 50- 60 minutes. Watch carefully last 10 minutes to make sure pecans don't burn. If getting too dark, put some foil lightly over french toast to stop browning. Makes 8 generous portions.
Substitute any juicy berry such at strawberries or the Oregon Marionberry. Or maybe Peaches? Peaches and Cream sounds pretty good, too.
Oregon Bed and Breakfast Guild is ready to share Oregon with you: it's environment, culture, and heritage. Combine gracious hospitality with ambiance at an inspected and approved Oregon Bed and Breakfast Guild member Inn.
Hospitality Update: Our inns are following COVID-19 protocol guidance from the Oregon Health Authority. 
Although mask guidelines are lifted:
● Some businesses may choose to still require masks.
● Some people may choose to still wear a mask.
We have all struggled through COVID-19 and could use a little kindness. Please be respectful of local businesses and their workers and most importantly kind to yourself.