Best Oregon Waterfalls for Bird-lovers
Bring out the hiking boots and binoculars, pack your bags and begin your Oregon waterfall and birdwatching adventure at an Oregon Bed and Breakfast.

Oregon has more than 238 waterfalls across the state (and 1,000+ according to the Northwest Waterfalls Survey). And the habitats surrounding them are diverse and welcoming to many species of birds.
Mt Hood and the Columbia Gorge Birdwatching
Tamanawas Falls is a plunge waterfall on the east slope of Mount Hood, along Cold Spring Creek. A riparian habitat and mature mixed-conifer forest surrounds the trail to Tamanawas Falls. Nesting Harlequin Ducks. American Dipper and Belted Kingfisher are common along the creek. Songbirds such as Yellow-rumped and Townsend's Warbler, and Ruby-crowned Kinglet migrate through the Hood River's east fork..
The member inns in the Mt Hood and the Gorge Region of the Oregon Bed and Breakfast Guild are here to accommodate you.
Willamette Valley and the Central Cascades Birdwatching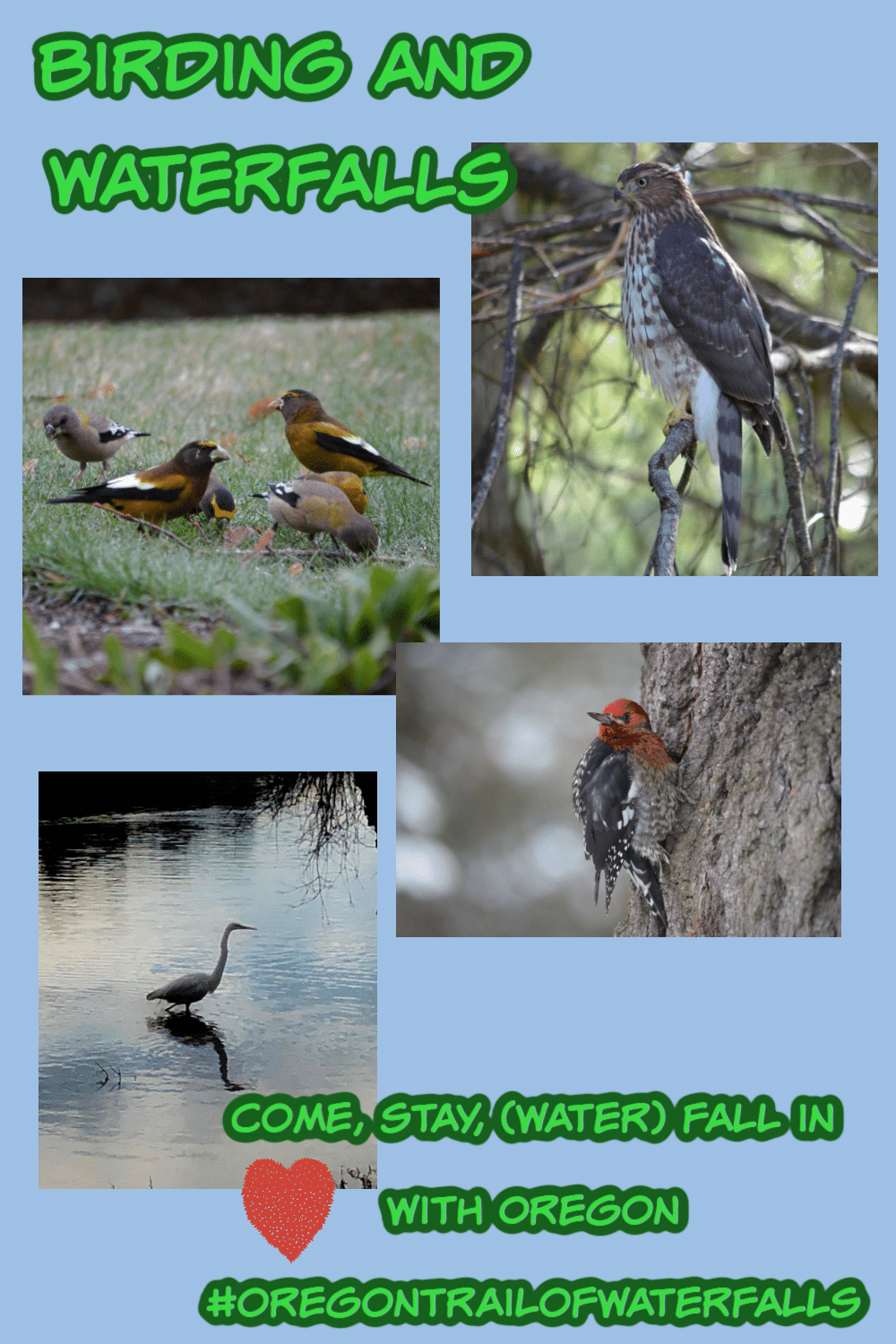 Silver Falls State Park Enjoy the best of bird watching in Silver Falls State Park while hiking the Trail of 10 Falls. In Oregon's largest State Park the best remaining low-elevation, old growth conifer forest. A variety of owls: Northern Spotted, Great Gray, Barred, Northern Pygmy, Western Screech, and Northern Saw-whet Owls have been observed here. Other birds you might find include Blue Grouse, Ruffed Grouse, Pileated Woodpecker, Red-breasted Sapsucker, Hammond's and Pacific-slope Flycatchers, American Dipper, Varied and Swainson's Thrushes, Hermit Warbler, Western Tanager, and Band-tailed Pigeon
Start your day at one of 14 bed and breakfasts in the Willamette Valley before heading out on a day trip to Silver Falls State Park, the "crown jewel" of the Oregon State Parks system.
McKay Crossing Falls Lodgepole pine forest on Paulina Creek; nesting Green-tailed Towhee, American Dipper, Common Nighthawk, Vesper Sparrow. Head upstream to Paulina Creek Falls
Oregon Coast Birdwatching
Although there isn't a waterfall on the property, WildSpring Guest Habitat is a birding site on the Oregon Coast Birding Trail and certified wild animal habitat by The Wildlife Federation. Day trip out to Secret Beach Falls, Golden Falls and Elk Creek Falls 
Toketee Falls and other Umpqua River Highway Waterfalls along The Rogue – Umpqua Scenic Byway, known as the 'highway of waterfalls'. Douglas Fir forests surrounding water and riparian habitats along the two storied rivers, good for spring migrant songbirds such as Lazuli Bunting, Chipping Sparrow, Black-headed Grosbeak, and Purple and Cassin's Finches; lake and riparian areas support breeding Common Merganser, Wood Duck, Willow Flycatcher, and Yellow Warbler.
Start your day at C.H. Bailey House and take your boots off at the Prospect Hotel. From Prospect head around Crater Lake to Klamath Falls. The murmur of thousands of snow geese will mesmerize as they settle to rest in the tule marshes of the Klamath Basin. The Klamath Basin is renowned for its wide diversity and abundance of bird life due to its diverse habitats including marshes, open water, coniferous forest, Juniper woodlands, oak-chaparral, sagebrush-grasslands, grassy meadow and rocky cliffs.
When your journey ends, your bags are unpacked, and you're scrolling through your vacation photos you will reminisce on memories of great accommodations, food, conversation and birding in Oregon.
Oregon Bed and Breakfast Guild is ready to share Oregon with you: it's environment, culture, and heritage. Combine gracious hospitality with ambiance at an inspected and approved Oregon Bed and Breakfast Guild member Inn.
Hospitality Update: Our inns are following COVID-19 protocol guidance from the Oregon Health Authority. 
Although mask guidelines are lifted:
● Some businesses may choose to still require masks.
● Some people may choose to still wear a mask.
We have all struggled through COVID-19 and could use a little kindness. Please be respectful of local businesses and their workers and most importantly kind to yourself.