Nestled in the heart of Oregon's wine country, on native Kayaluya lands, is McMinnville, Oregon: a warm, inviting, and genuinely friendly destination. Walk below the twinkle-light filled tree lining the historic downtown. Enjoy some of the world's best Pinot noir. You're sure to experience the warmth of the people you'll meet in McMinnville. Farm-to-table restaurants, shopping, wine and beer tasting, arts and culture and lodging experiences as welcoming as the town itself are waiting for you in McMinnville.
Explore the wines of the McMinnville AVA
Many tasting rooms within the historic downtown
Home of Linfield College
Home to the International Pinot Noir Celebration (IPNC)
Annual UFO festival celebrating the 1950 sighting
Evergreen Aviation and Space Museum is home to aviation pioneer Howard Hughes' famous Spruce Goose, the largest wooden aircraft ever built, along with a Titan II Rocket, IMAX theater and indoor water park
Foodie town, with restaurant in French, Spanish, American, Creole, Central American cuisines and more, including some breweries
McMinnville Downtown Historic District offers 100 commercial buildings of architectural & historical significance
Shopping and live theater
A self-guided historic building walking tour available at the Chamber Visitors Center
Bed and Breakfasts in McMinnville, Oregon
A' Tuscan Estate Bed and Breakfast With a total of six rooms between two houses, we are the perfect spot for your escape from reality. Our location you to enjoy Oregon Wine Country in the comfort of a relaxing, convenient home Phone: 503-434-9016 View Availability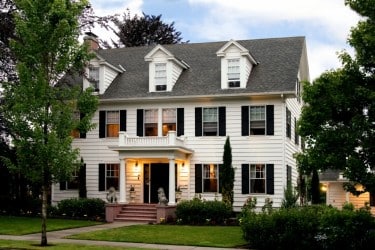 Youngberg Hill Vineyards & Inn – Oregon's premier wine country inn and one of Wine Spectator's favorite locations; set on a 50 acre hilltop and surrounded by organic 25 year old vineyard Phone: 503-472-2727  View Availability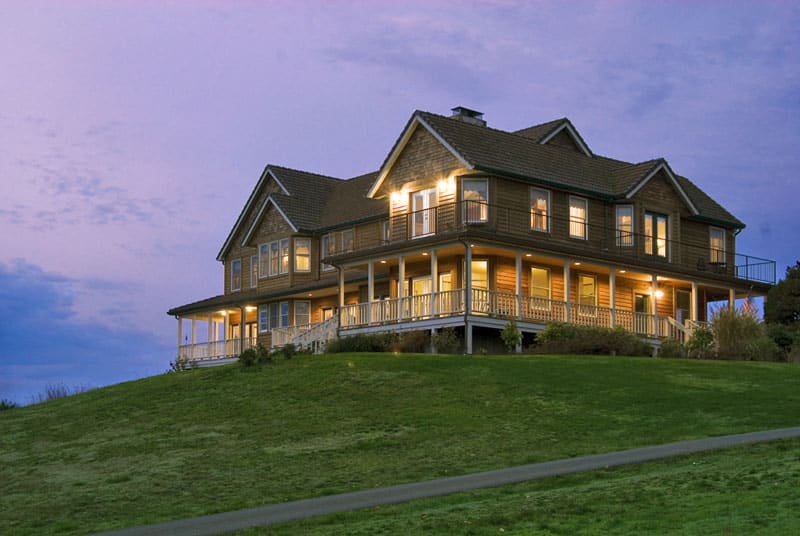 Bed and Breakfasts near McMinnville, Oregon
Willamette Valley Bed and Breakfast – Newberg – Beautiful in any season, the Willamette Valley region will impress and inspire you. Our home is minutes away from some of the area's best wineries and vineyards. Phone: 425-495-1181  View Availability
Yamhill Vineyards Bed and Breakfast – Yamhill – "Come stay where fine wines are born!" A little known gem located in the heart of the Willamette Valley wine country, Yamhill Vineyards Bed & Breakfast is surrounded by vineyards, spectacular views, and offers you a relaxing country retreat. Phone: 503-662-3840. View Availability
Chehalem Ridge B&B – Newberg – Perched on eight acres atop Chehalem Mountain, the inn offers a peaceful retreat between adventures in the valley below. The contemporary house reflects the spirit, history and character of Oregon in each of the five uniquely decorated bedrooms.
Phone: 503-538-3474. View Availability
Bella Collina Bed and Breakfast – Amity – a premier destination inn designed from the ground up for comfort, relaxation, and serenity. Situated on a hillside with views of vineyards, farmlands, and the Coast Range, Bella Collina offers an ideal venue for a romantic getaway, friends retreat, and wine tasting adventures. A third floor Sky Loft and deck is where the sunsets are most magnificent.  Phone: 541-272-1700  View Availability
The Carlton Inn Bed and Breakfast – Carlton – Come and stay where you arrive as a guest, and depart as a friend. Located in the charming community of Carlton, just park your car at the Inn, and stroll to numerous tasting rooms/wineries, unique shops and wonderful restaurants. Book a room now at one of the finest properties in Carlton Oregon. Phone: 503-852-7506  View Availability
R. R. Thompson House – Carlton – Stroll to restaurants, tasting rooms and shops from our convenient location in Carlton, the heart of Oregon Wine Country. The R. R. Thompson House is just three blocks from historic Main Street. Experience our "Great Little Town" in the beautiful Willamette Valley. Phone: 503-852-6236  View Availability
Oregon Bed and Breakfast Guild is ready to share Oregon with you: it's environment, culture, and heritage. Combine gracious hospitality with ambiance at an inspected and approved Oregon Bed and Breakfast Guild member Inn.