A Wines to Waterfalls to Waves Vacation
Situated between Portland and the Oregon Coast, Tualatin Valley is a welcoming destination with superb wineries, innovative breweries, endless miles of trails for both hiking and biking. Oceanside, Oregon is an idyllic coastal community located along the Three Capes Scenic Loop.
Let us help plan your getaway and a Wines to Waterfalls to Waves vacation.
Many folks visiting Oregon for the first time arrive via the Portland Airport. After being named the most liked airport in the country seven consecutive times, Portland International Airport lost the title of "Best Domestic Airport" to the 2019 runner-up, Indianapolis International Airport. The score difference in their rankings was about an eighth of a point.
Before heading out of this 'Wines to Waterfalls to Waves Vacation' let the Fulton House B&B be your home base for a few days exploring the vibrant city of Portland.
The Fulton House Bed and Breakfast, located in Southwest is a distinctive B&B offering four guest rooms, each with private baths. Room for many so maybe ask some friends to join you on this road trip. Bring your bikes or travel by car. Or both. You've certainly got options.
Situated in the northern tip of the famed Willamette Valley wine region, Tualatin Valley Wine Country boasts more than 30 estate wineries and tasting rooms, including some of Oregon's oldest. If Oregon Beer is more to your liking some of Oregon's best breweries can be found in the Tualatin Valley. Please imbibe responsibly.
By Bike: The Tualatin Valley Scenic Bikeway extends through friendly downtowns, fertile farmlands and peaceful natural areas.
Take the road less traveled to the Oregon Coast
Trees to Seas Byway is Oregon's newest byway. The drive takes you through Oregon Coast Range forests to the rugged headlands and ocean-side cliffs of the Oregon Coast.
We traveled this route a couple years back in search of Oregon Waterfalls. And we found plenty: Bridge Creek, Stafford, Wilson and University Falls to name a few.
Arriving in Tillamook
After this long scenic drive treat yourself to double scoop of our famous icecream at the Tillamook Creamery. Maybe pick up some gourmet cheese and wine at Blue Heron French Cheese Company to take along as you continue your journey to Oceanside.
Arrive in Oceanside
Enjoy a relaxing and romantic getaway in beautiful Oceanside, Oregon, nestled between Cape Lookout and Cape Meares. Fall asleep to the sound of the surf, and wake up to a delicious hot and hearty breakfast at turtlejanes bed & breakfast, a two room inn,  beautifully appointed with private baths or Thyme & Tide Bed and Breakfast, 2 suites with large private baths and fine linens
Day Excursions from Oceanside Oregon
You might want to plan a couple days at our Oceanside B&Bs and take a few day trips. Three Capes Scenic Drive is a spectacular one with dramatic cliffs, old growth forests, crashing waves, hidden beaches, and historic lighthouses.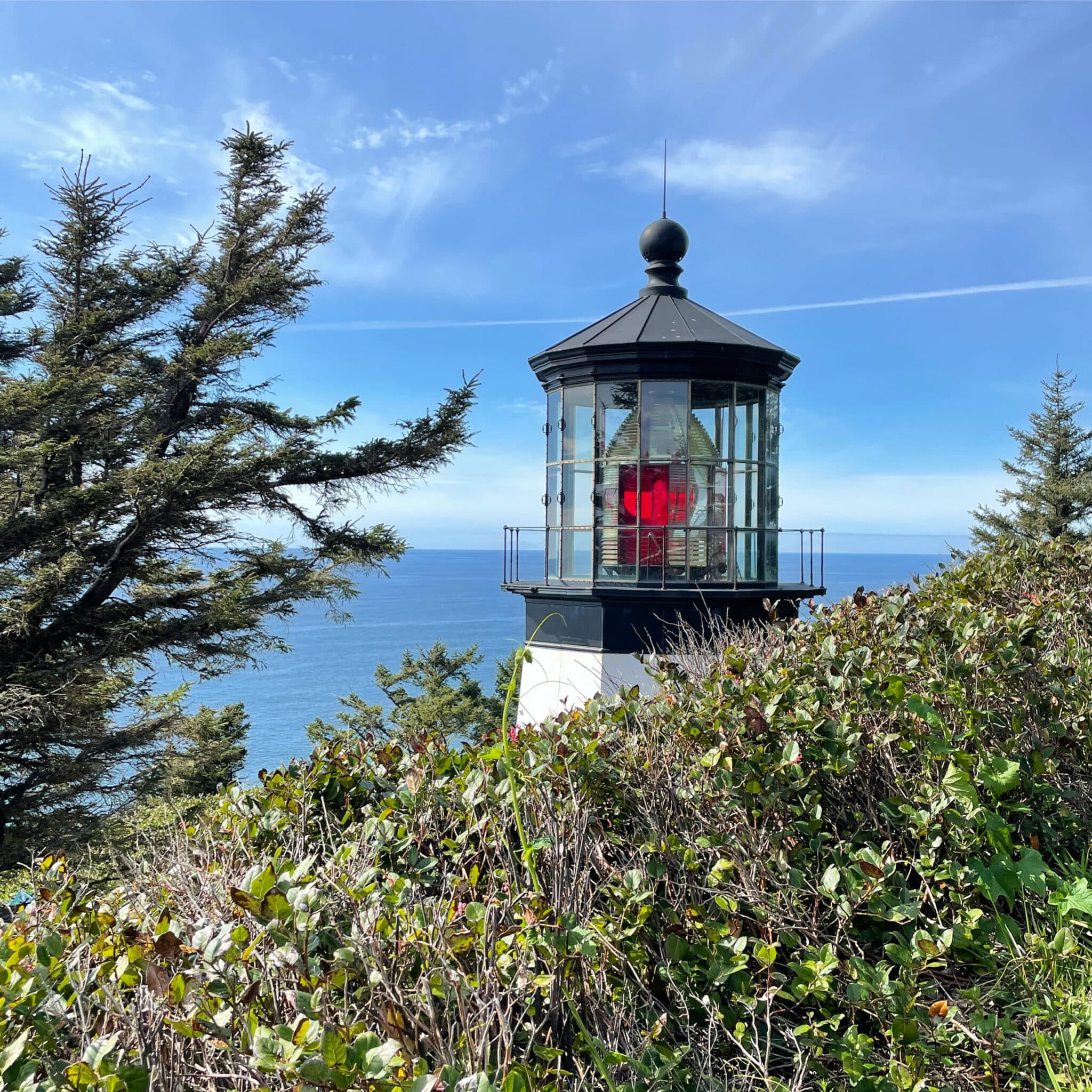 Trees to Sea Byway ends at Cape Meares State Park where you'll find the Cape Meares Lighthouse, the Octopus Tree and the largest Sitka Spruce in Oregon. Follow the Big Spruce Trail to behold this awesome 800 year Oregon Champion Tree
Bonus: for those searching geocaches – Picea Sitchensis Octopoda GC3M4NX and Great Grandma Tree GC1KP5Q
At the northernmost end of Oceanside beach is a tunnel through Maxwell Point. During low tide, the tunnel provides access to Tunnel Beach on the other side. Think tide pooling and hunting for agates.
So much to do in Oceanside, Oregon:
beachcombing, tide pools, clamming, whale watching, bonfires
biking, hiking, waterfalls and forests
kayaks, canoes, horses
lighthouse, museums, wine tasting, brewpubs
the list goes on and on
Waterfalls near Oceanside
From Oceanside drive north on Bayshore Drive to Short Beach. There are quite a few steps down to this secluded beach and Larson Falls. Head southeast to Munson Creek Falls State Natural Site and Munson Creek Falls, tallest falls on the Coast Range.
Waterfalls are magical in any season, but visiting in winter is especially invigorating. It may be chilly and wet but the waterfalls are more robust after heavy rainfall.
Oregon Bed and Breakfast Guild recognizes the biking and hiking culture and we have dedicated a Biking and Hiking target page on our website where our innkeepers share biking options near their inns.  You'll find an Oregon B&B inn waiting for your arrival on your eco friendly journey through Oregon.
Many of our inns are designated as Bike Friendly Business' through Travel Oregon, that is we must provide at least five services and amenities from their approved list.
Oregon Bed and Breakfast Guild is ready to share Oregon with you: it's environment, culture, and heritage. Combine gracious hospitality with ambiance at an inspected and approved Oregon Bed and Breakfast Guild member Inn.
Hospitality Update: Our inns are following COVID-19 protocol guidance from the Oregon Health Authority. 
Although mask guidelines are lifted:
● Some businesses may choose to still require masks.
● Some people may choose to still wear a mask.
We have all struggled through COVID-19 and could use a little kindness. Please be respectful of local businesses and their workers and most importantly kind to yourself.