Southwest Eggs Benedict from Chehalem Ridge Bed and Breakfast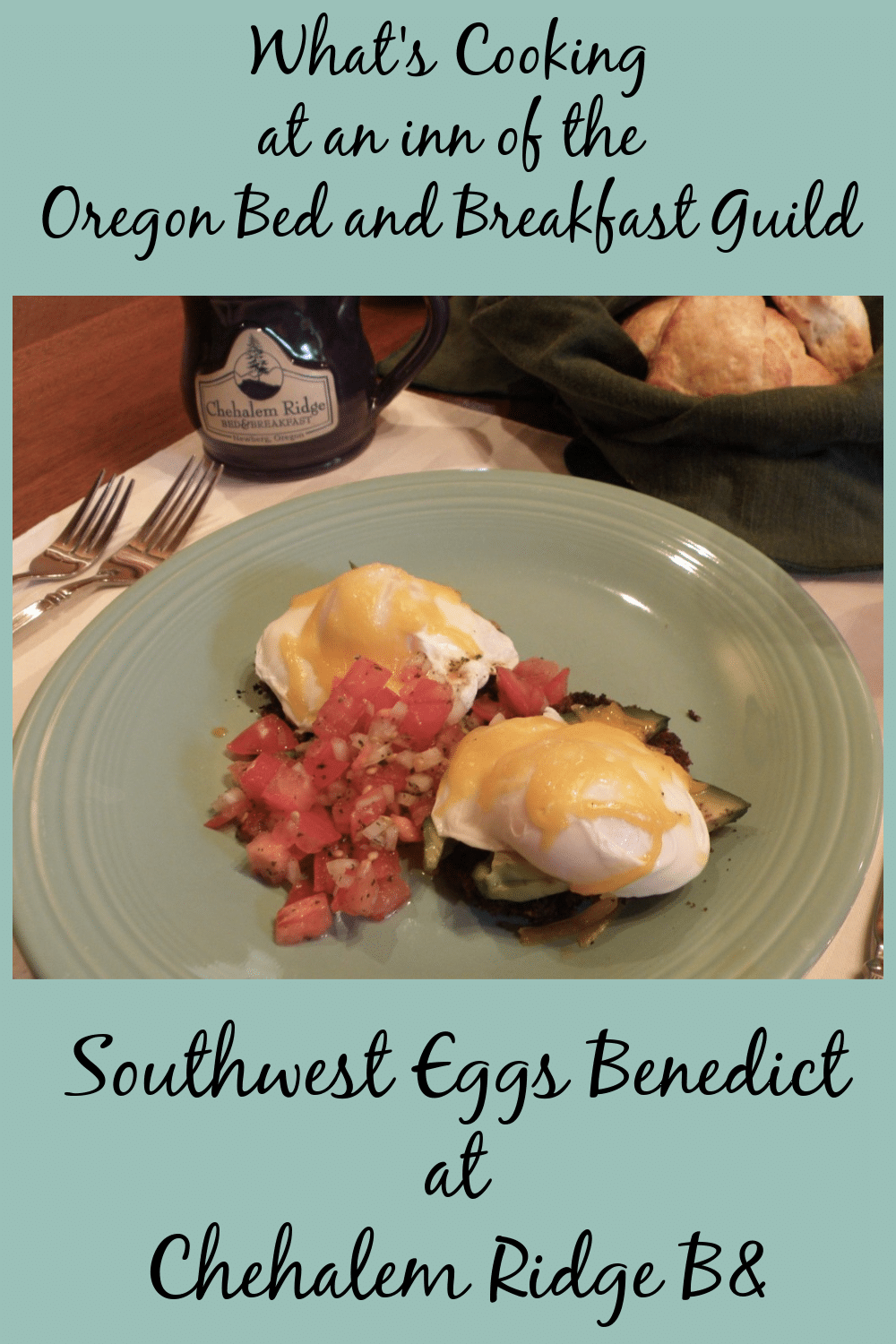 Eggs Benedict is an American brunch or breakfast dish that consists of two halves of an English muffin each of which is topped with Canadian bacon, a poached egg, and hollandaise sauce. Many variations on the basic recipe are served and this one from Chehalem Ridge Bed and Breakfast is a bit out of the box and oh so delicious.
The original recipe was from Maryana Vollstedt, The Big Book of Breakfast with just a wee bit of change from the innkeeper at Chehalem Ridge.
Southwest Eggs Benedict
Servings: 6
8 each saltine cracker, broken up
2 each garlic cloves, chopped
1 teaspoon ground cumin
1 teaspoon chili powder
1 teaspoon salt
ground pepper to taste
2 cans black beans, canned, rinsed
6 each green onions, chopped
2 sprigs cilantro, chopped
2 tablespoons vegetable oil
In food processor, grind crackers well. Add garlic, cumin, chili powder, salt and pepper and blend well. Add one can of beans and blend well. Then add the second can, the green onions and cilantro and blend until just incorporated. Add water, one teaspoon at a time, until you reach consistency to hold together without being too sticky. Form into 12, 3 inch round, ½ inch high patties. Fry patties over medium high heat in vegetable oil, about 5 minutes per side.
To serve, arrange 2 patties per plate, spread a fan of avocado on each patty, place a poached egg on the avocado and top with the grated cheese. Garnish with tomato salsa or corn relish cilantro sprigs
Chehalem Ridge Bed and Breakfast is perched on eight acres atop Chehalem Mountain overlooking the Willamette Valley and Coast Range. This B&B offers a peaceful retreat between adventures in the valley below.
Oregon Bed and Breakfast Guild is ready to share Oregon with you: it's environment, culture, and heritage. Combine gracious hospitality with ambiance at an inspected and approved Oregon Bed and Breakfast Guild member Inn.
Hospitality Update: Our inns are following COVID-19 protocol guidance from the Oregon Health Authority. Oregon's statewide mask requirement for indoor public places was lifted on March 12.
After mask guidelines are lifted:
● Some businesses may choose to still require masks.
● Some people may choose to still wear a mask.
We have all struggled through COVID-19 and could use a little kindness. Please be respectful of local businesses and their workers and most importantly kind to yourself.