National Red Velvet Cake Day – September 18
I did not know this:
Red velvet is made with cocoa powder, vinegar and buttermilk.The chemical reaction between these ingredients help give the cake a deep maroon color that is often enhanced by extra food coloring
A'Tuscan Estate Bed and Breakfast uses both vinegar and food coloring in their version of Red Velvet Cake. The inn offers beautiful accommodations and wonderful cuisine in the heart of Oregon's Wine Country. A'Tuscan Estate is a 1928 Colonial Style Home with a decidedly European Flair a mere five blocks from downtown McMinnville with great restaurants, shops and wine tasting rooms.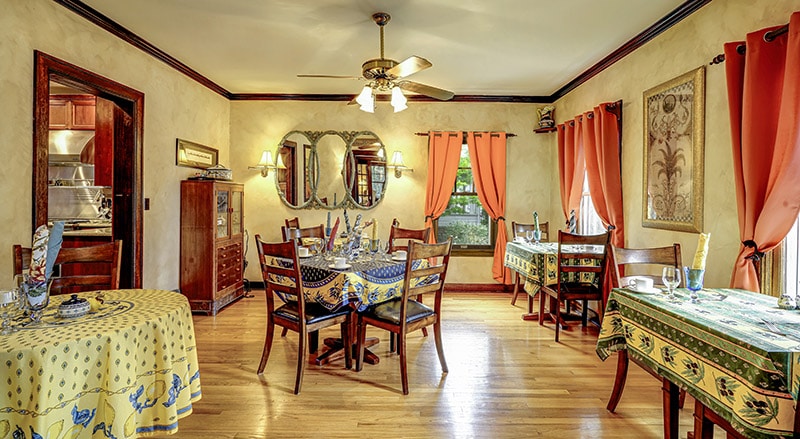 Ingredients:
Vegetable oil for the pan
2 1/1 cups all-purpose flour
1 ½ cups sugar
1 tsp baking soda
1 tsp fine salt
1 tsp cocoa powder
1 ½ vegetable oil
1 cup buttermilk, room temp
2 large eggs, room temp
2 Tbsp red food coloring
1 tsp white distilled vinegar
1 tsp vanilla extract
Bright White Candy Melts—for dipping
Dark Chocolate Candy Melts or Chips—for addition to cake after baked
Red Candy Melts or Bright White Candy Melts and Red food coloring—for decoration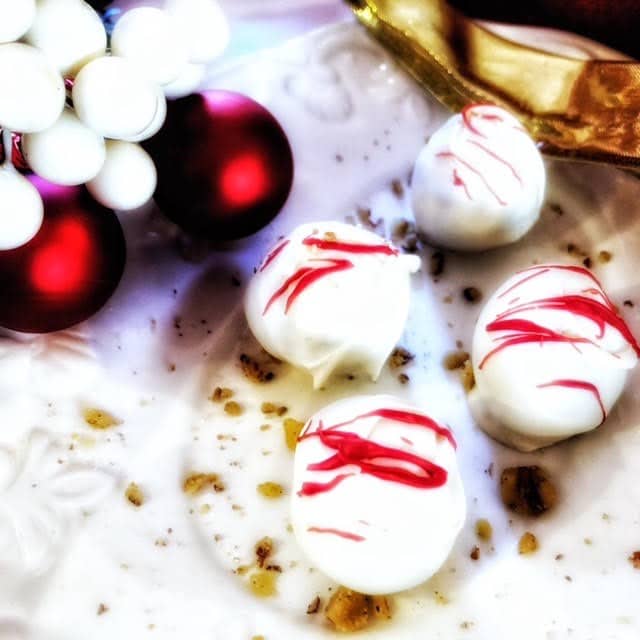 Instructions:
Preheat oven to 350◦F. Lightly oil and flour a 9 x 13 pan.
In a large bowl, sift together the flour, sugar, baking soda, salt and cocoa powder. In another large bowl, whisk together the oil buttermilk, eggs, food coloring, vinegar and vanilla.
Using a stand mixer, mix the dry ingredients into the wet ingredients until just combined and a smooth batter is formed.
Pour better into cake pan. Place in oven. Bake, rotating pans halfway through the cooking, until the cake pulls away from the side of the pan and a toothpick inserted in the center of the cake comes out clean—about 30 minutes.
Remove cake for oven and run a knife around the edge to loosen from sides. Invert the cake on a plate or sheet pan and then onto a cooling rack. Let cool completely.
Once cooled, finely crumble cake in large bowl.
Melt 1 cup Dark Chocolate Candy Melts/chips in microwave for 50-55 seconds (or as directed on the package) and stir until completely melted. If additional melting is needed, do so at 10 second intervals until fulling melted. Mix melted dark chocolate into cake crumbs.  I use my hands with disposable kitchen gloves.
Chill for 30 minutes.
Line sheet pan with foil. Using small melon ball scoop, scoop onto sheet pan.
Chill for 30 minutes. Form into balls rounding the edges.
Chill for 30 minutes.
Melt White Candy Melts in microwave for 50-55 seconds (or as directed on the package) and stir until completely melted. If additional melting is needed, do so at 10 second intervals until fulling melted.  If too thick, add a small amount of Vegetable oil.
Dip using fork or two prong dipping tool allowing extra chocolate to drip before placing on foil lined cookie sheet. This helps to avoid excessive pooling of chocolate. Chill until white chocolate is hard. Approximately 20-30 minutes.
Melt 1/3 cup of red candy melts. Using a clean fork, drizzle red chocolate over the white chocolate covered cake truffles and allow to harden for serving
Note: You can also use store bought cake mix.
CLICK HERE TO DOWNLOAD THIS POSTCARD FOR FREE Then print and affix to heavier card stock, stamp and mail!
Oregon Bed and Breakfast Guild is ready to share Oregon with you: it's environment, culture, and heritage. Combine gracious hospitality with ambiance at an inspected and approved Oregon Bed and Breakfast Guild member Inn.
Hospitality Update: Watch for updates as mask restrictions may lift soon under guidance from the Oregon Health Authority, Oregon is still requiring masks in some outdoor public spaces and all indoor public spaces, that includes the inns of the Oregon B&B Guild. 
Let's all be respectful and safe and follow the guidance of the CDC. Our inns are doing everything in our power to keep you safe. Not sure if your favorite inn is open? Give them a call as they just might be.