Poached Pears from Chehalem Ridge Bed and Breakfast
We ask our innkeepers to submit their favorite recipes and are  pleased to see that once again, we are all about keeping it local and fresh. Did you know that 84% of the nation's pears are grown in Oregon and Washington? This Poached Pear Delight comes to you from Chehalem Ridge Bed and Breakfast.
Poached Pears from Chehalem Ridge Bed and Breakfast
2 Large Pears
1/2 Cup Orange Juice
2 Tbsp Brown Sugar
1 tsp Cinnamon
1/4 cup Vanilla Yogurt
2 Tbsp Hazelnut Granola
Instructions:
Mix orange juice, brown sugar and cinnamon in a small pot and heat over medium heat.
Peel pears and cut in half lengthwise.  Scoop out the core with a melon baller and cut out the upper and lower stem areas with a knife.  Place pear halves, cut side down, in orange juice liquid.
Poach pears, with the liquid barely bubbling, for 4 to 8 minutes.  With a slotted spoon, turn pears and poach for another 4 to 8 minutes, until the pears are softened.  Really ripe pears take less time while harder pears will take longer.
Serve 1 pear half per person with a dollop of vanilla yogurt and a sprinkling of Hazelnut Granola in the hollow of each pear half.
Pro tip: Poached pears wait for no diner.  Well, they can wait, but be sure to leave them in the liquid with the heat off.  After about 10 minutes out of the liquid, they will turn a bit brown and not in the pretty caramelizing way.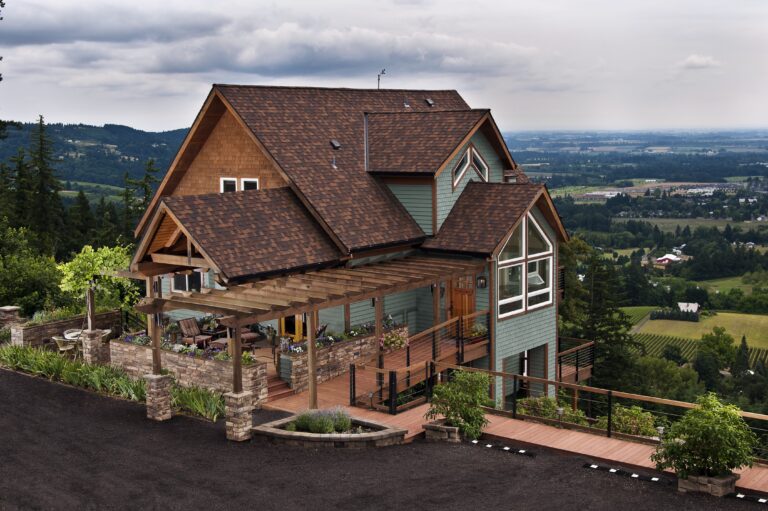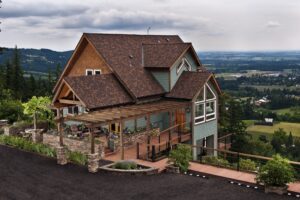 Chehalem Ridge B&B– The contemporary house reflects the spirit, history and character of Oregon in each of the five uniquely decorated bedrooms.
Phone: 503-538-3474  View Availability
OBBG Lodging Gift Certificates are available in $25 increments and can be redeemed at every Oregon Bed & Breakfast Guild member across the state. With 25 members to choose from that's a lot of choices and with an 18 months expiration recipients have plenty of time to redeem them at the Inn of their choosing.
Three Ways to Order Gift Certificates:
Order online. Don't include your credit card information on that form. We will call you for payment information
.E-mail info@obbg.org or call OBBG at 503-893-4210.  Please leave a message as this line is monitored by our busy innkeepers. We'll get back to you for the details: who will be the recipient of your thoughtful gift, acquire your payment method and shipping information. We'll send them by mail, to either you or the recipient, with delivery confirmation. The recipient will have a great time getting away to a high-quality destination of their choice.
The Oregon Bed and Breakfast Guild offers a wide variety of inns, from a small guest cottage or two-room bed and breakfast to a larger country inn or small historic hotel.
Oregon Bed and Breakfast Guild is ready to share Oregon with you: it's environment, culture, and heritage. Combine gracious hospitality with ambiance at an inspected and approved Oregon Bed and Breakfast Guild member Inn.
Hospitality Update: Our inns are following COVID-19 protocol guidance from the Oregon Health Authority. 
Although mask guidelines are lifted:
● Some businesses may choose to still require masks.
● Some people may choose to still wear a mask.
We have all struggled through COVID-19 and could use a little kindness. Please be respectful of local businesses and their workers and most importantly kind to yourself.