Joseph, Oregon, is nestled in the midst of some of the most spectacular Oregon geography you'll ever see. Surrounded by the breathtaking Wallowa mountain range of northeast Oregon, it is often referred to as Oregon's Little Switzerland. A little gem of a town with enormous charm. It's a one-of-a-kind place rich in history, art, recreation and agriculture.
Maxville Heritage Interpretive Center with history of racially integrated logging communities in early twentieth century Eastern Oregon
Wallowa Lake & the Wallowa-Whitman National Forest
The Wallowa Mountains: one of the 7 Wonders of Oregon
Eaglecap Wilderness, Oregon's largest wilderness area
Nature Conservancy's 32,000 acre Zumwalt Prairie Preserve
Area wildlife viewing areas includes deer, elk herds, raptors & migratory birds. Rarely seen predators include cougars and wolves
Winter & spring guests snowmobiling, snowshoeing & backcountry skiing opportunities – no lines here!
Nez Perce History
Joseph, Oregon, is named for Chief Joseph of the Nez Perce tribe. Old Chief Joseph Gravesite & the start of the Nez Perce National Historic Trail at the foot of Wallowa Lake
The Northeast Oregon Art Trail: Northeastern Oregon celebrates some of the richest arts and cultural communities in the state. The sweeping and diverse landscape of Eastern Oregon and the majestic peaks of the Wallowas & Elkhorns inspire artists and craft makers from every corner of the world to capture, create, and preserve its history and wonder.
The Arts & Culture – a collection of monumentally-sized bronzes on public view
Bed and Breakfast in Joseph, Oregon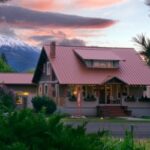 Bronze Antler Bed & Breakfast Walk into downtown Joseph; Wallowa Mtn views; on Hells Canyon Scenic Byway. A/C in summer. Full breakfast, afternoon treats, sherry, soft drinks. Wine cellar. Dog on premises. Limited handicapped access (pls call). EV charging stations! Phone: 541-432-0230 Check Availability
Oregon Bed and Breakfast Guild is ready to share Oregon with you: it's environment, culture, and heritage. Combine gracious hospitality with ambiance at an inspected and approved Oregon Bed and Breakfast Guild member Inn.